Hooking Eve... and Adam
Inspiration from a Romaneque Church
By:
Barbara Prentice; Photography by Impact Xpozures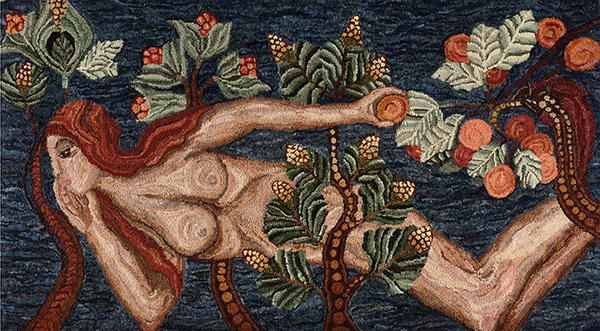 Gislebertus's Adam and Eve . . . Together Again. Each piece is 60" x 32", #4- to 8-cut wool on linen. Designed and hooked by Barbara Prentice, Springfield, Virginia, 2018. Inspired by a sculpture by Gislebertus.

I first encountered Eve in a college classroom during a course in medieval art. I was struck by her insouciant, almost absent-minded air as she casually trailed the forbidden fruit behind her, an offering to the long-vanished Adam. Her elongated body slithered through the vegetation as if she had become the serpent itself—except there was no serpent. Instead, deliberately hidden, almost part of the foliage, a great clawed hand thrust the branch forward to urge Eve along in her temptation of Adam.

Dramatic, too, is the tale of this great sculpture. This Eve, a remnant of the North Portal of the Cathedral of St. Lazarus in Autun, Burgundy, carved c. 1130, is considered to be the first female nude created since another fall, in this case the fall of Rome. Or at least she is the earliest discovered. For centuries, she and Adam looked down from their perch from the great door, a creation of the sculptor Gislebertus—or so some scholars claim, as Gislebertus might be the name of the donor.

The Enlightenment declared Adam and Eve to be grotesque. Eve, Adam, and other stoneworks were ripped out of the stonework in 1769. The tympanum was plastered over. Adam vanished. Eve was given to one of the masons as building material for his house. She too, was plastered over, and remained hidden until that building in turn was pulled down a century later. Now she rests, surrounded by many other works of art from the cathedral, in the Musée Rolin across the street, but without her partner.

St. Lazarus was one of the last great Romanesque churches created in France before the Gothic style, with their rose windows, clerestory arcades, and flying buttresses became fashionable. My husband and I toured many of them while we moved from Italy to England.
YOUR RECENTLY VIEWED ARTICLES
Free tutorials, expert tips, exclusive partner offers, and more straight to your inbox!