Hooking Shouldn't Hurt!
Body mechanics for rug hookers
By:
Story and Photography by Kathleen Eckhaus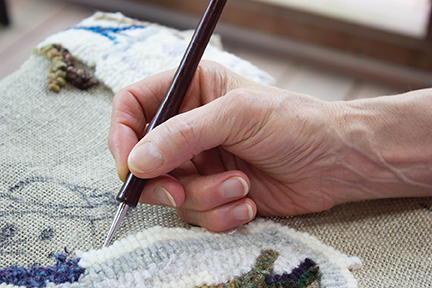 I don't hook every day but sometimes I hook for hours at a time. And when I do, I often have achy muscles and joints that afflict me for days afterwards. When talking to my fellow rug hookers, I realize that I'm not alone with my complaints. But what do we need to be doing differently?

To find out, I consulted my sister-in-law, Dale Eckhaus, OTR/LCHT (Certified Hand Therapist) with over 40 years of experience and my son-in-law, Jon Borger, PT, OCS, FAAOMPT, board-certified orthopedic specialist and fellowship trained physical therapist. When I met with these professionals, I took my equipment and demonstrated the process of rug hooking for their evaluation.

Dale watched closely as I pulled loops and assessed the activity for hand and wrist action. She observed that during the process both of my hands were held in a flexed position for an extended period. "This can cause pressure on the median nerve, possibly resulting in tingling on the thumb side of your hand," she said. If you experience tingling on the little finger side of your hand, however, Dale told me it means you have likely put pressure on the ulnar nerve by resting the inside of your elbow on a surface, or you have held your arm in a flexed position for too long. She recommended frequent breaks to allow your hands to relax. If resting on a chair arm is the best hooking position for you, Dale suggested adding a small pillow to soften the resting place.

As Dale watched me work she thought of her many patients with arthritis at the base of the thumb, the joint nearest the wrist, and how that might affect the practice of rug hooking. Osteoarthritis of this joint is quite common and would be exacerbated by many actions involved in hooking: using scissors to cut off wool tails, holding wool strips under the frame, and grasping certain types of hooks. If this is a concern for you, taking breaks and changing position will help.

YOUR RECENTLY VIEWED ARTICLES
Free tutorials, expert tips, exclusive partner offers, and more straight to your inbox!