A Pathway to the Stars Through Science and Art
Hooking the South Poles of Our Solar System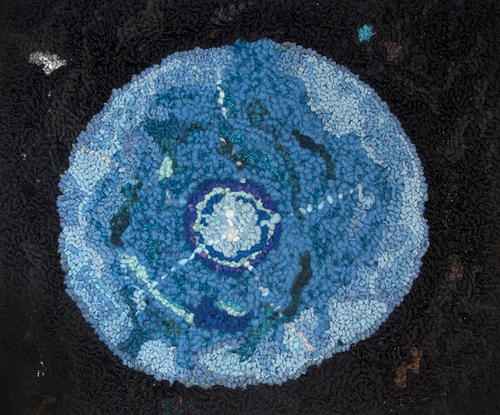 South Pole of Neptune, 20" x 17". #4- to 8-cut and hand cut wool and jersey, sari silk, wool roving, wool and synthetic yarn on linen. Images from Voyager 2 space probe, 1986. Designed and hooked by Susan Gaby-Trotz, 2017.

Methane, hydrogen, and helium gases give the planet its blue color. Uranus is in the background.

A dear friend once told me that I was a knitter of ideas and people. I love that image: taking strands of colorful thoughts and weaving them into something that makes people think and see differently. This idea was at the core of my 40-year teaching career where I melded literature, art, science, and mathematics into exciting units of study. My project of hooking the south poles of the planets in our solar system is the latest example of my life as a knitter of things I love.

People ask how I came up with the idea of pairing the south poles of the planets with rug hooking. It all began one sleepless night as I was passing time on my tablet. An image of the south pole of Jupiter, taken by the Cassini space probe, passed by my news feed. The image was marvelous with its lacy scallops of sharp blues and soft corals encircling Jupiter's south pole.

My imagination caught fire. I wondered if there were other images of the south poles of our planets. A quick search revealed hundreds of thousands of images taken by unmanned space probes as they whizzed around the planets over the past 30 years. I was off on my own voyage of discovery.

I sifted through scientific data and chose a variety of the space probes' images. Mercury's south pole is a topographical representation showing the craters made as meteors crashed into the planet. Venus has two howling vortices, while Mars has a calm ice cap that looks like a lotus flower. But could I translate the scientific data into pieces of art that were true to both disciplines?
YOUR RECENTLY VIEWED ARTICLES
Free tutorials, expert tips, exclusive partner offers, and more straight to your inbox!