Punch Needle Artist: Katie Stackhouse of Midnight Creative
By:
Editors of Rug Hooking Magazine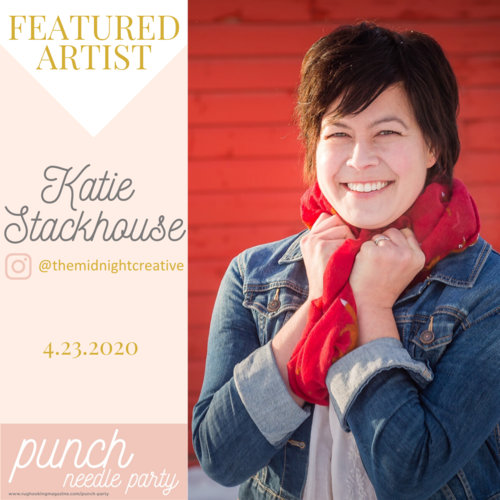 Welcome to Rug Hooking magazine's featured arists series! In honor of international punch needle day, we celebrated by asking some talented punch needle artists to share their experiences with this delightful fiber art punch needle rug hooking. Check out our exclusive interview with Katie Stackhouse of Midnight Creative.

About the Artist
Certified Oxford Punch Needle Instructor
Fibre art, kits & supplies
Cultivating creativity through craft
Important Links
Visit her website
Follow her on Instagram
Q&A: Let's Meet Katie
Q: What was it like becoming a certified Oxford punch needle instructor?
A: When I signed up for the course initially, I thought I was simply going to learn all the ins and outs of punch needle, and become an expert in the craft. But what really happened is I joined an amazing like-minded community of instructors that cheer each other on, and support one another with advice and knowledge. Of course, as a bonus, I also gained the confidence to offer my students the highest level of instruction while fostering their creative confidence.
Q: What do you love most about what you do?
A: Nothing makes me happier than when someone takes one of my classes, or purchases a kit from me, and then comes back and says "I didn't think I was creative, I didn't think I was crafty, but I think I've found my thing!" Helping someone realize they are a creative being is truly the best part of what I do.
Q: What are the steps you go through when planning a design?
A: I spend a lot of time ideating - just thinking about the elements of the design, perhaps doing some research on a specific theme, and sketching in one of my many notebooks. Next, I usually photograph my sketch, and bring it into a drawing program on my ipad. I'll trace over it in the program, and refine it - to make sure the details aren't too close together for instance, or too small for the final size.
Q: Do you do anything to stay inspired and what motivates you to create?
A: I like to take other creative classes, from crochet to needle felting to print making. I often leave with ideas that I want to incorporate into my punch needle practice. New ideas always keep me motivated, because I can't wait to see how they will work out, or not. But that's okay, I think just playing with colour, different yarn weights, and other fibres is energizing for the creative spirit. I've recently joined a fibre guild in my city, and I can't recommend this enough if there is one near you. Even though I am the only one of two punch needlers (so far!) you can learn a lot from traditional rug hookers too, and share with/inspire each other. 
Q: What advice you would give to new punch needle artists?
A: Keep your stitch gauge handy, and use it frequently. I think there's a tendency to punch stitches that are either too long or too short, and it takes time to develop the muscle memory of how long they should be. Just take your time, and check those stitches regularly to make sure your rug will not have any holes in it, or be too dense to lay flat.

Don't be afraid to create your own patterns. Think you can't draw? Start with simple shapes or geometrics and a small palette of 3-5 yarn colours. Or take a photograph, enlarge it, put it under tracing paper and trace just the basic shapes. Voila! You've designed your own rug!
Punch Needle Rug Hooking Quotes to Save and Share!
YOUR RECENTLY VIEWED ARTICLES
Free tutorials, expert tips, exclusive partner offers, and more straight to your inbox!