Sincerely Jane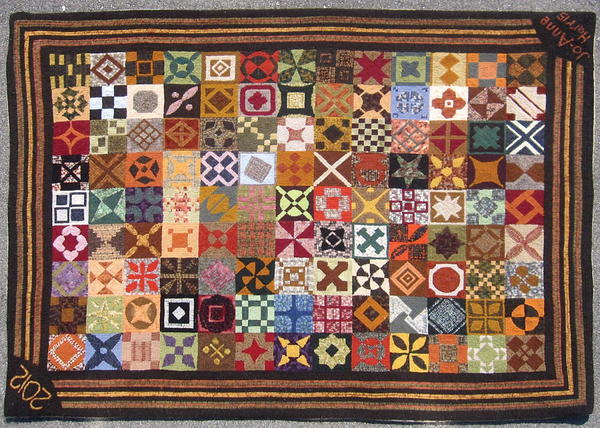 Sincerely Jane, 51" x 69", #8-cut reclaimed and new wool on linen. Designed and hooked by Jo-Anne Harris, Toronto, Ontario, Canada, 2012.

A year ago, a group of rug hookers from the Yahoo Rug Hooking Group challenged themselves to create rugs using the patterns from the quilt book Dear Jane by Brenda Papadakis. I coordinated this effort and set out to create a full-sized rug that was an exact replica of the Dear Jane Quilt. I bought the backing and drew out the squares. However, after getting my backing drawn, I realized some of the squares needed smaller cuts—and I only hook with a #8 cut. So, I scaled back the rug to 117 squares from the original 169. It's still an impressively-sized rug at 4' 2" by 5' 9", and it's certainly the largest I have ever undertaken.

I started out with a huge amount of enthusiasm and a plan to hook for a certain number of hours a week—but I soon fell behind. The fact that I had a year to finish allowed me to procrastinate. I also made a couple of mistakes in the beginning that made things harder. Initially, I intended to draw the pattern as I went along—hook one square, then draw the next. This had me constantly taking the rug off my frame and laying it out on the floor while I searched through the book for a suitable pattern. I soon realized it was probably best to draw the whole thing at once. Likewise with color planning: I didn't plan out my colors, so each time I moved to a new square I had a series of questions I had to answer in order to get started. Having a plan in place, even just a general plan, would have saved me a lot of time.

This article is from the November/December 2012 issue. For more information on our issues, check out our issues page.
YOUR RECENTLY VIEWED ARTICLES
Free tutorials, expert tips, exclusive partner offers, and more straight to your inbox!