Van Gogh Vibrations
A look at a master's view of light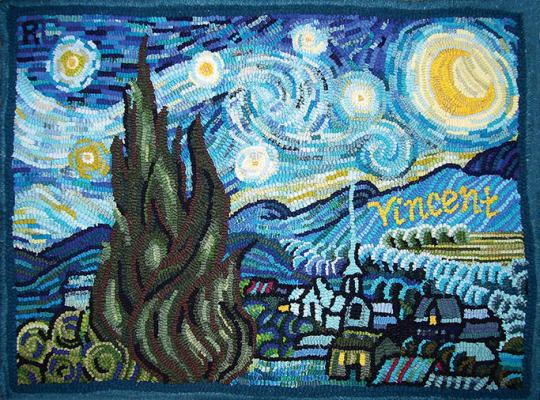 Van Gogh Vibrations
Once, as rug hooking instructor Cathy Stephan looked out her window at wind-blown Wisconsin fields, she felt a kinship with one of her favorite artists. She thought that perhaps she was seeing what he saw and painted, a vibration in the light on the landscape.

Cathy has studied and adapted works of artists who strongly influenced Vincent Van Gogh. She has also read deeply about the short life of Van Gogh himself—his faith in God, his loneliness, his fragile sanity, and his art. The stories of his mutilated right ear, as well as his suicide by self-inflicted gunshot wound, have become embedded in his legacy as a "mad artist."

When Camille Pissarro met Van Gogh late in the 1880s, he recognized tremendous talent, predicting that Van Gogh "will either go mad or surpass us all." Sadly, many of Van Gogh's contemporaries were blind to his artistic vision, and his unhappiness may have stemmed in part from this lack of appreciation and the fact that he sold only one painting in his lifetime. His own mother burned dozens of his canvases.

The hundreds of Van Gogh paintings that survive today command prices of more than $50 million, some upward of $100 million. The works painted during the two years prior to Van Gogh's death in 1890 are considered to be his most valuable, largely due to that vibrating quality of light captured in these paintings. On the Internet, one can find many explanations of his technique.


This article is from the Spring 2016 issue. For more information on our issues, check out our issues page.
YOUR RECENTLY VIEWED ARTICLES
Free tutorials, expert tips, exclusive partner offers, and more straight to your inbox!