Will She or Won't She?
Colors, colors, and more colors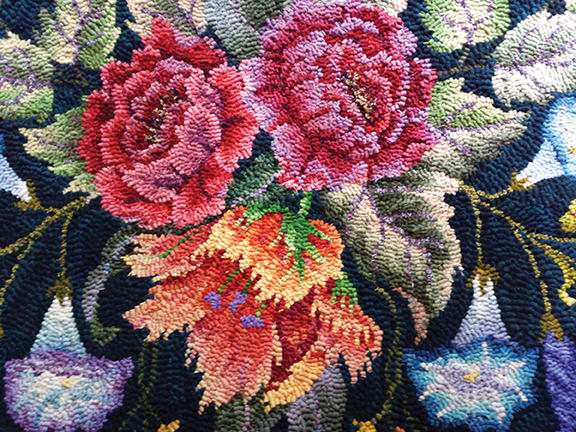 Photography by Cheryl G W Orcutt
Cheryl started this story of the mysterious Allure in the March/April/May 2016 issue of RHM.

Allure was designed by Pearl McGown in 1950. This pattern measures 9 ½' x 15'. Shown in this article are details from the hooking that is underway. 

Dear fellow rug hookers, first a brief recap from the earlier article:  After many years, I decided to honor my old mentor Hallie Hall by reconstructing and hooking the 1950 Pearl McGown jumbo pattern Allure that she had given to me. My saga paused at the point where a consult was about to happen. 

The consultation was set for May 2015 at the Sebago Lake Rug School. I was worrying about whether the teacher, renowned master teacher Betty McClentic, thought I had enough skill and perseverance to finish the rug. If she had doubts, it would be unlikely that she would take me and the rug on. It is a bit of a dance, isn't it? To my very great relief and pleasure, Betty agreed to consult with me, and it was the beginning of a wonderful collaboration.

Having found a teacher, the next step was to transfer the pattern from the burlap to the rug warp.  After an exhaustive, unsuccessful search in the U.S., I found 182"-wide rug warp in Calgary, Alberta, which meant that the rug would not have to be seamed. Although W. Cushing no longer had any of the pattern pieces (other than the center), manager Jesse Deupree offered to print the middle and an outside line to define the 9 1⁄2' x 15'. Recognizing this as a landmark project, Jesse printed this free of charge as a "giveback" to the hooking world.  

Cheryl Orcutt lives in Peterborough, New Hampshire, with her two dogs. She began hooking in 1976 while living in Halifax, Nova Scotia, and continued with Hallie Hall in the 1980s and 1990s. Her passion is working on large rugs using vibrant color and texture. 

This article is from the January/February 2017 issue. For more information on our issues, check out our issues page.
YOUR RECENTLY VIEWED ARTICLES
Free tutorials, expert tips, exclusive partner offers, and more straight to your inbox!