Color Your World
Landscapes with verve need luscious colors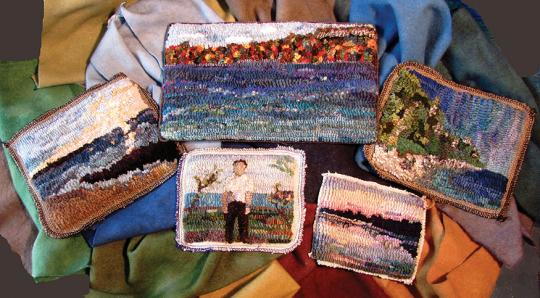 Color Your World Colors to Dye For
I love hooking landscapes, and it seems as though any color can be drawn in to paint these scenes. I'm especially fond of teaching rug hookers how to create depth of field in their landscapes, and it is no surprise our first love—color—does 90% of the work.

I've created a collection of basic colors to use in creating good landscapes. In any landscape we need darks and lights, dull and brights, warms and cools and the middle of all these color components—the mid values, the neutral saturation, the neutral temperature colors. These are the transitions that will work in between areas; they are so important in a landscape.

Treat these formulas as a base camp and explore further notions I suggest at the bottom of each recipe. Play with them. Make a substitution (blue green for blue or orange for yellow).  Try dulling the cool colors even more by adding more of the black, or dulling the warms with brown dye. Live on the wild side and substitute brown for black. Lighten dull colors for the faraway parts of your piece. 

Take a tablespoon of darker color formulas out after they are mixed and dye those over 1/8 yd. of wool to create a fantastic bunch of lights that vary in saturation. These fabrics are priceless in landscape and portrait hooking.

Frankly, the more colors I have to create my landscapes, the better I like it; sometimes a landscape will contain hundreds of different colors.

Method
I dyed sample colors over 1/8 yd. I used a dye bath method on the stove top and in the microwave oven.
YOUR RECENTLY VIEWED ARTICLES
Free tutorials, expert tips, exclusive partner offers, and more straight to your inbox!