The Long and Lovely
Colors to Dye For: A twist on jar dyeing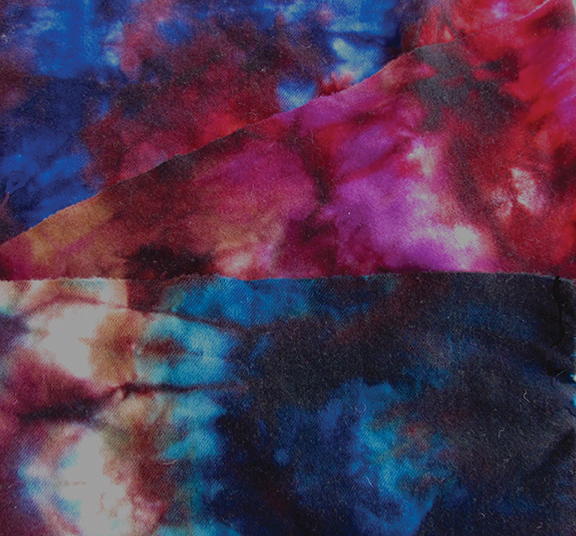 We've all heard about dyeing in a jar, and most frequently what comes to mind is swatch dyeing. As a twist, I'm going to show you how to master Michele Micarelli's method called "The Long and Lovely."

Wanda: Michele, this method is always tons of fun to do. How did you come up with it?
Michele: A group of us used to get together in the winter to be creative and spark off one another. We did all kinds of creative thinking and doing. Dick LaBarge, Patsy Becker, Pat Merikalio and I went to Jule Marie Smith's place for these sessions. Each of us had our own color sense, so when we started dyeing, it was wonderful to watch the different color sensibilities at work and see the results. We would deliberately try to think of the craziest thing we could. We first tried it in a ½-quart jar and we "what if we did this" ourselves up to using one of those giant pickle jars and cramming two yards of wool in! What explorations we had.
 
Wanda: What are your favorite color combos for this?
Michele: Turquoise and yellow are a given. I want to see that wild yellow green they make. If I were moving from light to dark, I would start with a true blue maybe or purple, then go toward the yellow along the color wheel. It is fun to try that in reverse too. You get all kinds of wild points of light and sharp edges with the yellow on the bottom. Be sure to cram your wool in if you want strong colors and sharp edges on them. Always dye your wool a little brighter than you want to see it in your rug. Each thing we do to it after dyeing diminishes the saturation of the color somewhat: drying, cutting, hooking, walking on them, and of course, exposure to light reduces a color's impact.
 

Wanda Kerr adores working with color and is happy to share her joy with you through this column and all her other endeavors. Go to www.wandaworks.ca to get the lowdown. She'd love to help you realize your color dreams and schemes.

This article excerpt is from the September/October 2016 issue. For more information on our issues, check out our issues page.
YOUR RECENTLY VIEWED ARTICLES
Free tutorials, expert tips, exclusive partner offers, and more straight to your inbox!