Color Your World
Landscapes with verve need luscious colors
Updated July 07, 2020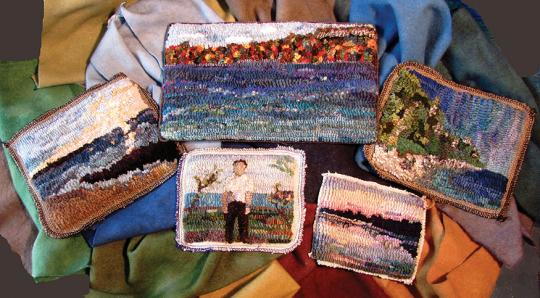 Color Your World Colors to Dye For
I love hooking landscapes, and it seems as though any color can be drawn in to paint these scenes. I'm especially fond of teaching rug hookers how to create depth of field in their landscapes, and it is no surprise our first love—color—does 90% of the work.

I've created a collection of basic colors to use in creating good landscapes. In any landscape we need darks and lights, dull and brights, warms and cools and the middle of all these color components—the mid values, the neutral saturation, the neutral temperature colors. These are the transitions that will work in between areas; they are so important in a landscape.

Treat these formulas as a base camp and explore further notions I suggest at the bottom of each recipe. Play with them. Make a substitution (blue green for blue or orange for yellow).  Try dulling the cool colors even more by adding more of the black, or dulling the warms with brown dye. Live on the wild side and substitute brown for black. Lighten dull colors for the faraway parts of your piece. 

Take a tablespoon of darker color formulas out after they are mixed and dye those over 1/8 yd. of wool to create a fantastic bunch of lights that vary in saturation. These fabrics are priceless in landscape and portrait hooking.

Frankly, the more colors I have to create my landscapes, the better I like it; sometimes a landscape will contain hundreds of different colors.

Method
I dyed sample colors over 1/8 yd. I used a dye bath method on the stove top and in the microwave oven.
CUSHING DYES
Silver
1/64 tsp. Black
1/256 tsp. Butter Cup Yellow
1/512 tsp. Blue
This color is beautiful when made lighter; try dyeing it over 1/2 yd. of natural wool. You can also overdye too-bright light blues, greens, and violets to calm them. If used darker, this color would make a good leading as for stained glass designs. Use it as pictured for roads, barns, fences, and hair.

Blue Blood
1/32 tsp. Turquoise
1/64 tsp. Black
1/128 tsp. Khaki Drab
This lovely teal color is good for receding leaves on trees and faraway lawns. It would be a delicious Oriental color as a balance for rust and would construct a fine building, boat, or wave trough. Try adding violet.

Harbor
1/32 tsp. Blue
1/64 tsp. Turquoise
1/256 tsp. Dark Brown
Our search for great blues for skies and water continues. If you put this dye in a crowded pot, the spottiness will help your hooked water look more realistic. Try it lighter or darker for some variety. This, too, is a great Oriental color and would make a great blue eye. Add orange instead of brown for a different result.

Tanglewood
1/64 tsp. Mahogany
1/32 tsp. Green
1/512 tsp. Dark Brown
A good brown for sticks, wet sand, stones, pathways, trunks, apple stems, sheds, vines, and veins. Can you see this as a floral rug's background or as hair for animals or humans? Adding violet instead of green creates a beautiful quiet color.
MAJIC CARPET DYES
Sage
1/64 tsp. Moss Green
1/128 tsp. Seal Brown
1/256 tsp. Black
1/512 tsp. Bottle Green
Sage is a useful color for the landscape artist. It helps demonstrate distance for trees and grass, and lights a tree top or a distant shore. Use it for leaves and algae or for highlights in grass. It makes a fine poison for duller rugs. Our Sage will act quite differently depending on the company she keeps. If you want to pep her up, add more Moss Green.

Ebony Gray
1/32 tsp. + 1/64 tsp. Black
1/32 tsp. Blue
1/64 tsp. Turquoise
1/64 tsp. Seal Brown
I love this color. It is not navy, but it is not black either. It can be used to make trunks and trains, boots and iron; it's a great color for roofs and doors and wrought iron. Imagine it as a background! To make a warmer ebony, add Blue Violet instead of Blue and Moss Green instead of Turquoise.

Russet Clay
1/32 tsp. Reddish Brown
1/64 tsp. Black
1/256 tsp. Blue Violet
This red dirt is gorgeous! Use it for bricks, fences, decks, and hills. It is spectacular with the cool colors in this collection. It might be hair or rocks or even part of a tree trunk. It would also make a beautiful Oriental color. To make a quieter brown, use Seal Brown instead of Reddish Brown.

Canyon
1/32 tsp. Seal Brown
1/64 tsp. Yellow
This luscious gold is great for leaves and buildings and boats; it is good for hair and wheat and straw. You could use it to hook a fine sunflower or put shine on an apple. Play with this formula by trying orange instead of yellow or subbing in chocolate brown.
PRO CHEM DYES
Moonrock
1/32 tsp. #135 Yellow 
1/128 tsp. #672 Jet Black 
1/128 tsp. #735 Shamrock Green 
1/128 tsp. #560 Chestnut 
Moonrock changes quite radically according to her surroundings: houses, The Yellow Brick Road, leaves on trees, gorgeous bricks, a faraway wheat field just ripening, or a glimmer of sun on water. For a warmer Moonrock, add  1/128 tsp. orange; double the chestnut to dim it more.

Beachwood
1/64 tsp. #672 Jet Black 
1/32 tsp. + 1/128 tsp. #501 Mochachino 
1/1024 tsp.  #478 Turquoise 
1/256 tsp. + 1/64 tsp. #503 Brown 
This neutral is a hard worker in a landscape. It can be wood, stone, wet sand, sheds, houses, or tree trunks. It is great for human hair and animals' fur, fence posts, and gates. I like it for geometrics and Orientals too; these need neutrals. It is a good transitioning color. Substitute Chestnut for the Mochachino for a special color.

Woodland Green
1/32 tsp. #735 Shamrock 
1/64 tsp. #714 Mallard 
1/64 tsp. #503 Brown 
1/64 tsp. #135 Yellow 
This is a fine true green. It would make a great leaf, bush, or lawn. Dye it darker by a factor of 4 for lawn shadows. For bright green, leave out the Brown; for a cooler dull green add Black instead of Brown.

North Pole Night
1/32 tsp. #425c National Blue 
1/256 tsp. + 1/64 tsp. #672 Jet Black 
1/256 tsp. #818 Violet 
A great dark blue that isn't too bright but is still handsome is hard to come by. Use it for approaching night skies, for deep water, for houses and boats and cars. It gets along smashingly with gold. (Want a lighter version, but in a small piece? Do a bit of quick division. Use 1/512 tsp. of Turquoise instead of Violet, or add in Brown instead of Black for a greener blue.)

North Pole Light
1/128 tsp. #425c National Blue 
1/256 tsp. #672 Jet Black 
1/1024 #818 Violet 
A great light blue for sky, water, eyes, and cloud bottoms. It won't let you down. Double the Blue for a brighter result.
THE MASH-UP
Combining all three dye companies' products in one formula is a terrific way to create unique colors no one else has. This trick will make your work more compelling and mysterious. You can start out easy by uniting similar colors as I have done here.
Revival Green
1/64 tsp. Majic Carpet Brilliant Green 
1/64 tsp. PRO Chem Dark Meadow
1/64 tsp. Cushing Bronze Green
This green is bright and beautiful. Using all the greens in this article will give you a rich array in any landscape. Try this with many colors. I know you will be pleased. 
Wanda Kerr works from Wiarton, Ontario, home of  the Welcome Mat and Majic Carpet Dye Company. Go to www.wandaworks.ca to see all her endeavors, shop online, and join her wonderful world where you and the expansive use of color and creativity are her focus.
YOUR RECENTLY VIEWED ARTICLES
Free tutorials, expert tips, exclusive partner offers, and more straight to your inbox!