Color Your World
Landscapes with verve need luscious colors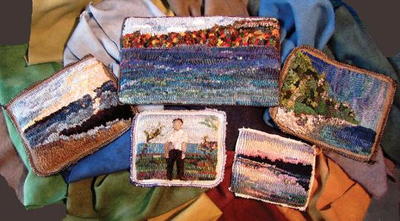 Color Your World Colors to Dye For
I love hooking landscapes, and it seems as though any color can be drawn in to paint these scenes. I'm especially fond of teaching rug hookers how to create depth of field in their landscapes, and it is no surprise our first love—color—does 90% of the work.

I've created a collection of basic colors to use in creating good landscapes. In any landscape we need darks and lights, dull and brights, warms and cools and the middle of all these color components—the mid values, the neutral saturation, the neutral temperature colors. These are the transitions that will work in between areas; they are so important in a landscape.

Treat these formulas as a base camp and explore further notions I suggest at the bottom of each recipe.


This article is from the Spring 2016 issue. For more information on our issues, check out our issues page.
Tags / Related Topics
YOUR RECENTLY VIEWED ARTICLES