Carol Koerner: Class of 2018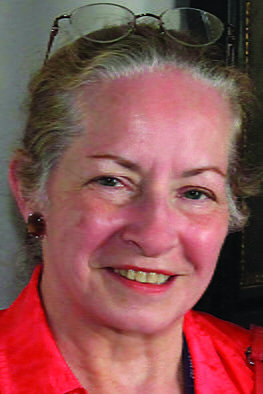 Name: Carol Koerner
 
Location: Bethesda, Maryland
 
Tell us a bit about yourself. What are some of your interests and hobbies?
Besides rug hooking, my main interests are my little Shih Tzu dog, volunteering and judging art at our county fair every summer, and gardening, which also includes making terrariums, dish gardens, and miniature flower arrangements that I enter in the flower and garden section of the county fair. I'm happy that many of my garden entries resulted in grand champion, reserve champion or best in show ribbons.
 
How did you get introduced to rug hooking?
I had absolutely no intentions of taking up rug hooking. Watercolor had been my art of choice for many years. My parents were very artistic and tried rug hooking around 1980. I thought their pieces were good, but it wasn't for me. When my mother became a widow fifteen years later and was at loose ends, I signed up for a rug hooking class with her to give her something to do. My mother then decided to join a senior singing group, continue her pottery and china painting, and drop rug hooking. I really did not expect to continue hooking myself. I felt I knew enough after 10 classes to hook on my own if I cared to. When the classes were over, I said goodbye, and when the piece I was working on was finished, I would come back to show it to them. As I continued to work on that piece at home, something thrilling happened; something electric; something unlike anything I ever experienced with any other art medium. The hooking sprang to life in my hands. I guess that must be the "being hooked" that everyone talks about. Twenty-two years later, I'm still hooking with and enjoying the inspiration of Roslyn Logsdon's class in Laurel, Maryland. Happily, every now and then, another hooking will excite me almost as much as the first one. That first piece was Backstage. It appeared in Celebration VIII as an honorable mention and won a grand champion at the county fair.
 
What was your first project?
That first piece was Backstage. It appeared in Celebration VIII (1998) as an honorable mention and won a grand champion at the county fair. Backstage is based on a pastel I painted from a photo my daughter took backstage at the Kennedy Center in Washington, D.C. when she appeared as one of the children in The Royal Danish Ballet's production of Napoli.
 
Is there one rug that stands out as being particularly memorable?
Besides my first hooking, I have a few favorites. My Memere—A Strong Woman is especially memorable not only because of all the good childhood memories it brought back to me, but also for an artistic ambition it satisfied. I have always wanted to do a sculpture of an older woman with all the wonderful wrinkles and beautiful soft, translucent skin. Even though I tried just about every other art medium, I never took up sculpture because my hands could not tolerate the wet clay. In short, this hooking, My Memere—A Strong Woman was my "sculpture". Memere was my French Canadian great-grandmother who influenced me in many ways. She was amazing and could do absolutely everything except read and write. This piece had been in the back of my mind for a very long time, and when I began the hooking, it almost hooked itself. I couldn't stop. Her head and arms were done in only a few hours. I thoroughly enjoyed sculpting her form, and the fabric of her dress with the many shades of wool that I dyed for this piece. An extra bonus for me was how excited and pleased my siblings and mother were when they saw the hooking. It really is exactly as we remember her.

Is there a particular style of rugs that you're most interested in hooking?
I love to hook finely shaded still lifes and portraits in a 3 cut. I love bright colors and shiny surfaces. I do almost all of my own dyeing to get the solid shades of colors I need for each piece. Solid-colored wools are my favorite because with them, I have the exciting challenge of creating different textures and surfaces with color alone just as a painter would create with color on paper or canvas.

What's your favorite part about hooking a rug?
I love that rug hooking is so tactile. It's so hands on. You create right through your fingertips.
 
What's a piece of advice you'd give to a new rug hooker?
Just keep hooking and hook what you love. You will always improve the more you do.
 
What do you love most about Celebration?
I love Celebration for allowing me to share what I have hooked, and I love being inspired by the wonderful pieces done by others.
YOUR RECENTLY VIEWED ARTICLES
Free tutorials, expert tips, exclusive partner offers, and more straight to your inbox!