The Golden Egg
Dear Beginning Rug Hooker: Wide strips, soft colors, and raffia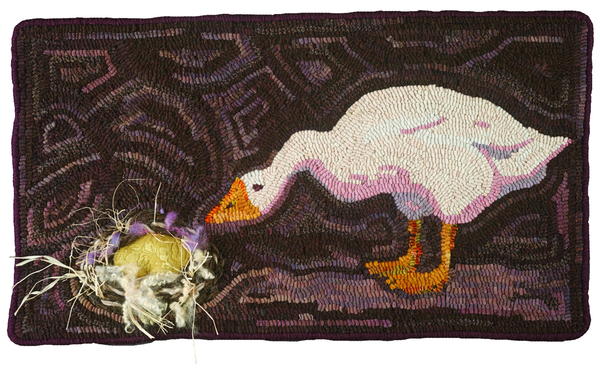 Photography by Impact Xpozures
The Golden Egg, 32" x 18", #8- and 8.5-cut wool on linen, and wool yarn, raffia, and roving. Designed and hooked by Karen Larsen, Elliottsburg, Pennsylvania, 2016. 
 
I've long been a fan of Aesop's fables. They are succinct and come with a moral. One character in each fable, be it man or beast, falls prey to a trickster or perhaps is seduced by one of the Seven Deadly Sins.

In the tale of "The Goose That Laid the Golden Egg," a farmer discovers that his goose is laying very heavy eggs. Upon further inspection, he discovers that the eggs are made of gold. He has hit the jackpot! But selling one of these precious eggs per day soon loses its luster, and the farmer decides to cut open the goose to get all of these precious eggs at once. I don't think I have to tell you how that turned out. The moral of the story is: "Those who want everything may end up with nothing."

The Golden Egg is a simple graphic design with just the goose and the egg in her nest. It was kind of a "chicken and the egg" thing because I'm not sure if I had the design in mind first, or if I bought the beautiful dyed wool first. Regardless, that wool created the perfect setting for this fable. 

Karen Larsen started hooking rugs in 2006 while living in Maine. Now living in rural south central Pennsylvania, she has combined her love of rug hooking with over thirty years of experience in graphic design to form her hooked rug pattern business, Crow's Foot Farm Designs, LLC. Her original rug designs can be found on her website www.crowsfootfarmdesigns.com.

This article is from the March/April/May 2017 issue. For more information on our issues, check out our issues page.
YOUR RECENTLY VIEWED ARTICLES
Free tutorials, expert tips, exclusive partner offers, and more straight to your inbox!