Luxurious and Luscious
Dyeing velvet for rug hooking
By:
Leanne Sitler/LCS Wool 'n Silk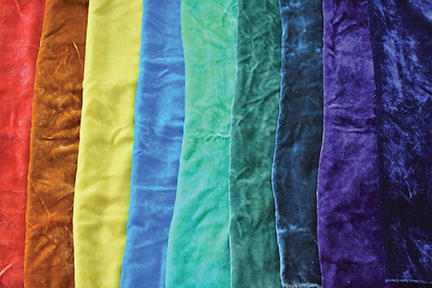 A velvet rainbow.

I've been dyeing silk velvet with acid dyes for several years, but I've always wanted it to be more—more vibrant, more intense, more alive! The colors I dyed were lovely, sold well, and looked great, but they sort of sedately waltzed around the rug and sometimes I wanted them to boogie!  

I knew that the traditional acid dyes used on wool worked on silk because silk was also an animal/protein fiber. I knew that fiber-reactive dyes work on natural/cellulose fiber. The velvet I use is 18% silk (backing) and 82% rayon (the nap). Therefore, the fiber reactive dye would work better on the rayon nap.

So I began a quest to do something a bit different. Using acid dyes, I managed to get some intensity by using much less water: about 1 cup of boiling water (CBW) for each color in a spot dye. That concentrated colors in their separate color puddles and minimized blending. 

But I still wanted more. I began to experiment with fiber-reactive dyes.

What lovely colors—it was fantastic. But it meant a whole new set of supplies to stock and store. And more dyes. I love to dye and wanted the very best results, so I took the plunge and got soda ash, Glauber's salt, 5-gallon soaking buckets, 1⁄4-size steam pans, and new dyes. I was off and running.

I began with four basic colors: fuscia, turquoise, hot black, and yellow. I started by trying to translate the basic formulas that I was using with acid dyes into fiber reactive. For example:

I then discovered the wonderful assortment of straight-out-of-the-tub colors and began dyeing with them, too. It is not a simple, easy, quick, or straightforward process. It is messy, intense, tricky… and gorgeous!
YOUR RECENTLY VIEWED ARTICLES
Free tutorials, expert tips, exclusive partner offers, and more straight to your inbox!