Hutchinson Humor
Hooking the trials and tribulations of life...with a twist
By: Kathy Wright
Updated April 03, 2017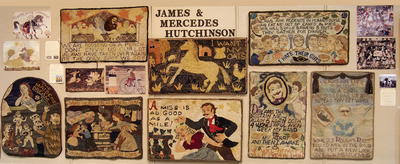 Hutchinson Exhibit 2016
 
The first time you come across a Hutchinson hooked rug, it makes you giggle! Then it makes you reflect on life experiences—those events and conditions that we all share.
 
Where did these unique rugs come from, and who is responsible for them? Over the years there have been many rumors, but until recently the true story and the vast collection had not been uncovered.

On August 17, 2016, the doors opened to Sauder Village's Rug Hooking Week exhibit—and the very first exhibit to feature a collection of hooked rugs attributed to James and Mercedes Hutchinson. The exhibit was accompanied by the debut of the book Rug Hooking Traditions with James & Mercedes Hutchinson, which tells the story of their lives and their art. Watching and listening to the people viewing the exhibit, as they read the humorous inscriptions hooked into these rugs, and hearing their laughter and comments, must have been the exact reaction and response that the Hutchinsons were hoping for.

Kathy Wright is the co-author, editor, and publisher of the Rug Hooking Traditions book series and the director of Rug Hooking Week at Sauder Village. She also conducts presentations and workshops based on the artists and works featured in the book series. For more information: RugHookingTraditions.com.

This article is from the March/April/May 2017 issue. For more information on our issues, check out our issues page.
Tags / Related Topics
YOUR RECENTLY VIEWED ARTICLES