Hutchinson Humor
Hooking the trials and tribulations of life...with a twist
Updated January 29, 2018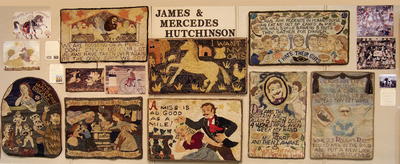 Hutchinson Exhibit 2016
 
The first time you come across a Hutchinson hooked rug, it makes you giggle! Then it makes you reflect on life experiences—those events and conditions that we all share.
 
Where did these unique rugs come from, and who is responsible for them? Over the years there have been many rumors, but until recently the true story and the vast collection had not been uncovered.

On August 17, 2016, the doors opened to Sauder Village's Rug Hooking Week exhibit—and the very first exhibit to feature a collection of hooked rugs attributed to James and Mercedes Hutchinson. The exhibit was accompanied by the debut of the book Rug Hooking Traditions with James & Mercedes Hutchinson, which tells the story of their lives and their art. Watching and listening to the people viewing the exhibit, as they read the humorous inscriptions hooked into these rugs, and hearing their laughter and comments, must have been the exact reaction and response that the Hutchinsons were hoping for.
JAMES & MERCEDES HUTCHINSON
The Hutchinson rugs have been quietly collected by the wealthy and famous, and by celebrities like the Rockefellers, Johnsons, Havemeyer Webbs (Shelburne Museum), Fendelmans (American Folk Art Museum), Lightners (Lightner Museum), Mellons, MacMurrays (Fred & June Haver), and many others since the 1920s. But it wasn't until the 1970s when Joel and Kate Kopp brought Hutchinson rugs into their America Hurrah antique shop in New York City and featured them in their book American Hooked and Sewn Rugs (1975) that the rugs were spotlighted. The rugs drew interest from the general public as well as contemporary hooking artists, and sparked the attention of a new group of private collectors, antique dealers, and museum curators. At that time, the Kopps and other leading authorities on hooked rugs knew very little about the Hutchinsons or their collection.

As director of Rug Hooking Week at Sauder Village, I gather and exhibit the work of contemporary and historic artists. The hope is that attendees will study and learn, understand and incorporate elements in their art today, and develop a more astute eye as collectors. More than 10 years ago I started research on the Hutchinsons, digging through archives and conducting interviews for this exhibit and book.

Repeatedly, people would ask, "You mean the circus rugs?" They would go on to say that they heard the rugs were made by circus employees as they traveled from show to show, so that the workers were generating income between shows. That's a wonderful story, but there is no evidence to back it up; in fact, there is much evidence to deem it untrue.

So why the "circus" connection and confusion? It stems from the name James Llewellyn Hutchinson, of which there were three. James, Sr. was the "Circus Man," James, Jr. was the "Rug Man," and James III was an "Industrial Model and Prototype Man." James, Sr. owned his own circus and was extremely proficient at promoting. Later he  became partners in the Barnum, Bailey, and Hutchinson Circus. In 1887, he sold his share to his partners, retiring a very wealthy man at the young age of 41. There is no evidence of the making or selling of the Hutchinson rugs until the 1920s, and James Sr. died in 1910. There is also no evidence of James, III having any connection to the rugs at all. So that leaves us James, Jr.; documented evidence ties him and his second wife Mercedes to this hooked rug collection.
Laughter is the closest distance between two people!—Victor Borge

Pictured here are some of the rugs attributed to the Hutchinsons, which were on exhibit at Rug Hooking Week at Sauder Village in 2016. These rugs were on loan from private collectors, antique dealers, and museums. The smaller pieces are photos of original Hutchinson rugs. The words inscribed in these rugs are filled with humor—the wonderful images convey humor as well, all based on the trials and tribulations of life.
In the 1920s, James Llewellyn Hutchinson, Jr. sailed up the coast of New England and Canada collecting more than 1,300 new and antique floral and geometric hooked rugs, which they sold in notable auction houses in New York City. This was before Grenfell mats were brought to New York City, Philadelphia, and New England in the 1930s and sold to Americans. Later in the 1920s through the mid-1950s, James, Jr. and Mercedes designed and commissioned more than 870 rugs. Many of these had humorous inscriptions, which is what the Hutchinson rugs are famous for.

Research revealed that James, Jr. took the leading role in both the collected rugs and the commissioned rugs. He is credited as the major influence or contributor for the inscriptions or wording in the rugs as well as the designs. However, we don't know to what level Mercedes was involved. She may have just taken his designs and inscriptions and simply transferred them to the backing, or she may have been the polisher of the wording and designs, or she may have taken his rudimentary or basic ideas and developed them into the wonderful motifs, complex themes, and distinctive inscriptions. Mercedes may have played a minor or a major role—we just do not know.

Once the designs or patterns were on backing, they were dispersed amongst commissioned artists to hook and finish. All we know about the commissioned hookers, so far, is that James, Jr. may have met them during his early "collecting" of rugs, which gave him a chance to see the quality of their craftsmanship and the timing of their production.

A day without laughter is a day wasted!—Charlie Chaplin
RECURRING THEMES
After documenting the more than 870 commissioned rugs, Janet Conner, a rug hooking artist, instructor, and restorer of hooked rugs, joined me on this book project. She assessed and categorized the recurring themes. Most, but not all, of the commissioned rugs have inscriptions and these four themes predominate:
Family relationships, such as courtship and love, warnings, betrayal and heartbreak, elopement, advice to brides, marriage, families and children
Special occasions and activities, such as holidays, travel and outings, work and play, cooking, and drinking
Colorful characters, such as sailors, ships, mermaids, firemen, dreamers, widows, Adam and Eve, literary and historical personages, and animals
In-laws have long been the butt of jokes and they are frequently depicted in Hutchinson rugs. (This leads to the question: If you owned an in-law rug, would you bring it out when your in-laws came to visit? Or would you hide it? Interesting question!)
Whims and quirks of human relationships and experiences are all fair game in Hutchinson rugs. The wry humor is reflected in the melodramatic expressions and actions of the leading characters and the common foibles of daily life. The Hutchinson designs provide universal insights into the human condition—all of which are expressed so well through the medium of hooked rugs!
For 30 years, even throughout the Great Depression, the extraordinary Hutchinsons continued to design and sell their distinctive rugs, which were so different from the conventional and popular florals, geometrics, and animal rugs. The couple and the rugs are simply remarkable.
To date, this is the largest collection of hooked rugs documented in the United States. The humor and uniqueness are what continue to make these rugs collectable, interesting, and unfortunately, even copied. 
These black and white photos from the 1920s–1950s Parke-Bernet auction catalogs, show Hutchinson rugs with amusing, poignant sayings aimed at in-laws.

Laughter is an instant vacation!—Milton Berle

More Hutchinson rugs to make you chuckle. For more information on any of these rugs, contact Kathy Wright at RugHookingTraditions.com.
THREE BOOKS OF INTEREST
Rug Hooking Traditions Book Series documents historic collections and provides an in-depth look at rug hooking artists, their lives, and their work. The books are filled with stories about the artist's family and experiences, photos, and provenance for individual rugs, and a close look at elements such as design, color, and techniques. Each book has debuted with an exhibit of the featured artist's work at Rug Hooking Week at Sauder Village. To date, there are three books in the series:
Rug Hooking Traditions with Magdalena Briner Eby
Rug Hooking Traditions with Patty Yoder & Esther Knipe
Rug Hooking Traditions with James & Mercedes Hutchinson
For more information on the books:
www.RugHookingTraditions.com
or
www.Amazon.com.
RUG HOOKING WEEK
Rug Hooking Week at Sauder Village is the largest rug hooking event in the United States in the number of exhibit rugs, classes, and attendance. August 14-19, 2017 will mark the 21st anniversary of this event, which includes both contemporary and historic work, the exclusive Celebration of Hand-Hooked Rugs annual award-winning rug exhibit, and this year's special tribute to the "MEN" of the rug hooking world. www.SauderVillage.org/RugHookingWeek
Kathy Wright is the co-author, editor, and publisher of the Rug Hooking Traditions book series and the director of Rug Hooking Week at Sauder Village. She also conducts presentations and workshops based on the artists and works featured in the book series. For more information: RugHookingTraditions.com.
Tags / Related Topics
YOUR RECENTLY VIEWED ARTICLES