Accepting a Commission
Ask the Experts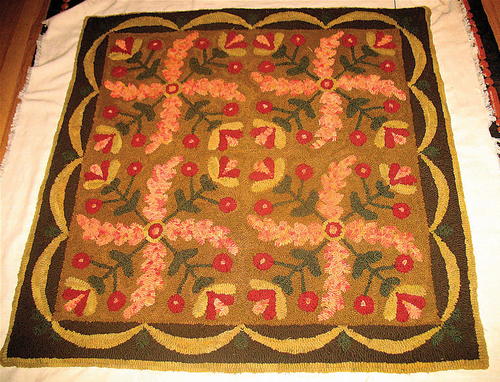 A photograph of the commissioned piece Maddy Fraioli refers to in her article

I always feel gratified when I sell my work; I am honored that my creation speaks to someone else so much that they want to make it a part of their home. And from a practical point of view, selling work also allows me to purchase new materials and helps me earn a living.
 
Until recently, however, I had never had the opportunity to examine what the monetary value of one of my rugs might be. Most of my rugs were made during the stolen moments at the end of a workday, so I had never kept track of how long it took to make a particular piece—nor had I kept track of how much wool I used.

So when I received a call from one of my pottery clients about commissioning a rug, I realized that I had no basis on which to quote a price. I knew the price should depend on the size, the pattern, and the cut of the rug she wanted, but before I could even invite my client over to discuss her interests, I decided that I needed to analyze my time and materials in a measured way.

This article is from the March/April/May 2011 issue. For more information on our issues, check out our issues page.
 
YOUR RECENTLY VIEWED ARTICLES
Free tutorials, expert tips, exclusive partner offers, and more straight to your inbox!