Barns: Beauties of the Field--Even More Barns!
By:
Collection curated by Lisanne Miller
Updated September 05, 2019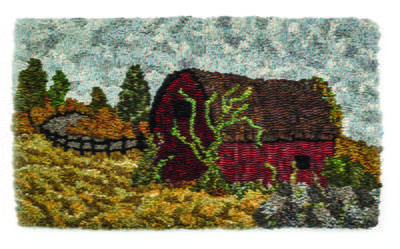 Still Standing, 11" x 20", hand-dyed wool and Colegrove yarn on linen. Designed and hooked by Francine Even, Norwalk, Connecticut, 2016.

Barns, whether new with a shiny roof or just about to fall into the pasture where it stood for centuries, have stories to tell. The story may be one of work, one of barn dances, or one of a family converting it to a home.

Whatever story, it is a beautiful one that stamps a memory into each of our hearts. Once you start looking for barns, you see them everywhere—standing strong in the middle of hundreds of acres or peeking through the foliage.

I asked each fiber artist to stretch themselves somehow: in technique, color, design, or in combining elements. The participants were only limited by their own imagination. Each of the fiber artists was selected because of their individual creativity, whether it be in rug hooking, needlework, or punch needle.

Lisanne Miller is the owner of W. Cushing & Co/Joan Moshimer's Studio, P is for Primitive, and Peace, Love and Wool.  She is the co-director of Caraway Rug School, and a "Fellow" Craftsman of the Craftsmen's Guild of Mississippi. Lisanne has served on the ATHA Board for the past 9 years in various capacities and continues to teach across the country at rug schools, hook-ins, and other venues.

This article is from the September/October 2016 issue. For more information on our issues, check out our issues page.
Barn Rugs
For a closer look at the rugs, please click on each image to enlarge. Each of these photographs was taken by its respective artist.
Still Standing, 11" x 20", hand-dyed wool and Colegrove yarn on linen. Designed and hooked by Francine Even, Norwalk, Connecticut, 2016.

We do not have barns in France, unlike their abundance in many parts of the United States. I have always been drawn to these structures when traveling throughout New England and Nova Scotia. I find that there is something majestic about these oversized buildings that give us a view into the lives of farmers of an era long gone, when barns were necessary to house animals, store feed and hay, and farming equipment. There is also something sad about many barns I have seen, as most of them are either neglected or abandoned simply because they're no longer needed or too costly to maintain or repair.

This is the feeling I tried to capture in my piece: a lonely, yet still-standing and imposing presence. There is an old road that just disappears behind the barn because it is no longer used. Weeds are overpowering her, yet she still stands. Yes, my barn is a "she," not an "it."

I have used (or tried to) the techniques taught by Lisanne in her architectural class: rocks, trees, bushes, fields, and sky in addition to the weathering of the roof and façade of the barn.

I started these challenges thinking that these representational pieces were out of my realm, as I am more inclined to create geometric and abstract pieces using bold colors. I can no longer say that these pieces are out of my realm. They are simply becoming a small, more comfortable aspect of my work, and I must admit that I enjoy the creative/drawing process, as well as the color and texture planning. Besides learning this, I also discovered that I like hooking skies!

Maine Barn, 18" x 20", #4-cut wool on linen. Designed and hooked by Roslyn Logsdon, Bethesda, Maryland, 2016.
          
When Lisanne approached me and asked if I would hook a barn, I said, "No, I am a city girl." But on second thought, there are barns half an hour from my house and many barns on the coast of Maine where we go in the summer. My husband and I spent two weeks driving through the Maine countryside looking for interesting barns. The roads were too narrow to stop, so we sped by many wonderful barns. All that time, we passed the barn up the hill from our house—and then I realized that it was the Maine barn I had to hook.

Many Maine barns are attached to the Maine house so that the farmer can stay warm in the winter going from home to barn. The barns by the coast, probably owned by lobstermen, have lobster buoys hanging on the side—like the one up the hill from our house. It also had an American flag hanging on the side that faced the road.
           
I used the subtle, weathered colors that best invoke Maine for me. Though I often hook architectural pieces of images in Europe, all structures have similarities: form, space, lights and darks, shadows, and textures. The artist reconstructs the image seen and in doing so, creates the illusion of space. Color helps to create this illusion and so does placement and size. Details are more defined when they are closer to you. In doing this hooking, I did learn there is excitement in the simplicity of a barn.

Ye Olde New England Barn, 14" x 16", Valdani threads on weaver's cloth. Designed and punched by Kathy Spellacy, York, Maine, 2016.

I have lived in New England most of my life. As a family, we would take long drives in the country looking at houses, barns, and animals. That memory has stuck with me, and I still love to ride off the beaten path. In Maine, barns are usually white, red, and green; occasionally I would see a yellow barn. The older the barn was, the better I loved it! I imagined it had quite a story to tell.
I collect pictures from magazines and photos, and my piece is an adaptation of an old barn photo I once saw. I loved the pale yellow color mixed with the weathering of the barn. It had definitely seen better years. But over those years, it was painted over and over, and boards were replaced as well as a roof or two.

I used Russian punch needle for this piece because I thought it would be quite challenging, and it certainly was. I used a variety of floss, pearl cotton, cotton, and a little wool. Punching the barn was fun, but the fall tree gave me fits. I thought using some of the variegated Valdani floss would make it simple, but it did not quite work out the way I wanted it to. I really had to punch small individual leaves, but I still was not able to accomplish a full thick tree. I used a lot of pearl cotton on the barn, and I like the light sheen it evokes.

I learned from this piece that it is great to go outside the lines. I did a rough sketch on weaver's cloth, but as I punched, I really did not use the lines that were drawn. The sketch just helped me to keep the dimensions for the overall piece correct. It truly felt like painting with floss, which I have never experienced before with punch needle because I was too busy staying inside the lines!

Twedt Barn, 23" x 26", #6-cut wool on Scottish linen. Designed and hooked by Joseph Toubes, Des Moines, Iowa, 2016.

Once learning of the Barn Challenge, my wife and I went to the Iowa Barn Foundation's self-guided tour, and we liked this barn the best. The barn is well over a century old, and one of its distinctive architectural features is its rounded roof, constructed of 40 two-ply laminate rafters, which enables the hayloft to be free of posts and beams. Thus, removal of and storage of hay was easier.

I dyed all of the wools for this rug, except the barn's ivory trim, for which I used as-is wool. The barn red colors were dyed with the goal of creating the look of faded wood. This rug was a departure from the usual whimsical creatures that I hook and took me about a month to hook. The biggest challenge I faced was running out of the barn red and having to reproduce the formula to get a match—and I succeeded.

Road Trip, 18" x 24", mixed media #4 and 5 cut on linen. Designed and hooked by Tamara Long, Clarksville, Tennessee, 2016.

Advertising barns are disappearing from the landscape. From the 1930s through early 1970s, barns were painted to draw travelers to destinations or advertise products. The development of the interstate highway system, beautification laws, and cost to replace wooden structures has impacted the number of these icons. At one point, 900 Rock City barns could be seen from Michigan to Florida. Now there are fewer than 100. Clark Byers was prolific in painting Rock City and then Sequoyah Caverns barns.

My goal was to capture the excitement and adventure I used to feel as a kid riding around the back roads with my parents to auctions, on Sunday drives, or to see my grandparents in Kansas. I discovered Meramec Caverns barns when I moved to mid-Missouri to attend college. On the weekends, we explored the back roads and hunting places to canoe and camp.

The advertising colors I selected are traditional for each tourist site. Rock City was always black, red, and white. Sequoyah included some with yellow after Mr. Byers retired from Rock City painting. Meramec seemed to have that great bright blue included with many of the roof paintings. The background invokes summer.

I expanded the urge to "hit the road" by including a canvas covered with maps and coffee stains. Looks like someone may have been checking his or her trip plans or maybe making a new plan of where to go and what to see while enjoying several mugs of coffee.

I added dimension to each of the barn studies by pulling loops high or including other fibers that add more texture and pop off the backing. The benefit here is when you photograph the piece, the trees or weeds will stand out more and give our two-dimensional format a more textured look. The additional benefit is that when the piece comes home and is hung with down lighting, there will be shadows from the trees and weeds to add interest.

I let my memories play with all the great resources from the Internet. Thanks to great websites, I could take my time and look through tons of shots, sketch, and include my memories in the final draft to make this truly a piece from my history.

Now, who is ready for a road trip?

Many Parts Come Together, 23" x 15", threads, wool fabric hand-dyed on cotton. Designed, hooked, and stitched by Susan L. Feller, Augusta, West Virginia, 2016.

Twice daily, I walked past my neighbor's barn, no matter the weather, to feed a cat. The small structure was a shelter for cows sometimes, housing for swallows, and about a hundred years old. While I was growing up, my mother would point out an old structure (often a barn) and say, "There is a story." It was natural to look closer and imagine this building's story as told through my eyes.

Each of the squares represents a day's sketch and hooking within a year-long project. I selected these six to become a larger work because of their simple designs and colors. Working by hand is important to me. The meditative aspect, respect for past generations, and physical rhythm culminate in my contributions to the slow cloth movement. It was important that the techniques involved in supporting the squares continue in this vein.

From Australian Yvonne Dalton, I purchased a length of cotton that was colored in warm tones from months of being wrapped around a eucalyptus tree. While in Vancouver, BC, I chose a silk scarf finished in a traditional technique, the Kantha stitch, a longer running stitch, then tight quilting using thicker cotton threads. West Virginia hand weaver Wendy Clark gave me her thrums (lengths of cotton and silk dyed threads from the scarves she makes). These three ingredients were the inspiration for the presentation of the squares.

During the blizzard of 2016, I diligently stitched rows of colors in patterns to evoke the old growth chestnut boards of the barn. All of the colors are warm—to me, acknowledging the age in my story.

I learned a different technique, met a fellow West Virginia artist who became a friend, and created a piece I can look back on as pivotal in my art journey.

Virginia Tobacco Barn, 24" x 32", #4-cut wool on linen. Designed and hooked by Jane Dunaway, Brandon, Mississippi, 2016.
       
Both my paternal and maternal grandparents depended on the sale of tobacco for their livelihood. Dad's family grew tobacco in Kentucky, and Mom's family raised tobacco in Virginia. Most of my summers were spent assisting grandparents with this crop. My memories are of hot, humid days at the barn handing leaves to a stringer, trips to the barn to provide water for Grandpa as he patiently waited for the tobacco to cure from the fires he stoked, the marvelous aroma of the cured tobacco as it was removed from the barn, and lazy days of climbing the rafters of the empty barn with cousins.

This type of barn was prevalent throughout rural Virginia, and it still stands on my family's property today.

Nestled Among the Fields, 18" x 24", #5- and 6-cut wool and mixed media on linen. Adapted with permission from a photograph by Fred Draper and hooked by Jan Henger, Birmingham, Alabama, 2016.

Nestled Among the Fields is a hooked piece based on a photograph that my husband truly loves. The devil is in the details—using needle felted yarns and decorative stitches, I was able to incorporate the details and keep them realistic. Nestled Among the Fields was a great piece to create and watch unfold!
 
YOUR RECENTLY VIEWED ARTICLES
Free tutorials, expert tips, exclusive partner offers, and more straight to your inbox!