Damascus Edging and Twisted Fringes
Revisit a traditional woven rug finish, and see what it can do for a hooked rug.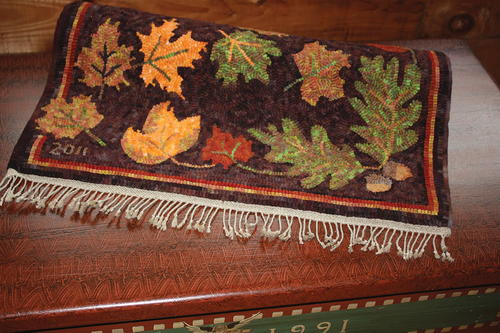 Gloria, #6-cut wool on linen. Designed and hooked by Karen Kaiser, 2011.  Wool dyed by Nancy Z. Parcels. 

Have you ever noticed how multifaceted textile-loving people are? We all dabble in many fiber arts: Knitters spin their own yarn. Spinners weave and knit. Weavers quilt. Quilters hook. We all love to dye. We live for fabric, yarns, equipment, and workshops.

As a weaver who dabbles, and an admirer of hooked rugs, I would like to share a favorite woven-rug finish that can be adapted to fringe the edge of a hooked rug. The Damascus edge is often found on the tightly knotted edges on Oriental rugs woven throughout the Middle East and China. The fringe ends are made from the unwoven areas of the warp (the threads on a loom).

When the warp and weft (the threads that interweave back and forth horizontally across the warp) are woven together with alternating threads passing over one and under one another, the result is a plain weave fabric. Rug hookers use a plain weave fabric, usually cotton, linen, or burlap, for their backing. Because plain weave is very dense, a Damascus edge is the perfect choice for the backing of a hooked rug.

This article is from the November/December 2011 issue. For more information on our issues, check out our issues page.
YOUR RECENTLY VIEWED ARTICLES
Free tutorials, expert tips, exclusive partner offers, and more straight to your inbox!