Exploring the Tarot
Twenty-three artists hook the major arcana.
By:
By Loretta Scena/ Photographs by Anne-Marie Littenberg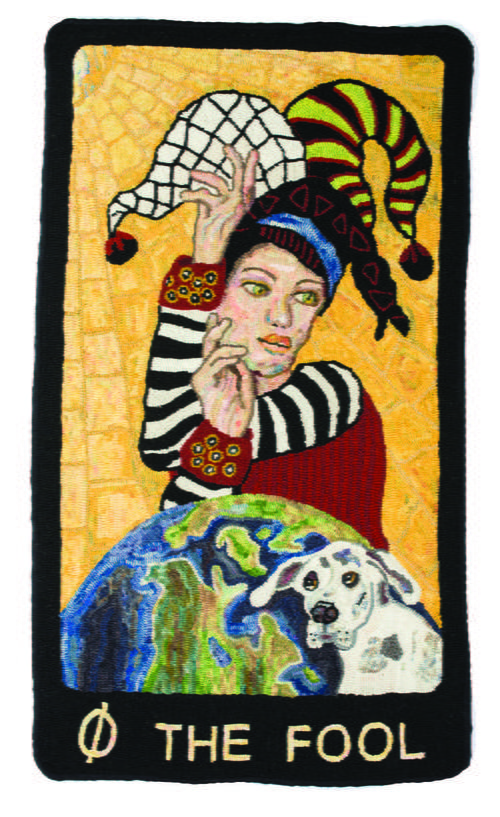 The Fool: Innocence, Blind Faith, 24" x 42½", 100% hand-dyed wool on linen. Designed and hooked by Diane Phillips, Fairport, New York, 2015. 

I have always loved and been drawn to Tarot cards. Their pictures and meanings transport me to a place where spirituality combines with magic and art, and the result is a wonderful deck of cards to look at, reflect on, or simply enjoy at face value.

It was on the long drive home from Ontario, in the summer of 2007, when Michele Micarelli and I, on our way back after spending a few days at a workshop given by Wanda Kerr, contemplated possible collaborative projects. It is a truly creative and motivational experience when like-minded people get together and brainstorm after spending a few days learning and being inspired by each other.

Michele and I both had other commitments for a few years, but we always came back to discussing the Tarot cards and what wonderful rugs they would make. It wasn't until the autumn of 2013 that we began our "Exploring the Tarot" project. We provided each artist with a card from Universal Waite Tiny Tarot Cards (copyright 1971, U.S. Games, Inc., used with permission). Each hooking artist used her own interpretation of the card to influence the design. The only guidelines were that the hooked pieces had to measure 24 by 42 ½ inches, and all had to be edged in black. The rugs were all completed in 2015. The collection of rugs is truly outstanding, and it is my wish that you enjoy each and every one of these beautiful rugs as much as I do.

Loretta Scena lives on Long Island, New York. She is a McGown-certified teacher who teaches classes in her home studio and at rug schools and workshops in the United States. She loves working with color and texture and creates beautiful hand-dyed wools. She is also a self-taught fiber and bead artist. She is the current president of the Long Island Guild of Rugcrafting Artists. Visit her website: lorettascena.com.

This article is from the September/October 2016 issue. For more information on our issues, check out our issues page.

 
YOUR RECENTLY VIEWED ARTICLES
Free tutorials, expert tips, exclusive partner offers, and more straight to your inbox!