First Chapter of the First Rug Hooking Guild in the U.S.
Where it all began
By:
Story and Photography by Paulette Hackman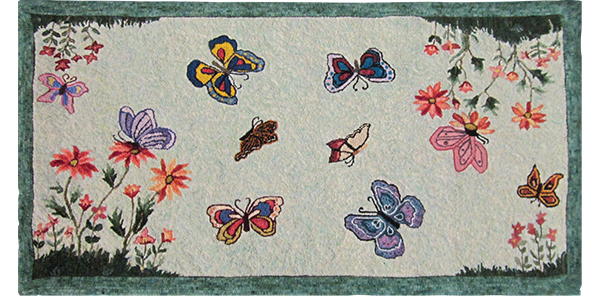 Summer Butterflies, 48" x 26", #4-cut wool. Pattern designer unknown. Hooked by guild members: Claire deRoos, Nancy MacLennan, Barb Gott, Barbara Reining, Cheryl Keeney, June Adamek, Karen Edwards, Joanne Nichols, Jan Tarantino, Jan Vining, Pat Cluck, Sue Spencer-Kellman, 2019.

There's a palpable surge of energy at today's guild meeting: this, the second Tuesday in April.

Winter has all but broken in this region of the Northeast, which lies along the southern tier of New York State and the northern tier of Pennsylvania. With little threat of bad weather today, members from further away made the drive to Vestal, New York. The air is filled with the spirit of reunion and camaraderie.

There's a show coming this November—the guild's biennial rug-hooking exhibition of an estimated 200 works of hooked art in the form of rugs, hangings, pillow covers, pocketbooks, and even postcards. Though the show is still six months away ("just around the corner," in rug-hooking time) some of last autumn's guild patterns of pumpkins and apples have made their appearance today, each one interpreted in unique and creative ways. Before the meeting starts, members look at these finished works with admiration; more will be said about each piece at the regular "show and tell" on each month's agenda.

Summer Butterflies is also here today, a project of many hands. Centerpiece for the show, the fine-cut rug showcases expert hooking technique, enviable fine shading, soft patterns of spot dyeing drifting through the background, and beautiful corded wool for a perfect finish—craftmanship of guild rug hookers who have each applied their special skills as the pattern passed to them.

Over by the coffee pot, refreshments are laid out. Today there is a large bowl filled with cut fresh fruit; a platter of Welsh cookies, a local Pennsylvania specialty; and a pan of tempting homemade crumb cake. The unstated rule: Covers and wraps come off the goodies at lunchtime, still two hours away.
YOUR RECENTLY VIEWED ARTICLES
Free tutorials, expert tips, exclusive partner offers, and more straight to your inbox!