Folklife Rugs
Telling your story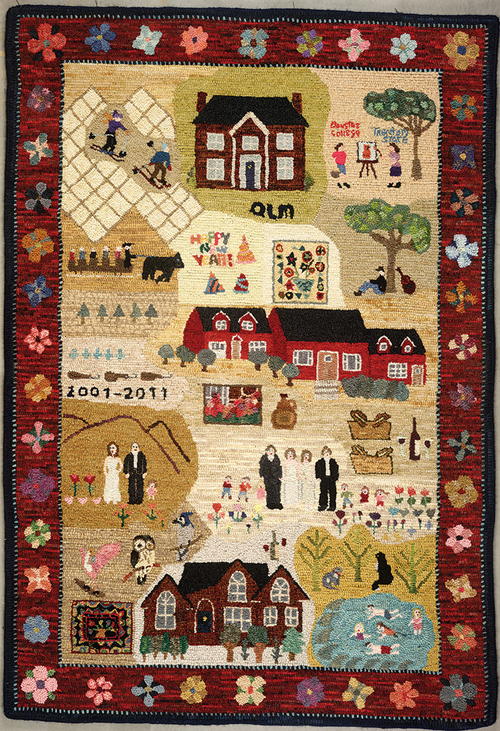 Judy and Larry Quintman's Story, 40" x 58", #6- to 8-cut wool on linen. Designed by Norma Batastini and hooked by Judy Quintman, Wilmington, North Carolina, 2011.

This story begins in the late 1990s in Toronto, Canada, with the rug hooking legend Betty Laine. As a renowned teacher and mentor, Betty was always on the lookout for new ideas that could be translated into a rug design. She attended an exhibit of Oriental carpets from southeastern Turkey that featured approximately 40 rugs made by weavers who had been encouraged to work on new designs inspired by their surroundings.

The story then moves to George Jevremovic, an American student living in Turkey who wrote a book, Azeri Folklife Carpets, Selected, With Introductory Notes (Woven Legends, 1992), to accompany the exhibit.

Inspired by the textiles of Turkey, George writes that he established workshops and resources for a group of weavers to "approach their work personally, drawing inspiration from their environment" and "suggested to the weavers, visually and verbally, methods of improvisation that evoked equal parts laughter and innovation." 

These were the carpets featured in the Azeri Folklife Carpets exhibit in Toronto. Azeri was a name George picked out of the air to represent this new style within the boundaries of antique Oriental carpets.

Betty was inspired by the stories told in those carpets and imagined rug hookers telling their own stories. She told Jane McGown Flynn about the carpets and asked her to design a rug pattern similar to the Azeri style for the McGown Teachers' Workshops. The first rug design, Gabbeh, was introduced across the country at the Teachers' Workshops and was an immediate success. Teachers and students worked on Gabbeh as an introduction to the genre, and the wheels began turning. Soon, many were designing and hooking their own story.

This article is from the June/July/August 2014 issue. For more information on our issues, check out our issues page.
YOUR RECENTLY VIEWED ARTICLES
Free tutorials, expert tips, exclusive partner offers, and more straight to your inbox!