Homes of the Rising Sun
Hooked sunshine warms a home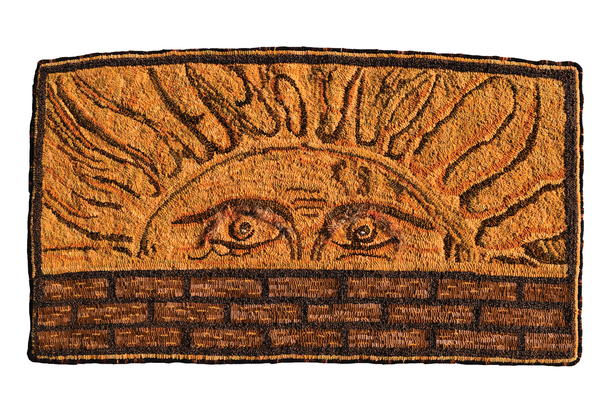 Rising Sun, 24" x 42", #3- to 8-cut wool on linen. Designed and hooked by Darlene Switalski, Norman, Oklahoma, 2017.

In 2010 while attending a rug-hooking chapter meeting at a member's home in Morgantown, West Virginia, my attention was drawn to a large tin "rising sun" sculpture by an unknown artist hanging on her red brick patio wall. I was captivated by its artistic beauty and its depth of design. I knew then what my next rug-hooking project would be.

Many elements of design entered my mind. There would be photos to be taken, sketches drawn, a size chosen, enlargements to be made, colors decided upon, backing and wool to be chosen, and hooking and binding to be done.

My friend who owned the sculpture volunteered to take photos and promised to send them to me after I returned home.  When they arrived, I immediately opened the package, ran upstairs to the office, slipped the CD into the computer, reviewed the photos, and printed several color and black-and-white images. I chose one color image and one black and white image to use, found a sheet of tracing paper, and began tracing the photo image onto the paper. 

First, I needed to determine the size of the rug. I knew just where this rug would go—at my entryway. I measured the entrance area in our townhome and decided a 24" x 42" rug would fit nicely; our guests would first see the "rising sun" rug and, of course, ask about it.

Then, with the tracing paper image in hand, I drove to the nearby copy center and had an enlarged image made onto white paper for the 24" x 42" rug. I now had my large pattern for tracing onto a linen fabric backing.

In 2007, as a beginning rug-hooker, I learned one good way to determine which colors to use in a rug from my first instructor in North
Carolina: Look at paint samples at a paint supply center and choose a few paint samples. I chose a variety of analogous gold color samples and off I went, as happy as a lark.

I called on another chapter member who I knew dyed beautiful wool. She asked that I send the paint samples and the large paper pattern to her. She traced the pattern onto linen and dyed nearly all of the wool for me. I was thrilled!

Within another few weeks, the pattern on linen arrived, along with the dyed wool. The yellows and golds for my Rising Sun were artistically dyed in analogous colors I had chosen and the patterned dark browns, which she chose, were overdyed to match the golds with a touch of orange added. I would use the dyed variegated brown for the bricks. Previously, I had found a Harris Tweed dark brown skirt at a secondhand store; I washed it and prepared to use it for the brick mortar and surrounding edges.

As I started thinking about hooking, I wasn't sure how or where to begin with the colors and shading. I needed guidance. So I called yet another chapter member for help. She suggested reviewing the black-and-white copy image in small sections to determine the shading along with the color image, and in time, as I hooked and consistently reviewed, the rug came together in small sections.

I began by hooking the sun's rays from the right side of the rug to the left side, using the black-and-white photo to identify the bright areas and the shadows. I then hooked the sun's face, moving again from the right side to the left side to include the eyes, eyelashes, and eyebrows. I added eyelash yarn for a little playfulness.

Next, I hooked the bricks horizontally and included #3-cut gold strips within each brick to carry the sun's rays into the brown brick. I outlined the rug first with the brown Harris Tweed textured wool, then surrounded the entire rug with gold wool. Lastly, I finished the edges by using a multi-colored dark- to light-brown dyed wool yarn to bring together all the colors within the rug.

My journey on completing the Rising Sun rug began in 2010 and I feel fortunate to have completed it this year after many of life's interruptions. Although my 10 years of rug hooking have been sparse, I now have completed seven rug-hooking projects and know I will continue my passion for rug hooking. In fact, I'm now thinking and wondering what my next rug-hooking project will be!

I am pleased to share my rug with all my fellow rug-hookers, and thank Mary Peterson of the Piedmont Rug Hookers for her Saturday morning instructions; Melissa Russell for her photography; Susan Feller for her wool dyeing expertise; Abby Chapple for her artistic guidance, talent, and knowledge; as well as my many friends of the Mountain State Fiber Artists and With Hearts and Hands Antietam Chapters, who were always helpful with their critique and guidance. I especially thank my husband who supported me in my many career moves from Oklahoma to North Carolina to West Virginia and once again back to Oklahoma.
YOUR RECENTLY VIEWED ARTICLES
Free tutorials, expert tips, exclusive partner offers, and more straight to your inbox!