Hooker Hill Rug Retreat Sponsored by Wool Poppies
Camps and Workshops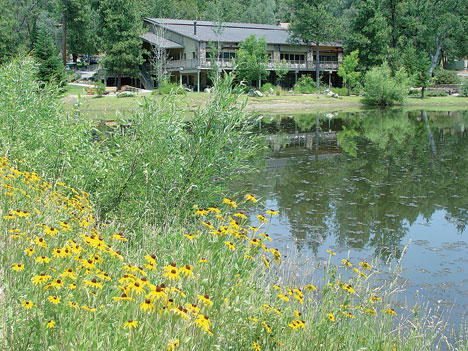 "Another year at the Wool Poppies' rug retreat; another fun time! There is a path around the pond at the ECCO center where Hooker Hill Rug Retreat is held. Upstairs we have our meals, Show & Tells, and five o'clock receptions; downstairs we have our two classes. Our sleeping rooms are a gentle walk away. Breakfast is served at 8 a.m.,but the coffee is ready at 7 a.m., so each morning you'll find rug hookers sipping coffee next to the pond watching the colors change as the sun gets higher in the sky. Many of us took walks around the pond to stretch our legs before a good day of hooking!" —Laura Pierce

Scenic Oakhurst, California, provided the setting for the third annual Hooker Hill Rug Retreat, which was sponsored this past July by the Wool Poppies, Central California ATHA Chapter #57. The intimate and fun learning experience for rug hookers of all levels featured a class on wide-cut portraits with Laura Pierce of Petaluma, California, an open class with Marita Friedman of The Merry Hooker Woolens, and a mini-class on hooked altered art with Kathy Clark of Briarwood Folk Art.

The retreat features a daily wine social at 5 p.m., a rug show-and-tell after breakfast each day, a wool drawing at every lunch, wool bingo on Wednesday, and new for 2012, Market Day. On Market Day, any attendee may set up a table to sell his or her wares. Local guilds will be invited to browse and shop the handmade items and other supplies.

The HHRR continues to make its home at ECCO (Evergreen Conference Center Oakhurst), located in the foothills of the Sierra Nevada Mountains at an elevation of 3,000 feet. The classrooms are large and well lit with windows looking out to a pond. Rooms in Sanford Lodge include single, double, and quad accommodations with corresponding pricing. All beds are twin and each room comes with a private bath. Towels are changed once during the retreat, and attendees make their own beds. The lodge is surrounded by oak, manzanita, and ponderosa pine with many quiet places to walk or sit while enjoying the natural surroundings.

The area offers many attractions, with the southern entrance to Yosemite only 12 miles away. Many attractions are closer to camp, such as the Mariposa Grove of Giant Sequoias. Boating and fishing are also available at Bass Lake (10 miles from Oakhurst), and a golf course is located 5 miles from town.

Instructors

Laura Pierce taught a class on wide-cut portraits in 2011 and returns to teach an open class in 2012. Laura teaches at rug camps throughout the world, writes articles, and sponsors two rug camps, Little River Inn and the new Monterey Fiber Jam at Asilomar in Pacific Grove. The HHRR attendees experienced firsthand how she guides her students in creating their own designs from photographs, transferring these designs to backing, and using their own pictures as visual aids.

Marita Friedman of The Merry Hooker Woolens taught an open class in 2011 and will return to teach a dyeing class in 2012. Marita has a background in constructing custom bedding, curtains, and pillows for the design trade. She demonstrated her technique for pillow construction that eliminates those pesky "dog ears." She also demonstrated how she creates a beautiful bound edge by adding a bias-cut covered-fabric cording. This method is especially useful for finishing round or oval shaped rugs.

Sharon Saknit is a McGown certified teacher with over 75 hooked pieces to her credit. She will teach an open class. Her preferences are #6-cut impressionistic style and geometrics with an emphasis on tessellations. Rose of Sharon Rugs evolved over the years from a simple way to supply her small group of students to a a web-based venue with a wide selection of kits, woolens, and supplies for all. Sharon teaches at rug camps throughout the country as well as at her home.

This article is from the March/April/May 2012 issue. For more information on our issues, check out our issues page.
YOUR RECENTLY VIEWED ARTICLES
Free tutorials, expert tips, exclusive partner offers, and more straight to your inbox!