How to Hook with Yarn: Just Do It!
No cutter, no twisting, no problem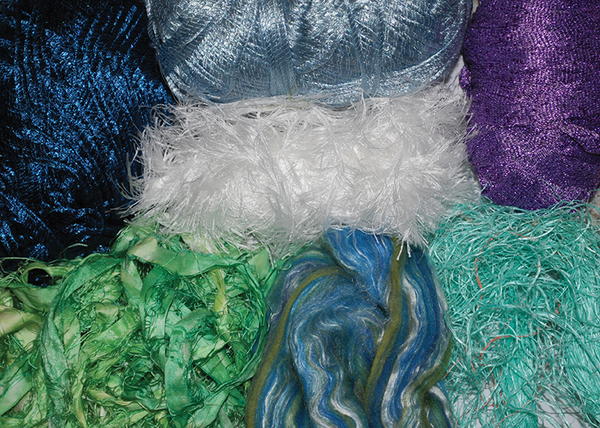 Can you hook with this? Yes!
Clockwise from top left: Blue, silver, and purple metallic yarns of various gauges; salvaged polyester beach rope; wool roving; silk sari ribbon; white polyester novelty yarn.

The first step in learning to hook with yarn is the most obvious: just try it. Chances are that if you have hooked with wool strips, you already have all of the skills necessary to get started with yarn. And for those who are already hooking with wool strips and wondering what hooking with yarn has to offer, I point to four benefits. (If you notice that they are the same benefits that any mother of young children looks for in any activity, you'll not be wrong!)

Rug hooking with yarn is:

» Relaxing: Hooking with yarn uses the same basic technique as hooking with wool strips. The only difference is in the material being hooked. As compared to wool strips, I find hooking with yarn can be less technical and more forgiving.

» Portable: Simplify your life and work with pre-dyed yarn. High quality yarn is available almost anywhere. Pieces hooked with yarn can also be substantially smaller than pieces hooked with wool strips, which means far less workspace is required. Sometimes I even hook in the car as we travel.

» Quick: You don't need to cut wool strips, so there is little preparation required before sitting down to hook. If you avoid dyeing your own yarn, there is no preparation time at all. And less preparation time means more hooking time!

» Fun: Some makers of yarn are artists in their own right and have created a wide range of colors and textures in both wool and artificial materials. You can experiment with shiny metallics, fuzzy polyesters, and other intriguing novelties. You can even mix in random fibers that you pick up off of the beach.

You will probably have detected from these benefits that I am a very informal artist. I was trained in enough rules in my first profession that I do not seek them out now in my art. The great beauty of hooking with yarn is how few rules one needs to achieve a fully professional finish. When reading this article, do not believe for a moment that I studied anything technical before I made my first composition. I gave it a try, learned what I liked, and looked up the terminology later. I encourage everyone that I teach to do the same.

Hooking with yarn is very similar to hooking with a very thin-cut wool strip. Both materials allow you to achieve a higher resolution in your image as compared to larger-cut wools. This gives you two flexibilities as an artist: you can capture more detail in your piece, or you can capture the same amount of detail but in a smaller piece. I have typically chosen the latter benefit, regularly working in as small as a 5" x 7" format, but I have also made pieces as large as four feet wide.

It is also likely that you already have all of the tools and materials that you will require to hook with yarn:
YOUR RECENTLY VIEWED ARTICLES
Free tutorials, expert tips, exclusive partner offers, and more straight to your inbox!