How to Hook with Yarn: Just Do It!
No cutter, no twisting, no problem
Updated July 23, 2018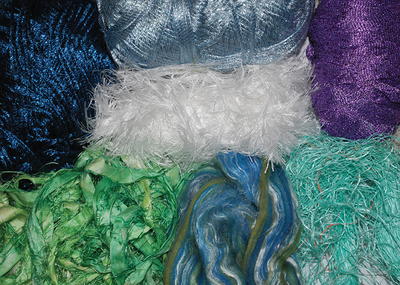 Can you hook with this? Yes!
Clockwise from top left: Blue, silver, and purple metallic yarns of various gauges; salvaged polyester beach rope; wool roving; silk sari ribbon; white polyester novelty yarn.

The first step in learning to hook with yarn is the most obvious: just try it. Chances are that if you have hooked with wool strips, you already have all of the skills necessary to get started with yarn. And for those who are already hooking with wool strips and wondering what hooking with yarn has to offer, I point to four benefits. (If you notice that they are the same benefits that any mother of young children looks for in any activity, you'll not be wrong!)

Rug hooking with yarn is:

» Relaxing: Hooking with yarn uses the same basic technique as hooking with wool strips. The only difference is in the material being hooked. As compared to wool strips, I find hooking with yarn can be less technical and more forgiving.

» Portable: Simplify your life and work with pre-dyed yarn. High quality yarn is available almost anywhere. Pieces hooked with yarn can also be substantially smaller than pieces hooked with wool strips, which means far less workspace is required. Sometimes I even hook in the car as we travel.

» Quick: You don't need to cut wool strips, so there is little preparation required before sitting down to hook. If you avoid dyeing your own yarn, there is no preparation time at all. And less preparation time means more hooking time!

» Fun: Some makers of yarn are artists in their own right and have created a wide range of colors and textures in both wool and artificial materials. You can experiment with shiny metallics, fuzzy polyesters, and other intriguing novelties. You can even mix in random fibers that you pick up off of the beach.

You will probably have detected from these benefits that I am a very informal artist. I was trained in enough rules in my first profession that I do not seek them out now in my art. The great beauty of hooking with yarn is how few rules one needs to achieve a fully professional finish. When reading this article, do not believe for a moment that I studied anything technical before I made my first composition. I gave it a try, learned what I liked, and looked up the terminology later. I encourage everyone that I teach to do the same.

Hooking with yarn is very similar to hooking with a very thin-cut wool strip. Both materials allow you to achieve a higher resolution in your image as compared to larger-cut wools. This gives you two flexibilities as an artist: you can capture more detail in your piece, or you can capture the same amount of detail but in a smaller piece. I have typically chosen the latter benefit, regularly working in as small as a 5" x 7" format, but I have also made pieces as large as four feet wide.

It is also likely that you already have all of the tools and materials that you will require to hook with yarn:

WHAT YOU NEED:
» Backing: I prefer linen and rug warp for their longevity compared to burlap. I do not recommend monk's cloth as, in my experience, the holes stretch too much to hold most yarn loops firmly enough, unless you use the thickest of yarns.

» Hook: I get my best results using a hook with a medium shank. Avoid coarse or primitive shanks as they are often too thick to grasp yarn. Conversely, a fine shank will sometimes shred the yarn as you try to pull the loop, which quickly gets frustrating.

» Frame: I use a frame with release grippers. Take care with the teeth in the grippers, depending upon how you finish your tails. More on that later.

And, obviously, you only have need of a pair of scissors and no need for a wool strip cutter. Although I own a cutter, it has been in a box for some years now, and I do not miss it!

Pre-dyed yarn comes in all colors and values. Occasionally, I have had to be concerned with matching dye lots, but only when working with bigger pieces with large areas of uniform color. In general, however, I have found that the combination of my style and my preference for smaller pieces means that I can enjoy collecting yarns wherever I go with the full confidence that I will be able to use them somewhere. Alternatively, for those who are so inclined, you can hand-dye wool yarns just as you would your wool cloth to have full control over your palette.

Of course, there are several differences between hooking with wool strips and hooking with yarn, because spun yarn behaves differently than woven wool cloth. One of the most common questions I am asked is what size of yarn is best to work with. My response is to work with almost any yarn that you wish. There are different methods of categorizing yarns. One common categorization is by the eight "gauges" of the Craft Yarn Council's Standard Yarn Weight System, which ranges from Lace (0) to Jumbo (7).

A Medium (4) gauge is considered approximately equivalent to a #2-cut width, and is probably the most common yarn that I use. However, any gauge from Super Fine (1) to Jumbo can be hooked, and I assure you that I do not check the gauge, or any other classification method, when I purchase yarn. Indeed, I love to visit small yarn producers on my travels, and the only thing they measure is how many grams or ounces they are selling you! Far more important is to consider whether the colors and the textures of the yarns are right for the pieces you have in mind. I have summarized my experience with different yarn gauges in Table 1.

One of the things I enjoy most about hooking, whether with yarn or anything else, is that it can be as relaxing or as technical as you want it to be. In fact, I do not really think of myself as hooking "with" anything. I just hook, using whatever I think I need to create the image I want. Other artists have taken this in different directions, and I, too, have used wire, leather, and remains of old rope in different projects.

One of my favorite technical projects was hooking with very fine yarns on tulle. The purpose of the project was to create hooking that appeared to "float" so that I could incorporate light and shadow into my composition. Since tulle has very small and fragile holes, you will appreciate how necessary it was to use very fine yarns and a very careful hooking technique to complete the project! It was an enjoyable challenge.

I urge you to experiment, too, to explore what works best for you. Have fun!

Flouting Orthodoxy: Tails Up or Down?
We have all been taught to pull our tails up before trimming them off. As with everything else, whether you choose to pull your tails up or leave them down when hooking with yarn is your choice. However, yarn is not a woven cloth, and the fibers start to splay when it is trimmed. (Observe the cut ends of the yarns in the photos for examples of this.) In my experience, this becomes quite obvious when it is done on the presentation side of the piece. Accordingly, I leave my tails down, and up to an inch long, depending on the yarn. It doesn't look pretty!

This is the single thing I do that causes the most frowns among the experts. However, consider that there is no technical reason not to leave tails down when making wall hangings rather than floor mats. You will, however, have to put a backing on your piece to prevent your tails from being caught on anything and pulling out your loops. I have taken two approaches to covering my backs: I either sew on a separate fabric backing cover, or I frame the piece and cover the back with wood panel, cardboard, or paper. Remember to inspect carefully for pulled loops before sealing the back!

Obviously, however, you will have to forgo any hope of winning awards at your local fairs. Any judge who peers under your cover will not be impressed!
Images
Flouting orthodoxy: Tails up or down?

From left: Rows hooked on burlap with the same eight yarns shown in the photo on the next page. From the left, the Lace (0) gauge has been "tripled over," meaning that you can see three loops have been pulled up at the same time in each hole. The Super Fine (1) gauge has been "doubled over," meaning that two loops have been pulled up at the same time in each hole.Second from right, the Super Bulky (6) gauge has been hooked into every second hole. At the far right, the Jumbo (7) gauge has been hooked into every second or third hole, depending upon the bulk of each loop.

YARN SIZING: From left: The eight gauges of the Standard Yarn Weight System (Source of Gauge Symbols: Craft Yarn Council's www.YarnStandards.com)

Yarn Gauges and Alternate Fibers
Karen D. Miller has been hooking with yarn since 2008.  She teaches rughooking to kids and adults at her home studio in Ottawa, Ontario, Canada. You can see more of Karen's work and follow her blog at www.marzipanroad.com.
YOUR RECENTLY VIEWED ARTICLES
Free tutorials, expert tips, exclusive partner offers, and more straight to your inbox!