Kaleidoscope Rugs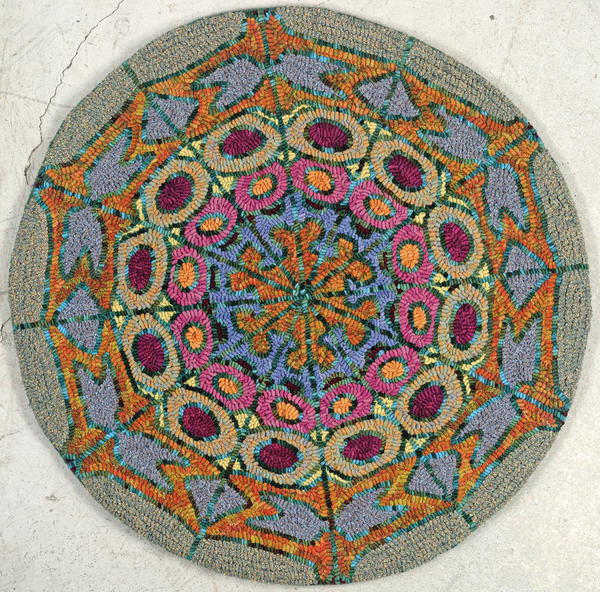 Wool Kaleidoscope, 28" diameter, #8- and 8.5-cut wool on linen. Designed by Linda Pietz (Cactus Needle) and hooked by Nola Heidbreder, St. Louis, Missouri, 2012.

Ka-lei-do-scope
1. An instrument containing loose bits of colored material (e.g., glass or plastic) between two flat plates and two plane mirrors placed so that changes of position of the bits of material are reflected in an endless variety of patterns.
2. Something resembling a kaleidoscope: a variegated changing pattern or scene.
—Merriam-Webster.com, s.v. "Kaleidoscope," accessed November/December 2012. http://www.merriam-webster.com/dictionary/kaleidoscope.

What child isn't delighted with patterns created by brightly colored bits of glass and plastic reflected over and over again in an infinite variety of patterns? Turn the end of the tube and another design appears. What could these childhood toys, hooked rugs, and math have in common? Quite a lot.

I must confess to never outgrowing my fascination with kaleidoscopes; I own several. Periodically, the lure of those endless reflected designs calls me to take a peek. I especially enjoy one that turns whatever I peer at into an insect-eye-view of the world. That fascination started me thinking about how to recreate a kaleidoscope's image in a rug.

This article is from the November/December 2012 issue. For more information on our issues, check out our issues page.

YOUR RECENTLY VIEWED ARTICLES
Free tutorials, expert tips, exclusive partner offers, and more straight to your inbox!