Learning from the Masters
Fine-art inspiration for rug hookers
By:
Tamara Pavich, Photography by the artists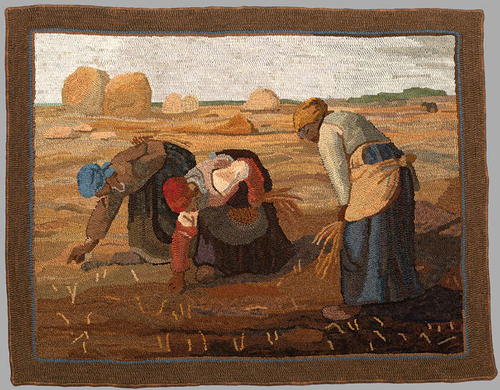 Learning from the Masters
The Gleaners, 56" x 40", #6- to 8.5-cut wool on linen. Adapted from the painting of Jean-François Millet, 1857; designed and hooked by Cathy Stephan, Athens, Wisconsin, 2014.

For most of the history of rug hooking on this continent, our favorite textile art has been classified as a craft or as a charming example of folk art, practiced mostly by female homemakers with no formal training. The appeal of a rug was found in its naiveté and its demonstrated ignorance of perspective, proportion, and realism.

In Choice Hooked Rugs, published in 1953, Stella Hay Rex encouraged originality in design, arguing against the tremendous popularity of commercial patterns. Although she didn't include adaptation of fine art in her advice to rug hookers, this champion of folk art instructed her readers to improve their art by studying the ornamental elements of "Hindu, Persian, Moorish, Arabian, and Japanese designs," particularly scrolls and other motifs, along with Native American images.

But another idea emerged—or, rather an ancient idea as old as Aristotle, re-emerged—in 1969 with the publication of Ann Wiseman's book, Rug Hooking and Rag Tapestries, in which she encouraged her readers to "adapt from the masters." She herself created an adaptation of Picasso's magnificent Guernica. Wiseman believed that "art is derived from art," that "no apology need be made for adaptation or influence. It is a means to understanding, but out of it must grow originality."

Several contemporary rug hooking teachers agree with her, using works by master artists to inspire and instruct their students with the goal of greater understanding of how art is made . . .

This article is from the September/October 2014 issue. For more information on our issues, check out our issues page.
YOUR RECENTLY VIEWED ARTICLES
Free tutorials, expert tips, exclusive partner offers, and more straight to your inbox!