Lori LaBerge
New Roads, New Directions
By:
Linda Rae Coughlin / Photography by Lori LaBerge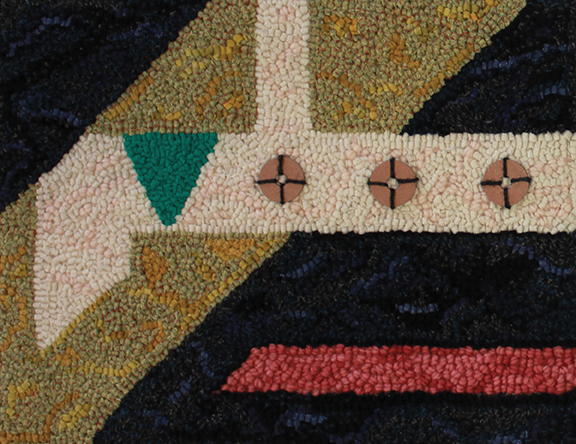 In the rug hooking arena, many people create original hooked art pieces, but only a few have taken this medium to an entirely new level. One of those select few is fiber/rug hooking artist Lori LaBerge.

Lori began her career in 1994 when she first rented studio space a few miles from her home in North Carolina. When she found she needed money to pay the rent, she started creating hooked pieces that would sell and entered her first show, "The Triangle's Best Art" in Raleigh, North Carolina. It paid off as she became a resident artist at an art incubator (an art incubator supports an artist and helps them enter the creative industries sector). Her rug hooking career grew from there.

Lori learned the typical florals, pictorials, and folk art early on. She created a few realistic works, but her interest was always in abstract. She veered from the rug hooking world toward the art world for quite a few years when she shared studio space with other artists. During an art residency, she experimented with how she could relate the knowledge they shared to rug hooking.

Her artwork soon turned toward the subject of stripes, resulting in a gallery solo show. Geometric abstraction followed and has been with her to this day. Her current work revolves around the clean simple lines of buildings and rooftops. She presently does not do commissioned work, preferring to create work from her own ideas.
YOUR RECENTLY VIEWED ARTICLES
Free tutorials, expert tips, exclusive partner offers, and more straight to your inbox!