Readers' Gallery: Mary DeLano
A fiber artist's journey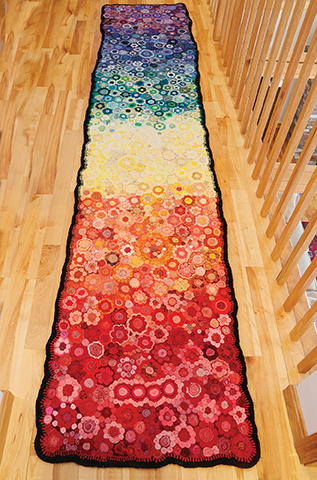 Rainbow Runner, 28" x 11'2", new and recycled wool fabric and cotton crochet thread. Designed and constructed by Mary DeLano, Norway, Maine, 2011.

Mary DeLano's fiber arts journey began in earnest almost 10 years ago when she took several classes at Pleasant Mountain Fiber Arts in Denmark, Maine, an annual weekend of fiber workshops. That week Rose Ann Hunter, a rug maker/historian who lives in Newburyport, Massachusetts, taught a workshop on how to make a standing wool rug. Mary was so new to this craft that she hadn't even discovered wool fabric (other than in recycled clothing), so she thought the students would be working with felted wool sweaters in the workshop. Much to her delight, she discovered the world of wool fabric, with all of its wonderful hand-dyed variations.

Mary loved the standing wool technique immediately, but thought that the coaster she had made in the workshop looked too crude, partly because she had cut all of her wool strips by hand. That night, she pulled the coaster apart, re-cut the wool with a rotary cutter, and sewed them back together. Proudly she took her piece back to show Rose Ann the next day, and a new friendship was formed.

Mary decided her next piece would be a long, rainbow- colored runner for her hall. She collected wool clothing from thrift stores and frequented Craigslist. Next, she purchased a cutter, as rotary cutting was too slow for a large runner. DeLano discovered that most cutters used by rug hookers "didn't produce wide enough strips and didn't give me flexibility on the width of the strip I cut, unless I wanted to spend lots of money on different sized blades." She discovered a cutter used by rug braiders, which was produced by Ribgy Precision Products in Bridgton, Maine, just 20 minutes from where she lives. This sturdy cutter, which allows Mary to vary the width of her strips from 1/2" to 2", is a real workhorse, and she is still using the original blade almost ten years later.

Craigslist turned out to be a valuable resource for recycled wool at affordable prices. Lots of hookers and braiders live in Maine, and frequently a family member is getting rid of a hooker's stash. Standing wool rugs can incorporate a wide variety of wool weaves and weights. Since Mary wasn't picky about the weight of the wool or the condition it was in, she built a large wool stash pretty affordably. And, being an inveterate recycler, Mary was thrilled with her new hobby of wool gathering (as a friend later told Mary's husband: "There are really two hobbies involved, one is rug making, the other is wool gathering.")

Mary wanted many shades of wool in her rugs; she discovered "crock pot" dyeing and was soon using heat and a splash of ammonia to leach the color out of strongly dyed wool into neutral plaids and solids. Since yellow wool is really hard to find, Mary taught herself to dye with a few packets of Cushing dye, also a Maine product.
YOUR RECENTLY VIEWED ARTICLES
Free tutorials, expert tips, exclusive partner offers, and more straight to your inbox!