Loving the World of Primitive Rugs
The joys and challenges in hooking whimsy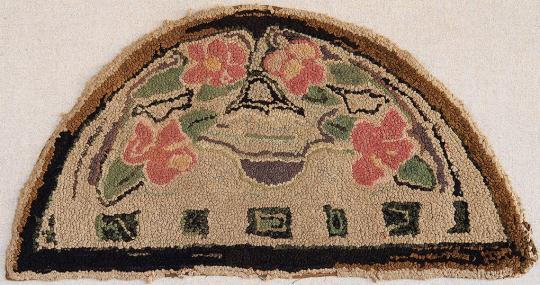 Loving the World of Primitive Rugs
Antique Welcome Bowl, 34" x 20". From the author's collection.

We all hook rugs for different reasons; we are a diverse group with only the basic technique of pulling loops connecting us to each other. Some love the intricate detailing of the fine, tapestry style; some enjoy pushing the limits with more artistic presentations; and some of us get lost in the beauty and simplicity of primitive rugs. Some will introduce interesting fabrics and materials into their work, while others stick to only 100% wool. Some of us hook because we want the end result, while others simply love the process of hooking a rug. Isn't it great that there is space in the world for all of us and all of our rugs!

While I enjoy and marvel at all styles of rug hooking, my work falls into that last category, primitive rugs—whether they are aged, antique-looking, or new, more colorful primitive rugs. Although I may lose myself in the primitive project I am working on, my thoughts are wandering to what the rug hooker in the late 1800s or early 1900s was thinking about as she hooked. Did she plan her rug or just let it fall into place? How did she find the time to be creative in her busy day of keeping home, family, gardens, and maybe farms? We may think we are busy today, but just imagine the life back then!

What makes a primitive rug? The answer will depend upon whom you ask.

This article is from the March/April/May 2015 issue. For more information on our issues, check out our issues page.
YOUR RECENTLY VIEWED ARTICLES
Free tutorials, expert tips, exclusive partner offers, and more straight to your inbox!