How to Photograph Your Rugs: Part 2
You can do this!
By:
Story and Photography by Anne-Marie Littenberg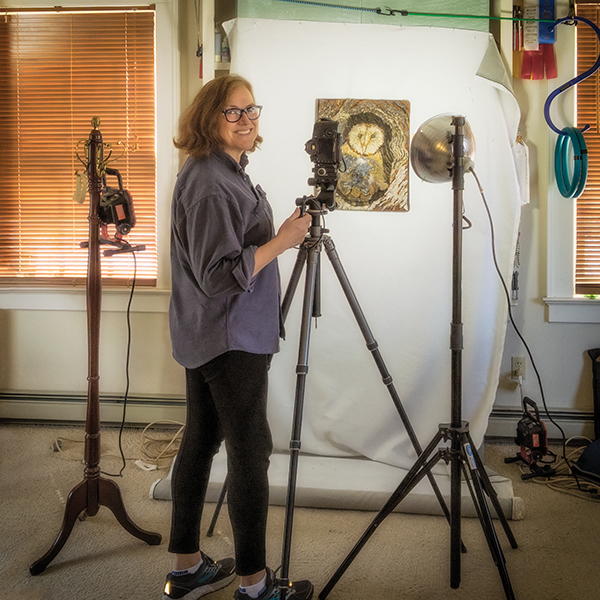 Anne-Marie at work. The rug portraying an owl (courtesy of Sandra Grant) has been pinned to foam insulation boards with t-pins. Note I pinned off-white fabric over the insulation to provide a neater background. You can see the roll of fabric on the floor in front of the mounting boards. This is a roll I got from the leftovers bin at my local upholstery store. It is flat off-white on one side, and a neutral grey on the other. There is no texture or pattern on either side of the fabric. The window shades are closed because I have a lot of natural light in my studio, and I don't want the light on the rug to change as the outdoor light shifts and changes with weather and time of day. To my left is an old coat rack that I use to hang a lamp on (improvising gear from around the house is a thrifty and fun way to approach any project!). The lamp on the right is hanging from a "formal" light pole, but note the lamp is just a cheapie clip-on that costs a few dollars from the hardware store.

My camera is on a tripod and I am holding a cable release in my right hand to ensure that camera movement doesn't blur the photograph. The camera is mounted in "portrait" orientation (vertical) because the rug is mounted in a vertical position. Finally, note I am in comfortable clothes and shoes. Setting up and photographing rugs involves the physical labor of hauling stuff around, so I make sure I am dressed for it!

Photography requires an artistic eye, a complex skill set, and the right tools. You know that it took patience, practice, and learning to master rug hooking—and it will require the same to learn how to photograph your work.

Here are some tips and tricks to dramatically improve your photographs. What I am about to share with you applies whether you are using a point-and-shoot camera, a fancy DSLR, a smart phone, or a tablet.
YOUR RECENTLY VIEWED ARTICLES
Free tutorials, expert tips, exclusive partner offers, and more straight to your inbox!