Pennsylvania German Fraktur
Designs as an Inspiration for Rugs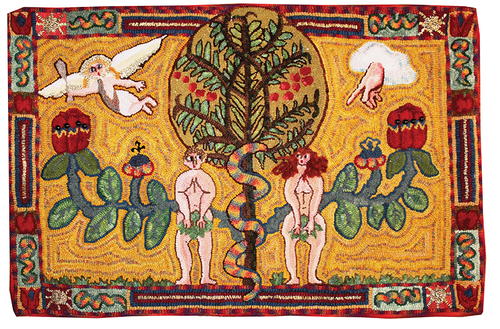 Adam and Eve, 36" x 24", #3-, 5-, and 6-cut wool and wool yarn with gold embellishments on rug warp. Designed and hooked by Judith McLean, Waynesboro, Pennsylvania, 2017.

I live in one of the most beautiful parts of the country. Residing on the side of the South Mountain chain of the Appalachian Mountains in Pennsylvania, we have a view of mountains in the distance and a valley filled with productive Mennonite orchards. Surrounded by religious folk whose ancestors came from Germany, Switzerland, and Holland in the 16001700s, it is only natural that a Pennsylvanian in such a setting would develop an interest in the religion, customs, and art of the many Mennonite, German Baptist, and Amish sects in this state. My article specifically addresses the art form of the Pennsylvania German fraktur designs. The fraktur motifs are also commonly incorporated into Pennsylvania Dutch art.

The originality and often primitive nature of fraktur designs naturally draw rug hookers to recreate some of this folk art for their own homes. These colonial-era designs represent an important period in the immigration to America and the establishment of our country. Hooking my own two fraktur rugs leaves me with more understanding of the depth of passion of the people who created these designs and their devotion to their religious expression. Much of fraktur art was originally designed for hymnals; religious writings; birth, marriage and death certificates; and inspirational wall hangings within a home or church.

A bit of history: Pennsylvania Germans were among the sects that developed in Europe after contentious religious divisions from the Roman Catholic Church. Protestantism spread throughout Europe and many different forms of the Protestant religion were developing. The Mennonites were an Anabaptist reform movement that was considered heretical and radical.

Under William Penn's "Holy Experiment," various new religious sects sought the freedom to practice their own religion in a new land. They fled from the persecutions in Europe and came to a place where they could live quiet lives with their convictions and be free of the influence of the established religion and the European social environment. Thus, the Mennonites who came to Pennsylvania tended to be more isolationist in nature and embraced a rural setting.
 

YOUR RECENTLY VIEWED ARTICLES
Free tutorials, expert tips, exclusive partner offers, and more straight to your inbox!