Prehistoric Art
From Rock Art to Hooked Art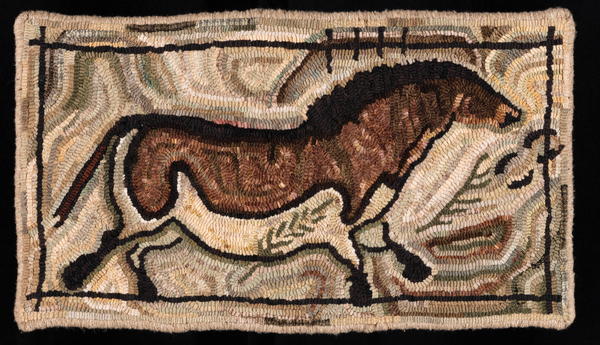 Let's gather our hooking tools of scissors, linen, wool, and hook, and create a timeless piece of Stone Age art. As you begin pulling loops, think about the artists who worked under nearly impossible conditions so many thousands of years ago. I bet they felt the same frustrations in getting the look "just right," and the same great feeling when their family members admired their work. We can honor their contribution to our shared human experience by translating their paintings and sculptures into our medium of rug hooking.
Lascaux is famous for its Paleolithic cave paintings, found in a complex of caves in the Dordogne region of
southwestern France, because of their
exceptional quality, size, sophistication, and antiquity. Estimated to be up to 20,000 years old, the paintings consist primarily of large animals once native
to the region.
The Lascaux paintings were only discovered in 1940, by two young boys searching for their lost dog. They could hear its echoing barks from the hollow space below them—and they searched until they found the opening their dog had slipped through.
Cave paintings are still being discovered in remote recesses underground—often so deep within the cave structure that the artists would have to have provided their own light source for steep and cramped journeys so far underground that we must assume were reserved for special purposes of spiritual significance.
The prehistoric era (defined as before any written language or organized civilization) is documented across continental Europe, into Asia, and throughout the United Kingdom from the Paleolithic period through the Iron Age. The art of this time includes the earliest carved human and animal figures such as the Venus of Willendorf, cave paintings from Lascaux, Altamira, and other locations, and the earthworks and megaliths of Stonehenge, leaving us with a fascinating collection of images to inspire hooked rugs.
The two Stonehenge rugs by Louisa Creed show beautiful texture and color, particularly in their moody skies and shadows. Louisa has captured the drama and majesty of this ancient site.
Colors for prehistoric art rugs can be anything from the palette of earth tones:  sienna, ochre, black, gray, dull tan, every shade of brown, to textures that mimic the rocky surface of the original cave paintings. The ancient artists produced colors from mineral deposits in the local rocks and soils of Dordogne, France: ochre (reds and yellows), manganese dioxide (violet and black) and charcoal (black). These minerals were pulverized on stone palettes and mixed with animal fat to moisten them before they were applied with the fingers, bones, or brushes.
We cannot help but feel a connection to the very human instinct to add a signature—a hand print?—to our work. Ancient painters would hold liquid paints inside their mouths and forcefully blow over their hands to create these images, found in many locations throughout the world.
Louisa states: "There has recently been a vogue for 'animal prints' in blouses and tops, often made from stretchy velvets. The 'woodland' section of this wall hanging, between the stones and the more distant hills, is made from cast-off garments with leopard and snakeskin designs, interspersed with plain colors."
Additional Images
Stonehenge II, 63" x 49", mixed-cut wool on hessian. Designed and hooked by Louisa Creed, York, Great Britain
JOHN WORRALLO

Stonehenge in Snow, 63" x 48", mixed-cut wool on hessian. Designed and hooked by Louisa Creed, York, Great Britain.
JOHN WORRALLO

Lascaux Cave Horse Rug, 34" x 25", hand-cut wool on linen. Designed and hooked by Janet Conner, Hiram,
Maine, 2015.

Paleolithic cave paintings, Lascaux, France, circa 20,000 BCE.

Stenciled hands, Lascaux, France

Torchlight, 47" x 28", #4 to 8-cut wool and yarn on burlap. Adapted from multiple cave drawings.
Designed and hooked by Gwenneth Mann, Peterborough, Ontario, 2008.

Stonehenge pattern, © Janet Conner. This is a design which would look completely different in different color plans.

Hands pattern. © Janet Conner. Janet is offering these black-line pattern sketches to be enlarged
and traced on the backing for your own rugs.

Bison pattern. Consider adding color and drama by changing the time of day, the weather, and the mood of the sky. Always make it your own! All patterns are for personal use only. ©Janet Conner.
Janet Conner is an avid rug hooker who has been pulling loops since 1979. Her upcoming book is an overview of fine art and indigenous craft covering every art period from prehistoric to Post Modern. Perhaps you have a rug that was inspired by art history?  Please contact Janet at jconnerhookedrugs@gmail.com if you have an art-history themed rug or would like to make one.
YOUR RECENTLY VIEWED ARTICLES
Free tutorials, expert tips, exclusive partner offers, and more straight to your inbox!