Quilt Sampler for Wide Cuts
By:
Fritz Mitnick, Celebration Hall of Fame 2018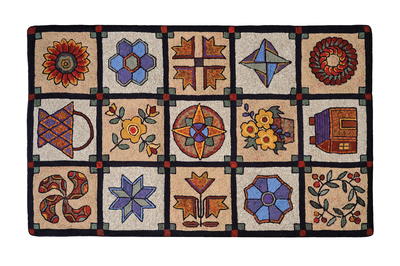 Dimensions: 32 1/2" x 53"
Materials: #6- to 8-cut hand-dyed, overdyed, and as-is textured wool on linen
Designed and hooked by Fritz Mitnick, Pittsburgh, Pennsylvania, 2015. Photo by Alan J. King.
Featured in: Celebration 26

"I designed this and gave it to Honey Bee Hive, thinking I would never get to it and maybe someone could benefit. I signed up for my annual vacation to Ohio Rug Camp and realized no project was crying out to go with me. Fifteen squares and each one had to conform to the basic color plan as well as create a rhythm in the overall pattern. In the photo, what appears black is in fact a very deep purple, thanks to Anne Bond. Each square is actually like a little rug in itself, so the hooking was never tedious and it worked up very quickly."
- Fritz Mitnick, Celebration Hall of Fame 2018
YOUR RECENTLY VIEWED ARTICLES
Free tutorials, expert tips, exclusive partner offers, and more straight to your inbox!