Punch Needle Artist: Christie Beniston
By:
Editors of Rug Hooking Magazine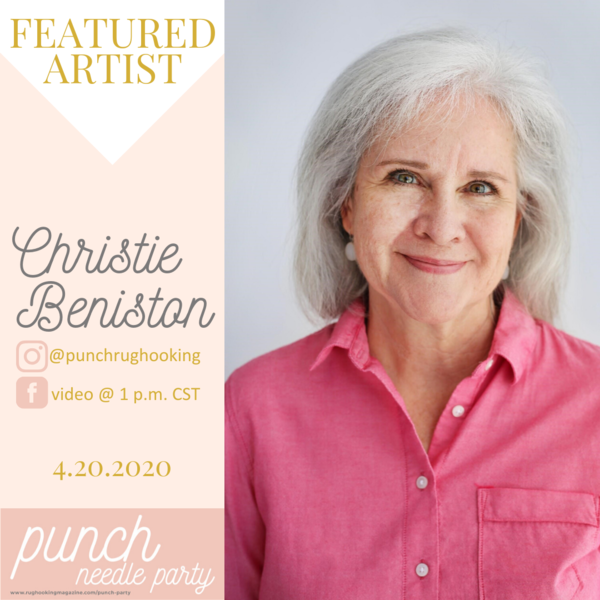 Welcome to Rug Hooking magazine's featured arists series! In honor of international punch needle day, we celebrated by asking some talented punch needle artists to share their experiences with this delightful fiber art punch needle rug hooking. Check out our exclusive interview with Christie Beniston. 

About the Artist

Christie Beniston is a public artist and has had a thriving art practice for over 30 years. Her public commissions include the San Diego Airport, Lucille Packard Childrens Hospital and LA Metro. Christie holds a BFA and is a certified Oxford Instructor and in 2017 she established PUNCH! offering materials and instruction for punch needle rug hooking. Christie can also be seen as a co-host, with her daughter Isa, of "Maker Knows Best," a YouTube series for Bluprint and the NBCUniversal Digital Lab.

Important Links
Visit her website
Follow her on Instagram
 
Q&A: Let's Meet Christie
Q: How did you get started with punch needle?
A: I was at West Coast Craft in San Francisco and saw an artist's wall hangings that piqued my interest! They had been made with a tufting gun and I went on a Google deep dive and eventually located a commercial gun in Maryland. As it turns out my husband had a work conference in the area so I felt it was a sign that this should be my new direction! The commercial tufting gun ended up being like buying a Ferrari before I knew how to drive, so after various failed attempts to keep a loop in fabric with it, I found my way to Amy Oxford and her Oxford Punch Needle and was so enamored with it that I became a Certified Oxford Instructor!
Q: What are the steps you go through when planning a design?
A: My background is as a graphic designer turned public artist. Most recently my work has been for large scale projects in public spaces. I've always been a planner, from concept sketches through completion whether it be for a mosaic mural or a punched rug. 

A new and somewhat surprising design direction in my punch needle work has been collaborating with my daughter, Isa. I'll see a drawing that she's made and ask if I can use it in a punch needle project and I'll take it from there. I simply love using her delightful artwork to punch and it has given us a creative connection that I've really enjoyed. 
Christie and her daugher, Isa. 
Q:How do you combat creative blocks?
A: I've been "creative on demand" for my entire professional career so creative blocks of any length were never good for business! If they did occur, especially when under deadline, my creative process resembled a type of mental bootcamp! The most important trick I've gleaned along the way is to walk away from my desk. It may seem counter-intuitive but it really helps to free the creative juices! 
Punch Needle Rug Hooking Quotes to Save and Share!
YOUR RECENTLY VIEWED ARTICLES
Free tutorials, expert tips, exclusive partner offers, and more straight to your inbox!