Stylized Artistic Punching
Yarn and Multiple Punch Sizes Make Art
Updated October 18, 2023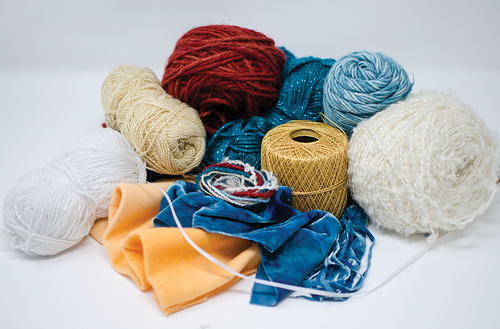 As an Oxford Company Punch Needle Rug Hooking Instructor, I wanted to make a wall hanging using a variety of yarns. The rug would show punch students that they can create a stylized artistic rug using yarn from their own stash. I found the perfect design to showcase using a variety of yarn and other materials.
Instructions
Every Sunday I have four families from the 4-H non-ownership Temple Hall Sheep Club come to my farm to learn how to care for and show sheep. Sarah El-Gafy was a high school senior in this group who studies art, and she has drawn rug patterns for me in the past. I showed Sarah the Celebration 27 cover with Marion Sachs's rug The Conspiracy, which Marion adapted from a painting by David Galchutt. That evening, Sarah explored David's website, and then painted this original design in his style and emailed a photo of the painting to me.

Sarah's Maxine, Blue Lady, hooked dimensions: 15" x 20"; framed dimensions: 21" x 26". Punched with #3- and 6-cut wool strips and acrylic, polyester, satin, ribbon, velvet, and Checkmate rug yarn on monk's cloth. Designed by Sarah El-Gafy and punched by Kathy Donovan, Bluemont, Virginia, 2018. Michael Mullen

I wondered if the hair-punch method would work to build the puffed sleeves. This time I used two shades of blue acrylic yarn, sparkle acrylic yarn, velvet #6-cut strips, and my rug yarn (separated into two-ply), which added lots of texture and sheen. I added mohair to give the dress a winter look. The gloves are fine acrylic sparkle yarn and her gown is a combination of blue acrylic yarns and white satin ribbon.

The background is punched dyed wool strips, #6-cuts, punched with the front side facing me in order to achieve a flat background. I punched this section using the #10 Regular needle, which is designed to punch #6-, 7-, and 8-cut wool strips. The loops are on the back side. Straight vertical lines punched every other hole gave the look I wanted. The woman really stands out from the flat background. The raised loop balls were punched from the pattern side. I used the #9 Regular needle to make these raised loops.
Sarah is very happy with my punched wall hanging interpretation of her original painting. It was an artistic challenge, and punching this rug proved the value of my advice to students.
 
I knew immediately I wanted to turn this image into my artistic stash-wool-and-yarn rug.  As an instructor, my focus has been using the #10 Regular punch needle with my farm-raised Karakul rug yarn. To get the details of this painting, I would have to use the #9 Regular, #10 Regular, #10 Fine, #14, and #13 punches. 
My ATHA Chapter Rug Guild, the Goose Creek Ruggers, scheduled Donna Hrkman for a three-day workshop. Sarah's painting of the lady in her period clothing with big puffed sleeves was a good fit for Donna's hooking style, in which she creates exacting detail using #3-cut wool strips.
Donna offers to put your rug design on linen for you. I emailed the painting to her and she accepted the challenge to make the pattern. I was delighted with the results—she had reproduced the image just the way Sarah painted her. The fact that I was not a traditional hooker did not faze Donna, nor was she bothered that I brought yarns to punch while the other students used wool strips.
Where to start? My main concern was the woman's face. Donna suggested that I use #3 wool strips, and I purchased her lovely flesh-colored dyed wool. I had no problem punching the face with wool using the #14 mini punch. Her lips are sari silk ribbon.
The next challenge was the bouffant hairstyle. I brought my orange-red 4-ply yarn. I separated it into 2-ply. I outlined the hair with #14 punch needle. Next, for the inside line, I used #13. The third line was punched using #10 Fine. These different sized punches allowed her hair to transition from low to tall. I filled in with #10 Regular, using the 4-ply yarn, and it worked! Her hair became bouffant and tall.
TIPS FROM THE TEACHER
I tell my students that it is OK to use many kinds of yarn in a single project.
It is OK to combine yarn with wool strips.
If you want to create a rug to walk on, I strongly suggest 100% wool rug yarn because wool wears well and it is worth the cost to make an heirloom rug.
For wall hangings, test the yarn and/or material first: if it punches well, use it! Sometimes combining a thin thread-like yarn with a worsted weight yarn gives just the right effect. An example of this combination is a yarn with mohair.
Be cautious when steam pressing rugs that contain acrylic or other materials.
Kathy Donovan is an Oxford Company Certified Punch Needle Instructor. She loves to combine fabric and yarn in rugs. She teaches classes at fiber festivals, by invitation, and on her farm. Sarah El-Gafy is her 4-H student attending James Madison University. Sarah received the JMU Art Excellence and Lisanby Awards for her artistic talent. She will be studying Studio Art. Kathy sells Sarah's original rug patterns.
YOUR RECENTLY VIEWED ARTICLES
Free tutorials, expert tips, exclusive partner offers, and more straight to your inbox!