The Royal Order of the Radish
Creating a (Not So) Secret Society for Rug Hookers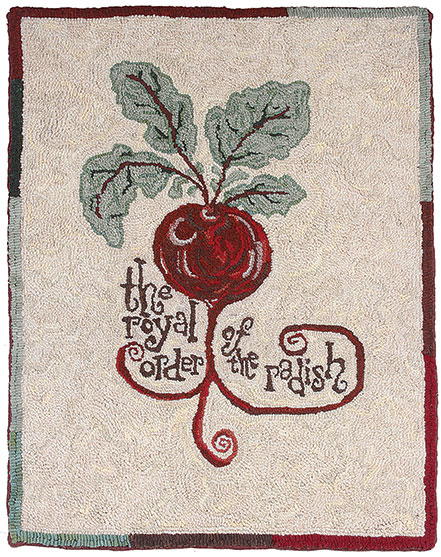 The Royal Order of the Radish, 21" x 27", #3-, 4-, 6-, and 8-cut wool on linen. Designed and hooked by Ellen Banker, Barnard, Vermont, 2013.

Did you ever want to belong to a secret society? Me too. Well, actually I never did until about a year ago.

I was watching Good Morning America and someone from an obscure and kind of random organization was being interviewed about some obscure and random kind of thing. And the thought crossed my mind—what if rug hookers had such an organization that no one had ever heard of, and what if it had no mandate to do anything specific? There would be no pesky bylaws, meetings, or dues, but we all could represent rug hooking. We could even be interviewed on national TV shows and tell the world about the subtle variations in our color choices. People would be mesmerized.

So, I set out to design a rug for our new (and secret) organization. Since I spend so much time in the kitchen, I designed a secret society rug with a theme that would be right at home on any kitchen wall. I searched for inspiration—and found it, right in front of me, sitting on the kitchen counter. It was a radish. It was inspiring. That radish is the basis for the theme and the name of this new organization—The Royal Order of the Radish.

This article is from the January/February 2014 issue. For more information on our issues and to learn how to join the rug hooker's Royal Order of the Radish, check out our issues page.
YOUR RECENTLY VIEWED ARTICLES
Free tutorials, expert tips, exclusive partner offers, and more straight to your inbox!