The Turkey in Primary Colors
Recreate the shades of autumn without fall's traditional hues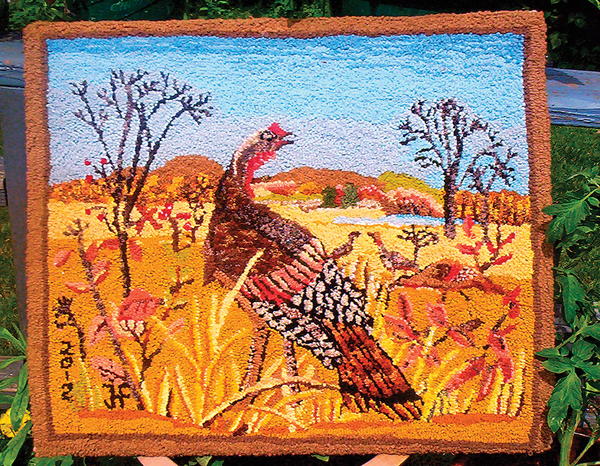 The Turkey, 26" x 22" (framed), #4-cut wool on Verel. Designed by Jacqueline Hansen; adapted and hooked by Jeanne Fallier, Westford, Massachusetts, 2012. Shown here prior to final framing.

Some years ago, a small pattern by Jacqueline Hansen of Maine caught my eye, and I bought it, hoping to hook it for myself when I had some time. Time passed, though, and the turkey did not get done. Having reached my 90s with lots of other things to consider and trying to dispose of my huge stock of wools in my studio, The Rugging Room, I had pretty much given up the idea of starting another hooking. Even if I did manage to start one more, I still have most of the over 300 designs of my own in my catalog to be done. However, there was a meeting of my hooking chapter; I needed something to work on, and there was the turkey...waiting. So, it began at last.

The night before the meeting, I rushed into The Rugging Room studio downstairs and grabbed some wools I thought would be appropriate. The design called for orange, but I had already sold or given away every last thread of my orange wools, never expecting to need them. I checked my dye supply and found that I was out of orange dye also. What to do? I decided that the turkey itself didn't really need orange to start with.

This article is from the September/October 2013 issue. For more information on our issues, check out our issues page.

YOUR RECENTLY VIEWED ARTICLES
Free tutorials, expert tips, exclusive partner offers, and more straight to your inbox!