The Elements of Art for Rug Hookers, Part 1
How to have a winning rug every time
By:
Linda Pietz / Photography by Nola A. Heidbreder
Updated May 24, 2018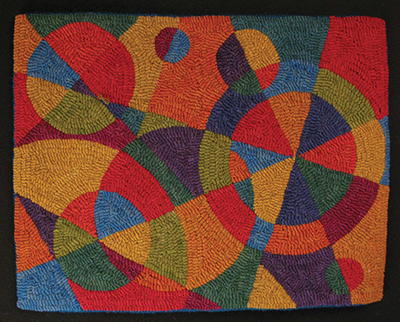 Color Wheel Explosion, 22 1⁄2" x 17 1⁄2". #8-cut wool on linen. Designed by Linda Pietz and hooked by Nola A. Heidbreder, St. Louis, Missouri, 2011.

There she stood in the middle of a small group of fellow hookers holding up a just completed rug. Pleadingly, she asked the ladies gathered around to tell her what was wrong with her rug. She knew it wasn't working but had no idea where things had gone wrong—and neither did her companions, although they tried to help. I witnessed this scene from the back of the pack, debating as to whether I should interject a comment as it was obvious to me what had gone wrong.

I have witnessed this scene played out over and over again and this article's intention is to give rug hookers food for thought before tackling that next piece you've been dying to hook. As the saying goes, knowledge is power. With just a little bit of background information, you can avoid some of the pitfalls that lead to a rug that just plain does not work.

So why the elements of art? What does that have to do with rug hooking?

I have taught art history for a number of years and I often have students challenge me when looking at modern art, such as work by Pablo Picasso. Whether one appreciates his more famous paintings or not, one important thing he had going was that he knew the rules—that is, the elements of art. I tell students that you can't break the rules until you have a working knowledge of them. What people often miss with Picasso is his less-well-known work. Sometime look up a painting he did of his mother early in his career. It is positively beautiful. 
Value
Whether teaching art or rug hooking, I find that one of the biggest problems with a piece is the use of value. You can have the best design in the world and select the most beautifully dyed wool, but if you have not taken into account the values of these colors, your rug will not turn out as you had hoped.

So what exactly is value? Value refers to light and dark. Imagine a scale of with white at one end and black at the other, with successively darker and darker shades of gray in between. Not using values well is one of the biggest mistakes that rug hookers make when color planning. Perhaps it is because of my background in commercial art that I think that any type of art should be able to be clearly seen and understood from a distance. If a person has to get right up next to a piece in order to be able to distinguish the composition within a rug, then value has not been taken into account.

There needs to be contrast of values within the rug. Value can create a focal area, a center of interest within your piece. Value defines space within a composition—in other words, depth. Importantly, it describes form, which helps us to visually "feel" the shape of an object. Simply put, one looks for the light and dark pattern created by a source of light.

More challenging uses of value include high key and low key. High key is the use of primarily light valued colors. This suggests a feeling of happiness, joy, light, and airiness. Conversely, a low-key work uses dark values to suggest mystery, sadness, loneliness, or depression. 
Color Wheel Explosion, 22 1⁄2" x 17 1⁄2". #8-cut wool on linen. Designed by Linda Pietz and hooked by Nola A. Heidbreder, St. Louis, Missouri, 2011.
Color
Color is so huge a subject that volumes have been written on it. I was taught from childhood how to mix colors to make a color wheel, not realizing at the time what an important tool it is for all artists, including rug hookers. Like any tool, it is important to know how to use it. Rather than getting into various color harmonies that could be used, we will consider just three important aspects of color and how they relate to value, form, and space.

Value: When we look at a color wheel, we are seeing the colors in their pure state. Each of these hues has a value. That is, if we compare these colors to the value scale previously mentioned, we could line up the twelve colors on the color wheel with the gray scale. Yellow is the lightest in value, with violet
being the darkest. Green and red are middle values. Although not as light as yellow, orange is lighter in value and blue falls between green and violet. In a rug or piece of artwork, light values come forward visually while dark values recede visually.

Intensity: Intensity refers to the purity of a color. Intensity, the brightness or dullness of a color, comes about by changing a pure color's value. Or you can add some of the complement of a color, which is the color directly across the color wheel. This decreases the intensity of a hue. Within a rug, there should be some contrast not only of value but also of intensity. These differences do not need to be extreme, but some contrast needs to be present.

Temperature: Color is warm or cool. The warm colors are yellow, yellow orange, orange, and red orange. Cool colors are green, blue green, blue, blue violet, and violet. Yellow green and red violet are transitional colors. In a rug or painting, warm colors come forward while cool colors recede. In landscapes, it is important to use warm colors and those cool colors with warm undertones in the foreground, while using cool colors for the background. 
Color Wheel Purse, 16 1⁄2" x 9 3⁄4", #8-cut wool on linen. Designed by Linda Pietz and hooked by Nola A. Heidbreder, St. Louis, Missouri, 2015. This shows the hooked purse before it is constructed.
Space
Space is the illusion of depth on a two-dimensional plane. There are various ways to create this illusion of visual depth or space. One very simple way is to overlap objects. By placing one object in front of another, some depth has been created.

Another way of creating space is the use of size of various elements within a rug or piece of art. Imagine a rug with a very large mouse in the foreground overlapping a smaller
elephant in the background. The viewer would assume that the elephant is some distance away and behind the mouse.

Value is another important tool in creating space within a rug or work of art. There is something called aerial or atmospheric perspective. When I teach students in my area about this concept, I suggest a short field trip to the parking lot of a local restaurant that overlooks range after range of mountains—a dramatic example of this concept. Distant elements are lighter in value and less intense. In addition, we see less detail in the farthest ranges.   
Poppies, 25" x 33 1⁄2", #9-cut wool on linen. Designed by Linda Pietz and hooked by Nola A. Heidbreder, St. Louis, Missouri, 2014.
Form Adding Dimension
Not all rug hookers will use form in their work, but it is important to understand how to properly create that illusion of a three-dimensional object on a two-dimensional plane. A mentor friend of mine summed this concept up in four words: light, dark, warm, cool.

Have you ever noticed when looking at certain paintings that you feel you could reach in and grab an object right out of the picture plane? That artist has used my friend's axiom successfully. Artists observe and paint the light and dark patterns seen on objects under certain lighting conditions. Morning and late afternoon is a good time to observe this. Where light hits an object, the colors will either be warm or have warm undertones. The shadow side of an object will have cool colors (or warm colors with cool undertones).
Teddy Roosevelt, 16" x 20", #6- to 9-cut wool on linen. Designed by Linda Pietz and hooked by Nola A. Heidbreder, St. Louis, Missouri, 2013.

This rug exemplifies how to use value to create form. Careful use of value make Teddy look three-dimensional on a two-dimensional plane. Note the light and dark sections of his face.
Putting It All Together
It is hard to separate one element of art and design from the other. Not every rug will have every element, and it is important to know how to use these elements before you start breaking the rules. More importantly, all of us as rug hookers want each piece to be a winning rug.

By the way, the anecdote shared at the beginning article really did happen. In this case, the person with the rug had a lovely floral piece with a vine border. So what, you might ask, was wrong with the rug? In a word, value. She had used a beautiful blue background that was the exact same value as a stunning shade of green. Even standing within three feet of the rug, it was hard to distinguish the leaves and vines from the background.

I must confess to not speaking up. Correcting the problem would have been a Herculean task, as it was a large rug requiring that a great deal of the rug would have to be ripped out. I will forever wonder if perhaps I should have said something.

In part two of this series on the elements of art, we will look at line, shape, and texture. Look for part 2 in the next issue of RHM
Gigantic Flower, 26 1⁄4" x 31 1⁄2". #9-cut wool on linen. Designed by Linda Pietz and hooked by Nola A. Heidbreder, St. Louis, Missouri, 2009.

Elephant Parade, 31 1⁄2" x 24 1⁄2". #9-cut wool and handspun yarn on linen. Designed by Linda Pietz and hooked by Nola A. Heidbreder, St. Louis, Missouri, 2016.
Linda Pietz, a St. Louis native, grew up in a family of artists, and she has followed in the footsteps of her relatives. Linda designs rug hooking patterns for her sister, Nola Heidbreder, and they have co-authored several books. She teaches several workshops and welcomes custom rug design work.
Tags / Related Topics
YOUR RECENTLY VIEWED ARTICLES
Free tutorials, expert tips, exclusive partner offers, and more straight to your inbox!