To Punch or to Hook?
Two Sides of the Same Coin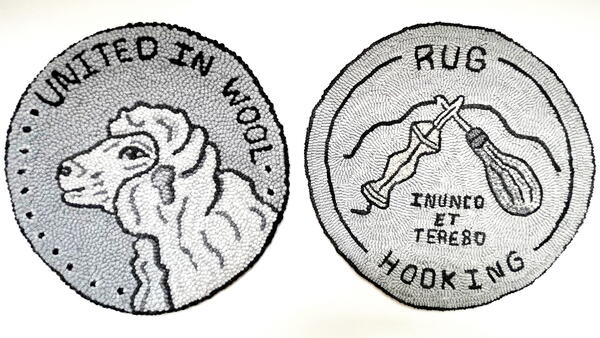 To Punch or to Hook
Heads or tails? Traditional rug hooking and punch needle rug hooking are like different sides of the same coin. One side uses a hook, the other side uses a punch—both create a running loop stitch. One side is not luckier than the other, one is not better than the other—they are just different, a part of the same whole.
I was indirectly and directly exposed to both forms of rug hooking from an early age. I spent my teenage summers as a mother's helper for a family in Nantucket. The mother of the family, Louie, had a great influence on me. I was at the age when any family but your own feels magical and perfect, and she was perfect in my eyes. She treated me like a peer, yet encouraged me like a mother in my artistic pursuits. At the time I loved needlepoint. She bought me blank canvases and set me on the path of designing my own patterns. Their Nantucket home was beautiful and filled with gorgeous New England-style hooked rugs, rugs that were punched with yarn (although I didn't know they were punched at the time). I studied them as I worked on my needlepoint, unsure of how they were made.

One summer Louie set aside her own needlepoint for a new creative project, a rug hooking kit. It looked like the rugs underfoot, and I was fascinated. Would she be able to make something similar? The kit instructed her to tuck the foundation cloth under her leg to create the tension. It came with colorful yarn and a hook. Louie struggled greatly with the kit. With what I know today, I can see why she found it frustrating, not having a hoop or frame, and attempting to learn it on her own.
I have a vivid memory of the day she gave up on it. I was in the kitchen making lunch for the children. She sat with her back to me, looking out towards the water, when she sighed and said it just wasn't for her, as she untucked it from her leg and placed it in a cupboard. I suppose I had a secret hope that I could try the kit, but it wasn't meant to be at that time. However, the seed had been planted: the visual appreciation of yarn hooked rugs, the knowledge of a tool called a hook, and a craft called rug hooking.

A decade later my father bought a home in Cape Cod and started filling his new home with rugs that reminded me of those Nantucket summers. I had passed the intervening years with many different fiber arts, but I still had the nagging desire to learn rug hooking and his rugs only reawakened that desire. Even more years passed before I noticed my local yarn shop was hosting a rug hooking class. I signed up immediately. I assumed it would be a class with a hook, since at that time, I was unaware of any other technique. The class was using an Oxford Punch Needle. The history of rug hooking was discussed in the class, and I learned for the first time that there were two sides to hooking.

Rug hooking with a hook came first. It is generally accepted that it has its origins in the mid-1800s. The debut of the foundation cloth commonly used by rug hookers dates to this time and many a hook has been dated to that same era. With traditional rug hooking, the hook is inserted into the foundation cloth and the strip of fabric or yarn is pulled up from below, through the foundation cloth, creating a loop on the top side. This process is repeated, creating a running loop stitch. Wool strips are the most recognized material used in traditional hooking; however we know that yarn and other materials were also used depending on the geographical area and materials at hand.

Punch needle is often viewed as the newcomer in the rug hooking world, when in fact the first punches have patents dating to the early 1880s. As a new rug hooker holding a punch in my hand, I was fascinated to learn this. To use a punch needle, the needle is punched down through the foundation fabric and pulled back to the top side, skimming the surface of the cloth, and then punched down again, creating a running loop stitch. Yarn is more often associated with punch needle rug hooking than strips of wool, but either can be used. I will admit the running loop stitch fascinated me. It still does with its simplicity and the fact that tension holds it together. I simply could not get enough of it, and this led me in short order to the hook. I wanted to know how to create this stitch with both tools, and it wasn't long before I was both punching and hooking. Although both tools create the same stitch, I do not use them interchangeably. I find, and I am sure it is personal preference, that I prefer one tool over another for certain projects. However, there are times when I like to combine them in the same project. Let's take a look at my coin pillow to explore this idea.
HEADS
The head of my coin is a sheep. Coins usually have the bust of a monarch or president on the head of the coin—I figured a sheep would be the monarch. Wool is my primary medium in either punching or hooking, and I have a tender spot for sheep in general. I spin and have hands-on experience with sheep fleece. For me, the fluffy nature of sheep wool made yarn an easy choice for the head of the coin—it simply felt more "wooly" than wool strips, as odd as that sentence reads. I like how yarn flows effortlessly through the punch, so I decided that the front of the coin would be my punched side.

TAILS
I knew right away I wanted to hook this side of the pillow based on the size of the font of the Latin words, which read Hook and Punch. Of course, I can punch with a #4 cut, but I tend to punch with yarn and hook with strips. I didn't feel I could achieve the definition I wanted if I used yarn for the designs on the tails side of the coin

RIBBED EDGE OF THE COIN
The ribbed edge of the coin seemed like the ideal spot to highlight both punching and hooking, a joining of the two techniques. It would have been symbolic to hook a line and punch a line. However, using the right tool for the job won out over symbolism at the end of the day. I punched both the yarn and the wool strips. I made this decision due to speed and interest. Repetitive straight lines aren't terribly exciting.
By selecting the punch for this part of the project I was able to complete the task faster. I punch slower with wool strips than with yarn.
What is interesting about exploring hooking and punching is that both techniques create the same look, so if I had not mentioned it, it would have been nearly impossible to tell which tool I had used for the job. I say nearly impossible, since the punch does produce more even loops due to the nature of the tool, which some people are able to discern. A keen eye could also figure out the tool used by looking at the working side and noting the almost miniscule bubbling of the wool strip. When hooking, the wool strip lies flush to the foundation cloth on the back. When punching with wool strips, a tiny gap of air always seems to remain between the strip and the cloth. 

Although I recommend using both the punch and the hook together in projects, using one technique or the other seems to be the most common. Some people dislike not being able to see their work evolve in front of them with the punch. Working on the back side of the work and getting through the messy phase of punch needle can be challenging. They prefer, and sometimes even need, to see each loop go exactly where they want it. In this case, using a hook is a good fit. There are many that are in a chapter of life where slowing down is harder to do, but the desire to create is still strong. The pace of using a hook may feel too slow for them—the punch may be more their speed. There can also be fine motor concerns that lead the punch to be a better fit than the hook, since it is a one-handed process, rather than the two required for the hook.
The design of the piece is another aspect to consider. I find myself reaching for the hook for smaller, more detailed designs, whereas the punch is my go-to tool for a piece that is larger than 2' x 3'. When I am working on a large scale, I find I can get all the definition I want from the fluffy loops of the yarn, and the process is much faster. The question of whether to hook or punch a piece is a personal preference. In many ways, I feel it comes down to chance—a coin toss if you will. What tool was placed in your hand first? Chances are that will be your tool of choice. I feel passionately about passing rug hooking on to others, so for me it is less about either the hook or the punch. It all comes back to that running loop stitch that unites the two tools. I want you to learn it. Now, which tool will best get you there? Heads or tails? Both sides will bring you luck. RHM
Rebecca Martin lives in northern Colorado with her husband, two children, and her dogs. She is a certified Oxford Punch Needle Rug Hooking Instructor and in the process of obtaining her McGown Certification in traditional rug hooking. When she isn't monitoring bubbling dye pots for her company StoryTeller Wool, she has a punch in one hand and a hook in the other—fighting to find time with her latest rug.
YOUR RECENTLY VIEWED ARTICLES
Free tutorials, expert tips, exclusive partner offers, and more straight to your inbox!