Allure, the End of the Story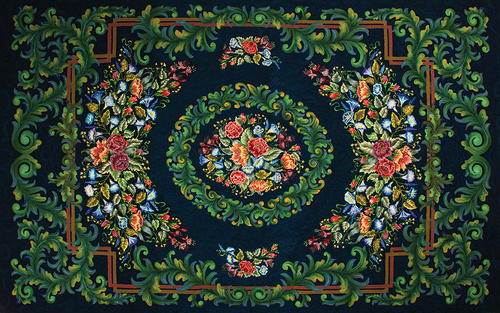 Allure, 15' x 9 1/2', cut wool on rug warp. Designed by Pearl McGown and hooked by Cheryl Orcutt, Peterborough, New Hampshire, 2017. Walter Schnecker

As I rejoin all of you readers, you may recall that when I last wrote about Allure, it was halfway to the finish line. The middle section, 5 feet long all the way across the 9 1⁄2 feet width, was done, as was most of the crescent bouquet. These "jumbo rugs" were popular in the heyday of hooking, from 1950–2000, but the majority of these were never completed. The halfway point is equivalent to Heartbreak Hill in the Boston Marathon. With Allure, I had completed 75 square feet, representing thousands of hours of transferring the pattern, planning, dyeing, cutting, and hooking. Halfway done, but still there was an ocean of warp yet to be filled with loops.
 
One of the design elements that attracted me to this rug in the first place were the long, leafy, meandering scrolls at each end. As I looked at the design on the warp, I could feel the color moving and changing as it went from the veins to the tips. This is important in frame choice. Working on a Cheticamp-style frame has several important advantages when hooking a large rug. Perhaps the greatest advantage is that you can regulate consistent tension by cranking the gears. In addition, having the portions of the rug that you are not working on rolled up keeps it neat, tidy, clean, and out of your way. Here is the disadvantage: You can only see the part of the rug between the rods, and on a large rug, the majority of your rug is rolled up. On a rug with scrolls such as Allure, I needed to see how the long scrolls flow and interconnect. 
YOUR RECENTLY VIEWED ARTICLES
Free tutorials, expert tips, exclusive partner offers, and more straight to your inbox!