Allure, the End of the Story
Updated July 07, 2020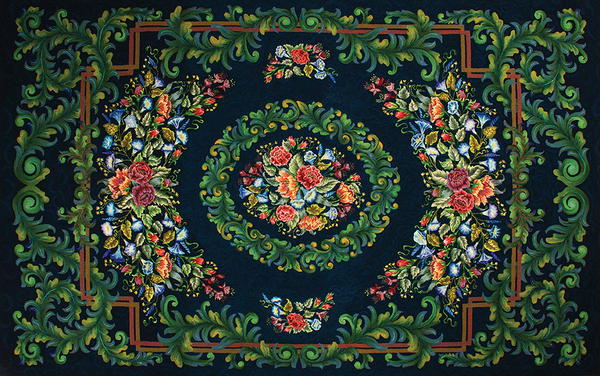 Allure, 15' x 9 1/2', cut wool on rug warp. Designed by Pearl McGown and hooked by Cheryl Orcutt, Peterborough, New Hampshire, 2017. Walter Schnecker

As I rejoin all of you readers, you may recall that when I last wrote about Allure, it was halfway to the finish line. The middle section, 5 feet long all the way across the 9 1⁄2 feet width, was done, as was most of the crescent bouquet. These "jumbo rugs" were popular in the heyday of hooking, from 1950–2000, but the majority of these were never completed. The halfway point is equivalent to Heartbreak Hill in the Boston Marathon. With Allure, I had completed 75 square feet, representing thousands of hours of transferring the pattern, planning, dyeing, cutting, and hooking. Halfway done, but still there was an ocean of warp yet to be filled with loops.
 
One of the design elements that attracted me to this rug in the first place were the long, leafy, meandering scrolls at each end. As I looked at the design on the warp, I could feel the color moving and changing as it went from the veins to the tips. This is important in frame choice. Working on a Cheticamp-style frame has several important advantages when hooking a large rug. Perhaps the greatest advantage is that you can regulate consistent tension by cranking the gears. In addition, having the portions of the rug that you are not working on rolled up keeps it neat, tidy, clean, and out of your way. Here is the disadvantage: You can only see the part of the rug between the rods, and on a large rug, the majority of your rug is rolled up. On a rug with scrolls such as Allure, I needed to see how the long scrolls flow and interconnect. 
The Pattern
This pattern is called a quarter pattern because one quarter is repeated in all four corners. This made it especially tricky in transferring the pattern. As you transfer, the sections have to perfectly meet up, not only with the quarter you have just transferred, but also with the next quarter you are going to put on. And it all has to reckon with the outside border line. I decided to also copy the pattern onto a very large sheet of heavy white paper and hang it on the wall of my hooking room. In this way, I could always get the global view of where I was working. 
Color Control
Copying the pattern onto paper served another purpose. Dip dyeing was the only way to accomplish the ebb and flow of color, and mentor Betty McClentic and I identified three motifs in the scroll: mittens, spears, and balls. Each of these three was assigned a colored wool that was overdyed by dip dyeing, creating a natural flow of transitional color. To prepare to dip dye, I counted each element, also recording on the paper pattern each one's length. To prepare the wool to dye, I multiplied each measurement by five, to allow for a #6 cut. Therefore, if I had a spear that was 8" long I would tear a piece 44" long. The longest pieces were 104".  I used so much wool I had to keep reordering bolts from Woolrich. (The UPS man drove up the driveway so often my neighbors thought I had a new interest in my life.)

Dip dyeing the long pieces for the scroll was challenging. Just handling the sheer length of some of the pieces took ingenuity. The ceiling in my dye kitchen is low, so using a ceiling pulley was not feasible. Depending on the length of a piece, I could wrap it around the tongs. With pieces 36" to 72" long, I could fold some of it in my hand as I manipulated the rest. The 104" pieces I just threw over my shoulder and fed them into my pot gradually.
 
The longest pieces are the most difficult because, as we all know, different colors are absorbed at different rates and temperatures. Dyeing is not a perfect science, which sometimes makes duplicating difficult, and you can end up with pieces that don't even look like friends. However, when you end up with "an odd man out," it can often lend just that touch of drama. It could be what the venerable Pearl called the touch of "poison."

The strips of blue, gold, and green wool were overdyed with several greens to create variety and richness. When each spear, mitten, or ball motif is just a bit different because of the choices of wool you have dyed, it keeps you much more engaged as you continually draw on your creative senses of color, value, and shade. It's impossible to get bored!
The Background
For the background, I dyed 25 yards of white melton. As carefully as I measured and processed, I still had variations in shade between batches. My formula, all PRO Chem dyes, was 1 part Teal, 1/2 part Island Blue, and 1/4-part Forest Green. I intentionally dyed three values, but in actuality ended up with six or seven values. I kept piles from darkest to lightest on my frame, and as I worked I would hook in intersecting semicircles to create movement. I put in five or six lines before I changed to another value so that it would appear more as a wave rather than a trickle. 

As the rod on my frame with the finished portion grows fatter and fatter, it was a very gratifying feeling. The day I finished the first end, signifying that two thirds (about 100 square feet) of the rug was done, I celebrated. Now I had to turn the frame around and start from the middle toward the other end. I mentioned previously that the frame was built like a Sumo wrestler, but now it weighed as much! Two strong men had to take it outside in order to get enough room to turn the 11' frame around. Onward toward the finish!
The Finish Line
As I started the last third, I was glad that I had taken many pictures of the crescent bouquet and scrolls at the opposite end, because now it was totally rolled up and not visible. It is important to maintain balance from one end to the other. I also made notations on the hanging white paper, indicating where I had added some different colors. (After all, a girl always has to have a little purple!) In addition to the photos of finished parts, I photographed the pattern on the rug warp. As I finished an element, I would color it in. It's encouraging to have a visual to attest to the progress made through all those hundreds of hours sitting at your frame. It also helped me to plan out the work, and I would circle an area I expected to get done the next day or even week. I found it useful to set goals, even if some turned out to be totally unrealistic.

As the end of the second year of the Allure project approached, it was marked by my third consult/attendance at Sebago Lake Rug School. As you may remember, Allure was only a group of burlap pieces with part of the pattern in 2015. By the end of May 2017, I was just 6" short of finishing. A week later it was done, and the huge job of whipping the 49 linear feet of edging lay ahead. 
Full Steam Ahead
But let us not be hasty—what about steaming this beast?

Yet again my cohort Carol Murphy came to my rescue. Where should we do this? We considered a number of options: it had to be convenient for us to work, and we had to be able to leave the rug to dry flat after we steamed it. Above all, the surface had to be able to be cleaned to put the rug on and to be a material that the steam would not ruin. We came up with a solution. Early in the morning on a day that was forecast to be almost 100 degrees, I steam mopped the porch floor. Then Carol and I fired up our steamers, and we started on the rug. I soaked and wrung out a 100% cotton sheet, and we each started on opposite sides on the back of the width of the rug, meeting in the middle. It was like the dueling steamers as the outside temperature soared to 100. After three hours, we were finally done, and we flipped the rug over to dry. We sat and drank iced tea (not Long Island tea) the rest of the afternoon and admired our handiwork, too hot and tired to pat each other on the back. 

To roll up the rug to move it, I cut a 2" diameter PVC pipe 10' long. That diameter kept the inside edge from curling too tight. Unrolling the rug was simple: hold the pipe and pull the rug off.

Call the men again! Move the rug from the porch onto my dining room table for the last leg of the journey. 

When a rug is meant for the floor, I whip stitch to protect the edges. I use yarn to match the background. Harrisville Designs produces a very tight twist yarn, Watershed, available in navy tweed, and Highland Worsted, in dark navy. By whipping with the two strands of yarn together, I achieved a subtle, stunning finish. I whipped with a buttonhole stitch, locking each one in place with a knot right next to the outside line of hooking.  
Lights, Camera, Action!
After two years and two weeks, Allure was finished. Now, you think this story is over? Not by a long shot. Next I had to find someone to photograph it! I learned this would take someone with a ceiling-mounted remote camera, proper lighting to eliminate shadow, and expertise in shooting textiles. Fortunately, I found Walter Schnecker in Amherst, New Hampshire. The traveling dog-and-pony show hit the road again, and Carol and I worked with Walter to educate him about hooked rugs and what the end product needed to look like. He educated us about the camera's eye and grayscale. Between all of us, the result was superb, as you see here!
The Marketing Process
The very last stage is marketing Allure. Yes, this rug is for sale.

I have had the extreme pleasure of making this rug, and I hope Hallie and Pearl are looking down, smiling. My homage to them is now paid. It has taught me a lot about dyeing, planning, and trusting your collaborator and yourself. I know now that plans don't always work out as intended but often can be better if you're open-minded. I couldn't have done this without first the help of Betty McClentic, and second W. Cushing, who printed part of the pattern perfectly to establish the base. Thanks to Carol for being there with help and expertise. There have been a lot of logistical problems to solve along the way, and flexibility and a sense of humor were essential. 

I encourage everyone to consider doing these beautiful old patterns. The planets aligned to help Allure rise again almost
70 years after Pearl created it. The time has come again for these historic, graceful designs to regain their place in the sun, rejuvenated in a current and relevant way for your home.
A Word to the Wise
When you tackle a large piece, you (and whoever lives with you) have to have a strong tolerance for disorder in your home, because it will eventually creep everywhere. You may have a sense of order throughout the process, but it probably won't be evident to anyone else.

Patience, flexibility, and a sense of humor are all you really need. 
Cheryl Orcutt lives in Peterborough, New Hampshire, with her two dogs. She began hooking in 1976 while living in Halifax, Nova Scotia, and continued with Hallie Hall in the 1980s and 1990s. Her passion is working on large rugs, using vibrant color and texture. 
YOUR RECENTLY VIEWED ARTICLES
Free tutorials, expert tips, exclusive partner offers, and more straight to your inbox!