Punch Needle Artist: Micah Clasper-Torch
By:
Editors of Rug Hooking Magazine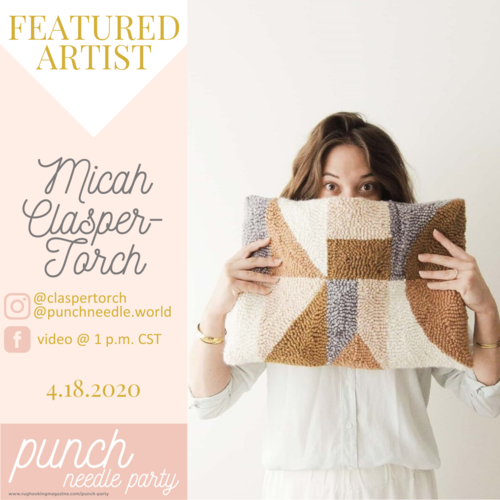 Welcome to Rug Hooking magazine's featured arists series! In honor of international punch needle day, we celebrated by asking some talented punch needle artists to share their experiences with this delightful fiber art: punch needle rug hooking. Check out our exclusive interview with Mica Clasper-Torch below. 

About the Artist

Micah Clasper-Torch is an fiber artist and designer based in Los Angeles California, specializing in punch needle and hand tufting techniques. Her work blurs the line between fine art and design as she creates small collections and one of a kind pieces that range from softgoods such as clothing and rugs, to wall hangings and mixed media artwork. 

Micah received her BFA from the Fashion Institute of Technology in New York City and the Politecnic University in Milan, Italy.  After 10 years working in the art world, startup scene and commercial fashion industry in NYC with companies that include Ralph Lauren and Coach, Micah moved to Los Angeles to focus on fiber arts.  Along with the influence of her varied creative background, she draws inspiration from her travels, the natural world and architecture.

Through materials such as fabric, yarn, thread and paper, her mission is to celebrate the inherent value in making things by hand and the importance of keeping traditional techniques alive.

Important Links

Visit her website
Punch Needle World
Follow on Instagram: @claspertorch and @punchneedle.world

 
Q&A: Let's Meet Micah
Q: When did you first start doing punch needle?
A: I started punching in the summer of 2018. I had seen the technique on Instagram earlier that year and was eager to learn, but it took me months before I was able to find a teacher in my area. At the time, I was focused on creating one of a kind fashion pieces (coats, blazers and dresses) and had the idea to incorporate the finished textile into my designs. Little did I know that learning punch needle would shift the course of my work! I wanted to further my skill in the craft, so in 2019 I traveled to Vermont to train with Amy Oxford and became a Certified Oxford Punch Needle Instructor.
Q: What was the inspiration behind your punch needle coats? Do you have plans to do any other wearable punch needle designs?
A: I received my BFA in Fashion Design at the Fashion Institute of Technology in New York City, and the Politecnic Institute in Milan. My specialty was tailored design, so I made a lot of blazers, coats and other structured pieces created with intricate tailoring techniques. When I was in school, interior design was a big inspiration to me and I often used heavy drapery and upholstery fabric in my pieces. Fast forward almost 10 years later – when I saw punch needle textile and recognized it as a rug making technique, I immediately thought "I need to make a coat out of that"!  It was a lot harder than I expected due to the thickness and limitations of the finished textile, but the finished result was worth it.

I would love to create more wearable punch needle designs! I am overflowing with ideas for new coats as well as other wearables that incorporate punch needle along with other fabric. It takes 3-4 weeks to make one coat, so it's a very time consuming process. Each time I make a piece, I improve upon the technique. It took me one year to make 6 coats, and I feel like I only truly nailed the construction in the 6th coat. Unlike working with other fabric, I can't just cut a new piece or take in a seam if something is wrong. There is no good way to know whether a new improvement, technique or idea works until I have already put in 30+ hours on the punching of the textile, so it all needs to be very precise. 

I enjoy this process, but sometimes I appreciate being able to bring a project to fruition more quickly. I have been experimenting with accessories (clutches and handbags) as a way to test various techniques and construction concepts on a smaller scale. 

 
Q: What do you love most about what you do?
A: I love working with color and testing new yarns. I love the tactile nature of fiber, and working slowly with my hands. But most of all, I love that there are so many possibilities for punch needle! I get such a thrill out of exploring new ways to use the textile beyond the more traditional applications of rugs and pillows. 
Q: Why should people continue to make things by hand?
A: Making things by hand is a way to connect to our world, connect to materials and connect to ourselves. It is the most important way to preserve traditional techniques and pass along tangible skills from generation to generation. In an increasingly digital world, we have forgotten the importance of using our hands to create art, to cook, to sew, to build or fix things. Not only does it give us a deeper appreciation for the work that goes into all of these things and a respect for the finished product, it also builds a type of confidence in ourselves that we cannot get elsewhere. Making things by hand is tied to self-reliance. It gives us confidence to know that we can learn new skills, we can provide for ourselves and create something tangible and useful.
Q: What are two pieces of advice you would give to new punch needle artists?
A: 1. Master the rules of proper punch needle technique before you break them and 2. Enjoy the slow process!
Punch Needle Rug Hooking Quotes to Save and Share!
YOUR RECENTLY VIEWED ARTICLES
Free tutorials, expert tips, exclusive partner offers, and more straight to your inbox!