April DeConick: Class of 2018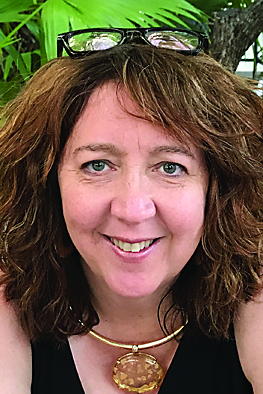 Name: April DeConick

Location: Houston, Texas

Tell us a bit about yourself. What are some of your interests and hobbies?
April DeConick is an award-winning hooked wool artist and master dyer known for her zonalism technique and palette dyeing. Her hooked rugs and mats have been featured in six of the Celebration of Hand-Hooked Rugs juried series, Rug Hooking Magazine, and the ATHA Newsletter. Her rugs and dyed wool have received blue ribbon People's Choice Awards in 2011, 2012, 2013, and 2014 at the Sauder Village Rug Hooking Exhibition. She has authored numerous articles for the ATHA Newsletter and Rug Hooking magazine. She also has written and fully illustrated the step-by-step instructional dye book: The Wool Palette: a rug hooker's guide to dyeing your own color palette of wool. Her second book, Wool Snapshots covers the how-tos of zonalism for small mats. She teaches classes in dyeing and hooked portraiture at retreats and camps. She is the past president of the Stash Sisters ATHA guild in Region 9. She has a blog and website, RedJackRugsStudio.com or aprildeconickrugstudio.com.

Tell us a bit about yourself. What are some of your interests and hobbies?
In 1995, I saw rug hooking demonstrated at a historic farm in rural Michigan and signed up for a beginning rug hooking class in the farmhouse.

What was your first project?
A rug called The Hidden Stone. It was featured as the "First Rug on the Last Page" of the Rug Hooking magazine X.3 (November/December 1998) p. 64. The photo and full story are there.

Is there one rug that stands out as being particularly memorable?
Satu. This is my big tiger rug, featuring one of the tigers at the Houston zoo.

Is there a particular style of rugs that you're most interested in hooking?
As an artist, I am fascinated by scale. So I tend to hook oversized or miniature pieces. I explore what happens to color and value when the scale changes. My work is impressionistic. I am not trying to capture reality, but the impression and emotion of a particular moment when a person or an animal turns and gazes out from within.

What's your favorite part about hooking a rug?
I find rug hooking an emotional, even spiritual release to a busy day, the contemplative process of pulling the loops, feeling the wool between my fingers and the plunge of the hook to grab it, the sound of the fibers as the wool engages the linen foundation, the sight of the bright colors and contrasts worked in side by side.

What's a piece of advice you'd give to a new rug hooker?
Experiment. Rug hooking is the most forgiving artistic medium I know. If you don't like what you hooked in, you can pull it out and try something else.

What do you love most about Celebration?
I enjoy seeing what other artists are doing with rug hooking, especially in terms of original projects rather than patterns. I look for inspiration and ways in which rug hookers are pushing the craft in new directions.
Table of Contents
YOUR RECENTLY VIEWED ARTICLES
Free tutorials, expert tips, exclusive partner offers, and more straight to your inbox!