One Slice or Two?
A hooking that looks good enough to eat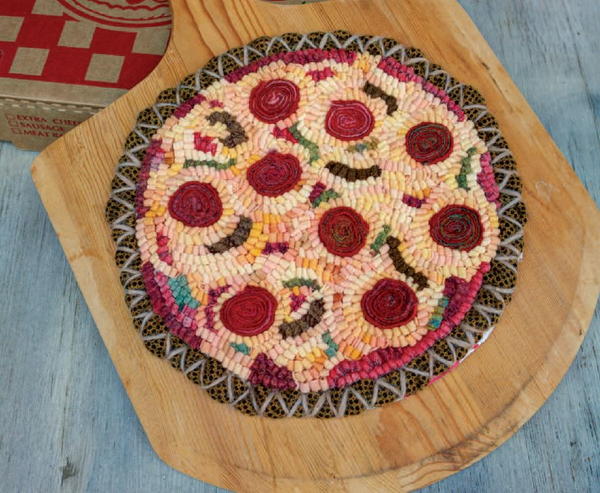 One Slice or Two
I recently took part in a mat swap ALL ABOUT food. What a great theme to get the creative (and gastric) juices flowing! Many design possibilities danced in my head: gummy bears; bacon, lettuce, and tomato sandwich; ice cream sundae; spaghetti and meatballs; and pizza. The pizza idea won—who doesn't love pizza? I was off to design my mat.
I've designed and hooked lots of round mats in the past and I like the shape. For my pizza, I traced around a 10" dinner plate. Then came the fun part—deciding on the toppings. So many different ways to go, but I was in the mood for pepperoni, anchovies, green peppers, and lots of cheese. 

I happened to have a perfect piece of wool that I had dyed for another rug. It was a pale spotty yellow with some pink and brown spots. How I ended up with such a wacky dye job, I don't remember. It apparently wasn't used for the original rug, but was just perfect for this pizza mat. That happens a lot when I dye wool. I'm no expert dyer so I often end up with wool that's not quite the right color. I then go back to the dye pots. I know that any wool that doesn't come out just right for the project at hand will work out great for another rug. Rug hookers never waste a good piece of wool.
YOUR RECENTLY VIEWED ARTICLES
Free tutorials, expert tips, exclusive partner offers, and more straight to your inbox!