Fog
By:
Gene Shepherd, Celebration Hall of Fame 2018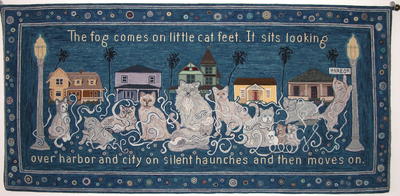 Dimensions: 69 1/2" x 33"
Materials: #3- and #5-cut wool on cotton rug warp
Designed and hooked by Gene Shepherd, Anaheim, California, 2001.
Featured in: Celebration XII

"Shortly after I started dyeing my own wool, I ended up with a large pile of light-colored wool that 'did not turn our right.' As I, dejectedly, surveyed it, I thought to myself: 'The only thing I could hook with that would be smoke… or fog.' Suddenly, Carl Sandburg's classic poem came to mind. While I didn't live on a harbor, my historic house is very close to Harbor Blvd. Very quickly, using my house and 4 other historic homes of my neighbors, I created a design that also incorporated our street lights, signs, stately palm trees lining the boulevard, and some foggy-looking cats. Drawing lettering for the design was the hardest part of making that pattern. In fact, I got so frustrated finding fonts, etc., that I just refocused and mentally figured out a way to hook letters without drawing any lines, starting in the middle of each line and working out. Because of all the personal elements in the design, I particularly liked this rug."
- Gene Shepherd, Celebration Hall of Fame 2018
YOUR RECENTLY VIEWED ARTICLES
Free tutorials, expert tips, exclusive partner offers, and more straight to your inbox!