Karen Maddox: Class of 2018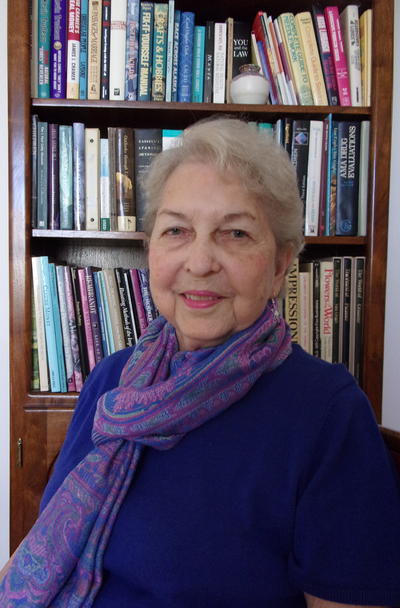 Name: Karen Maddox

Location: Kerrville, Texas

Tell us a bit about yourself.
I play the piano for my Sunday School Class and two nursing homes. I have a cat that keeps me entertained and I really enjoy rug hooking!

How did you get introduced to rug hooking?
I saw a Rug Hooking Magazine at a local book store and loved the textured look of the rugs. When I found out I could "do my own thing," I was really excited.

What was your first project?
I picked up a kit from Jane Olson who happened to be in Texas. I was leaving on a trip and ended up staying ten days with my father in the hospital, so I went to a craft store, bought a 10" hoop, and hooked the kit in that ten days. (Of course, with no instruction, I had twists, tails on the back, etc., so I decided I needed to get the technique down before I continued!)

Is there one rug that stands out as being particularly memorable?
"Kerrville Story Rug" was about my husband's and my life in Kerrville. Deciding what to include was challenging. My husband had built an experimental airplane that we traveled in all over the United States, and he kept insisting the airplane wasn't large enough in the rug! I also included the art center where we volunteered, the Guadalupe River with our grandkids playing, deer, and the cat sitting on a hooked rug surveying her kingdom!

Is there a particular style of rugs that you're most interested in hooking?
I really enjoy pictorials. I also paint in oils and pastels, so now I am "painting with wool!" It is much harder to dye wool the colors you need rather than squeezing paint from a tube, but I enjoy the challenge.

What's your favorite part about hooking a rug?
Designing rugs and working out the problems are my favorite parts. After that I wish I had an elf to come and finish them!

What's a piece of advice you'd give to a new rug hooker?
Persistence, persistence, persistence. Hook at least six strips a day, and you will finish before you know it.

What do you love most about Celebration?
The challenge and excitement of entering the annual Celebration contest is fun. I love looking at all the beautiful rugs that are included each year, and I know how many hours are invested in the art/craft we love.
Table of Contents
YOUR RECENTLY VIEWED ARTICLES
Free tutorials, expert tips, exclusive partner offers, and more straight to your inbox!