Lucy
By:
Mary McGrath, Celebration Hall of Fame 2018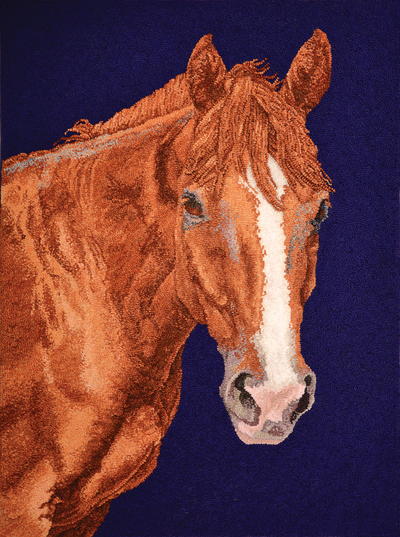 Dimensions: 18" x 24"
Materials: #3-cut wool on rug warp
Adapted, with permission, by Leonard Feenan, from a photograph by Shawn Minnich, and hooked by Mary McGrath, Mukwonago, Wisconsin, 2014. Photo from Art's Cameras Plus.
Featured in: Celebration XXV

"I have admittedly had a love affair with horses longer than my passion for rug hooking has existed. I grew up around horses and spent years riding, grooming, and obsessing over these animals. Many of my friends today are horse people. One such horse person was my dear friend Shawn Armstrong. Sometime after hooking Crewel Firescreen, I recognized that God bestowed a unique gift upon me through my rug hooking ability, and I decided that I wanted to share this gift with others. From this realization, the idea of hooking Lucy was born. Shawn owned and loved Lucy for many years before sadly losing her through illness. I felt hooking a memorial rug of Lucy would be the perfect way to share my gift with Shawn. I was most excited by the possibility of hooking Lucy's wonderful muscling. The broad shoulders and beautiful light/dark contrasts throughout her body just cried out to be hooked. As her face developed, I was so happy to see the structure born from my lessons in shading. Her nose looked soft and touchable. One challenge I ran into was hooking the outside eye. I had to rehook that eye several times because it wasn't taking on the correct shape and size I wanted. The other challenge was hooking Lucy without a halter. The original photo showed her wearing a halter on her head, but Shawn wanted it removed, and I agreed with her. I spent considerable time looking at images of horses online that were looking the same direction she was without a halter on their head so I could get the realistic shadows I needed to create where the head met the neck. I was so pleased when I finished this rug to see I had captured the essence of this beautiful animal. The piece now hangs on a wall in Shawn's house, and she has told me several times it gives her great comfort and peace to see her there--as a rug hooker and artist, I can think of no better gift."
- Mary McGrath, Celebration Hall of Fame
YOUR RECENTLY VIEWED ARTICLES
Free tutorials, expert tips, exclusive partner offers, and more straight to your inbox!