2001-2009 Issues of Rug Hooking Magazine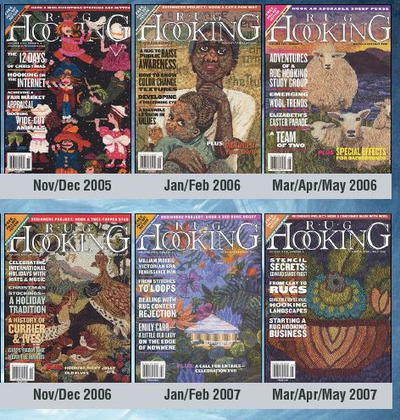 This collection features the previous issues of Rug Hooking magazine from the years 2001-2009. With five issues per year, RHM offers an abundance of rug hooking designs, exclusive patterns, profiles of rug hookers, how-to articles, and more. 

The 2001-2009 issues include beloved columns such as Beyond Our Borders, Canadian Connection, and Ask the Experts. In addition to these regular contributions, RHM authors tackle all sorts of ambitious projects, from pillows to stair runners to creative masterpieces for display. Get tips on creating a portfolio or visiting an auction—all these and more great pattern inserts awaits between these pages.
2009
January/February:

Fine Cut Animals: Adding Dimension with Textured Wool by Judy Carter

Gridded Landscapes: Using a Grid System to Create Stunning Scenes by Donna Hrkman

Pattern Insert: Heart of Winter by Jyl Clark/Cat House Rugs

Big Boned Girls: The Inspiration behind a Series of Mats by Deanne Fitzpatrick

Everlasting Gardens by Emily Erickson

Beyond Our Borders: Three-Dimensional Animals by Gail Dufresne

Dear Beginning Rug Hooker: Unconventional Valentine by Cynthia Norwood

Reader's Gallery: Historic Rugs of Margaret Arraj by Irene S. Clark

Elements: Embellished Rugs: A Pineapple with Special Leaves and Needle Felting by B.J. Andreas

Camps & Workshops: Green Mountain Rug School by Pam Knights

Canadian Connection: Women Matters and the Congo by Rhonda Kellett

Colors to Dye For: Swatch Switch, Part 2 by Wanda Kerr

First Rug: The Art of Sailoring/Alana Kapell by Lori Myers
 

March/April/May:

Cathedral Enchantment: Two Very Different Rugs from One Pattern by Betty Laine

Joining Braiding and Hooking: A Unique Combination of Wools by Kris McDermet

Hooking Across Cyberspace: An Online Contest Sparks Creativity by Maria Barton

ATHA Biennial by Carol Hocker

Inch-by-Inch by Gail Dufresne

Pattern Insert: Early Bird by Martha Reeder/GoingGray

Dear Beginning Rug Hooker: Flower Garden Cottage by Wendy Barton-Miller

Elements: Ragtime: Checks and Tweeds Revisited by Olga Rothschild

Camps & Workshops: TIGHR by Susan Feller

Colors to Dye For: Using it Up—Wool by Wanda Kerr

Beyond Our Borders: Hooked Vessels by Molly Colegrove

Teacher Feature: Cynthia Norwood by Barbara Carroll

First Rug: Home Sweet Home/Nellene Beaton by Lori Myers
 

June/July/August:          

Hooked Totes: Design a Colorful Carry-All to Fit Your Style by Norma Batastini

Reader's Choice by Staff

Wide Cuts? No Problem! Get Comfortable with Hooking Large by Gene Shepherd

Learning Rug Hooking: Tips and Trick from a Master by A.M. Littenberg

Pattern Insert: Petal Purse by Julie Mattison/Searsport Rug Hooking

Dear Beginning Rug Hooker: Heart-Shaped Log Cabin Mat with Sculpted Ladybug by Gail Dufresne

Ask the Expert: Binding Options by Bea Brock

Colors to Dye For: Green Goddesses by Wanda Kerr

Beyond Our Borders: Designing Hooked Face Pins by Tish Murphey

Canadian Connections: Meet the METS Rug Hookers by Susan Sutherland

Camps & Workshops: Stripes US/Japan Rug Hooking by Susan Feller

First Rug: Claire's Gift/Mary McNally by Lori Myers
                           

September/October:

Symbolism in Rug Design by Jennifer Ryan Horan

The Use of Line by Donna Hrkman

Achieving a Personal Goal: The Seven Day Rug Challenge by Melissa Elliott

Fall Pictorials by Jane Halliwell Green

Pattern Insert: Miss Silvia Squirrel by Mary Johnson/Designs in Wool

Dear Beginning Rug Hooker: Adding a Penny Finish to Your Mat by Joan Strausbaugh

Camps & Workshops: Star of Texas Rug Camp by Ginny Stimmel

Beyond Our Borders: Quillies for the Fun and Fashion of It by Nancy Z. Parcels

Colors to Dye For: Steamers—Quick, Easy, and Beautiful by Wanda Kerr

Reader's Gallery: Patsy Becker—A Design of Her Own Making by Lori Myers

Canadian Connection: Hooked on Contributing to the Community by Michelle Sirois-Silver

Ask the Experts: A Secure but Gentle Rug Hanging System by Melinda Russell

First Rug: Cabin Life and Love/Kim Jackson by Lori Myers

 
November/December:

Hooking Families by Roslyn Logsdon

Big Ideas from a Small World by Gene Shepherd

Becoming Your Own Teacher by Mary Anne Wise

St. Nicholas with Chickadee by Tish Murphy

Pattern Insert: Ring Out Joy by Linda Fenandes/Salem Saltbox

Dear Beginning Rug Hooker: A Lesson on Values by Norma Batastini

Ask the Experts: Snow Clean Your Rug by Angela Possak

Reader's Gallery: Rae Harrell—In Fearless Pursuit of the Bold by A.M. Littenberg

Beyond Our Borders: Prodded Christmas Wreath by Gail Dufresne

Colors to Dye For: The Power of Purple by Wanda Kerr

First Rug: The Healing Sun/Allie Stough by Lori Myers
2008
January/February:

Through the Window: A Study of Rugs with a View by Roslyn Logsdon

Preserving Your Rug's History for the Future: Documentation by Joyce Krueger

Take Stock and Move Forward in the New Year by Jenny Rupp

The Color Purple: Hooking at the Far End of the Spectrum by Susan Feller

Exclusive Pattern: Pennies from My Heart by Julie Mattison

Dear Beginning Rug Hooker: Lucky Seven Purse by Nola Heidbreder

First Rug: Port de Quebec Bridge by Elizabeth Oldfield

Beyond Our Borders: Felting Sweaters by Phyllis Linblade

Teacher Feature: Faith Williston by Mary Henck

Canadian Connection: Woolfest 2007 by Mary Henck

Elements: One Singular Sensation by Sue Hoss

Colors to Dye For: Making Deep, Rich Colors by Wanda Kerr

 
March/April/May:          

Abstract Painting on Wool by Anne-Marie Littenberg

Viewing the World as One Big Rug by Sue McClure

The Wool That Binds by Judy Quintman, Devin Walsh

Fibonacci Sequence: A Formula for Visually Interesting Color by Mary Ruelle

Let's Celebrate Sauder Village Rug Hooking Week by Kim Krieger

Exclusive Pattern: Crazy Quilt by Jeanette Szatkowski

Elements: Scrap That Border! by BJ Andreas

Colors to Dye For: Combining Unlikely Partners by Wanda Kerr

Beyond Our Borders: Hooked Pockets by Barbara Carroll

Canadian Connection: Wartime Remembrance by Frances Ennis

First Rug: Puzzle Rug by Pam Ghem

Ask the Experts: Blaze On by Vicki Stone

 
June/July/August:                          

Exploring Geometrics: Variation on Grids and Circles by Sandra Brown

How to Hook Little House with a Lesson on Preparing Wool for Dyeing by Ramona Maddox

The Tradition Continues: 2008 McGown Exhibit by Nancy Blood

Pattern Insert: Vines and Roses by Mary Ruelle

Beyond Our Borders: Gotta Have Heart—A Pinkeep by Marilyn Laury

Dear Beginning Rug Hooker: A Show of Hands by Jennifer Sheldon

Colors to Dye For: Four Great Ways to Dye by Wanda Kerr

Readers' Gallery: Japanese Artist Fumiyo Hachisuka by Susan Feller

First Rug: Lollipop Flowers by Melodie Fairburn

Canadian Connection: Tis Iceton—Hip and Fearless Hooking by Nancy Angus

Elements: Hooking Fur and Hair by Elizabeth Black

Teacher Feature: Heather Ritchie, Eilla Cameron by Gene Shepherd
 

September/October:                    

Dos and Don'ts of Digital Photography by Anne Marie Littenberg

Personal Expression: Designing a Pattern That is Uniquely Your Own by Liala Ralph

The Color Planning Secret by Jane Halliwell Green

From Gravestone to Rug by Wendy Miller

Hooking with Hosiery by Betty Laine

Ask the Expert: Get That Edge Flat! by Sharon Faith EcElroy

Pattern Insert: Mr. Iggy by Maria Barton

Beyond Our Borders: Scrapbook Cover by Anita White

Readers' Gallery: Suzanne Dirmaier by Anne-Marie Littenberg

Dear Beginning Rug Hooker: 1 Padula, 2 Padula, 3 Padula, Fun! by Laura Pierce

Colors to Dye For: Seeing Red by Wanda Kerr

Canadian Connection: A Stumbling Block or a Stepping Stone: Patti Armstrong by Jeanne Field

First Rug: Yellow Cake by Ann Solomon

 
November/December:                

Rug Hooking Crewel Style by Nancy Claflin Blood

The Fabric of Pennsylvania: The Rags to Rugs Exhibit by Lori Myers

Personal Expression Dessing A Pattern that is Uniquely Yours, Part 2 by Liala Ralph

Creating Original Designs by Rosly Logsdon

Ask the Expert: Get Framed: Two Styles of Frame Covers by Paulette Hackman

Teacher Feature: Eric Sandburg by Susan Feller

Dear Beginning Rug Hooker: Robin's Rose by Robin Price

Colors to Dye For: Swatch Switch by Wanda Kerr

First Rug: Ode to Chester by Rachel van Leer

Pattern Insert: Noel Holly Basket by Marti Taylor, Connie Litfin
2007
January/February:

William Morris: Victorian Era Renaissance Man by Nancy Claflin Blood

From Stitches to Loops by Jenny Rupp

The Thin Envelope: Dealing with Rug Contest Rejection by Lynn Fowler

Exclusive Pattern: Easter Egg Tree Pillow by Jeanne Smith, Pat Brooks

Dear Beginning Rug Hooker: Red Bone Doggy by Nancy Jewett

First Rug: Sheep and Clouds by Arline Johnstone

Beyond Our Borders: Home Sweet Home by Gene Shepherd

Readers' Gallery: Sally D'Albora: The People's Choice by Susan Feller

Canadian Connection: Emily Carr: A Little Old Lady on the Edge of Nowhere by Jeanne Field, Katheryn Bridge

Elements: Locker Hooking by Nola Heidbreder

Colors to Dye For: Adventures with Spot by Wanda Kerr

 
March/April/May:                          

Stencil Secrets: Tracing the History of Edward Sands Frost by Suzanne Holtkamp

Hooked Cornices by Karen Schellinger

From Clay to Rugs by Ramona Cann

Starting a Rug Hooking Business by Victoria Jacobson

Going for a Gentle Walk: Hooking Landscapes by Deanne Fitzpatrick

Exclusive Pattern: Spring Sheep by Jeanne Smith, Pat Brooks

Readers' Gallery: Stephanie Smith by Deanne Fitzpatrick

Elements: Streaking through My Dye Pan by BJ Andreas

Colors to Dye For: The Skinny on Skin: Creating Flesh Tones by Wanda Kerr

Beyond Our Borders: Inside the Box: Containers Made with Wool by Caryn Devlin

Canadian Connection: Carol Harvey-Clark and the Economusee Network by Paulette Hackman

Teacher Feature                              

First Rug: Bunny in the Pansy Patch by Cheryl Halliday

Ask the Experts: Why Does My Favorite Texture Disintegrate When Cut in a #4 strip? by Susan Feller

 
June/July/August:                          

Color Match System: Getting the Results You Want from Any Recipe by Liala Ralph

Hookers Take on New Orleans: ATHA by Carrie Martin, Cynthia Norwood

Breaking All the Rules by Emily Robertson

Pattern Insert: Americana Home by Wendy Miller

Beyond Our Borders: Hooked Martyoshka Dolls by Carol Koerner

Dear Beginning Rug Hooker: Hope's Rose by Nancy Jewett

Colors to Dye For: Wandering Revisited by Wanda Kerr

Readers' Gallery: Reflection of Jen Lavoie's Work by Anne-Marie Littenberg

First Rug: View by Elaine McDonald

Canadian Connection: Art Hits the Wall by Sharon Ladd

Elements: Focused on Eyes by Jon Ciemiewicz

                               
September/October:                    

Hooking a Haunted House by Jenny Rupp

Run for the Border by Donna Hrkman

Transformation: From a Hooked Piece into a Pillow by Teresa Henn

At Last: An Easy Way to Dye by Vicki Calu

Ask the Experts: An Invisible Seam by Sharon McElroy

Pattern Insert: Jolly Halloween by Kris Miller

Beyond Our Borders: Henry: The Primitive Black Cat by Maria Barton

Teacher Feature: Joyce Smy by Lori Myers

Dear Beginning Rug Hooker: Wickedy Witch by Sharon Soule, Alisha Bolduc

Colors to Dye For: Brown Town by Wanda Kerr

Canadian Connection: The Fountain of Youth: Joan Norman by Judy Morris

First Rug: The Tara Rug by Barbara Peters


November/December:                

A Storyteller's Rug and the Story behind Making It by Toby Baker, Georgia Glass

The Art and Craft of Stained Glass by Nancy Claflin Blood

Surrounded by Love, Peace, and Joy by Nancy Jewett

Hooking What You Love, Loving What You Hook by Donna Hrkman

Beyond Our Borders: Hook a Book by Margaret Mackay

Readers' Gallery: Flower Powered: Lulu Myers by Mary Logue

Dear Beginning Rug Hooker: How to Hook Gobbles by Victoria Jacobson

Colors to Dye For: Quick Old Fashioned Colors by Wanda Kerr

Canadian Connection: Developing a Creative Community: The Square Zebras by Deanne Fitzpatrick

Elements: Iridescence by Gail Dufresne

First Rug: Binford's World by Judi Maxwell

Pattern Insert: Yule Angel by Sharon Soule, Alicia Bolduc
2006
January/February:

Making It Your Own: Redesigning and Personalizing a Commercial Pattern by Mary Henck

How to Show Color Change through Textures by Kim Nixon

Message in a Fiber Medium: A Rug to Raise Public Awareness by Donna Hrkman

Developing a Discerning Eye: What to Know Before Buying an Antique Rug by Laura Fisher

A Valuable Lesson in Values by Nancy Z. Parcels

Exclusive Pattern: Yellow Ware Pitcher Floral Pattern by Wendy Miller

Teacher Feature: Anne Boissinot by Lori Myers

Dear Beginning Rug Hooker: Cat's Paw Mat by Nola Heidbreder

First Rug: Passing It On by Sharon McElroy

Beyond Our Borders: Horatio-A Punch Needle Project by Linda Repasky

Readers' Gallery: Patty Yoder by Anne Marie Littenberg

Canadian Connection: Let's Face It by Luise Bishop

Elements: Shading in Wide Cut by Maryanne Lincoln

Ask the Experts: True Bliss by Lydia Wagner

Colors to Dye For: Inspired by Nature by Wanda Kerr

 
March/April/May:                          

A Team of Two by Gail Dufresne

Come Together: Adventure of a Rug Hooking Study Group by Anne-Marie Littenberg

Emerging Wool Trends by Maddy Fraioli

Elizabeth's Easter Parade by June Robbs

Exclusive Pattern: Vagabond Rabbit by Kris Miller, Rebecca Erb

Readers' Gallery: Linda Rae Coughlin: Trailblazer by Susan Feller

Elements: Dippity-Do-Dah by BJ Andreas

Dear Beginning Rug Hooker: Adorable Sheep Purse by Wendy Miller

Colors to Dye For: Nothing but Blue Skies by Wanda Kerr

Beyond Our Borders: Hooking Primitives with Yarn by Judy Taylor

Canadian Connection: Special Effects for Backgrounds by Laura Boszormeny, Jeanne Field

Teacher Feature: Gail Dufresne by Elizabeth Black

First Rug: Family Farm by Marie Kelly

Ask the Experts: The Frame and Its Proper Use by Cindy MacMillan


June/July/August:                           

Replicating Rugs of the Past by Mary Henck

Shake it Up: Textured Oriental Rug by Jenny Rupp

New Beginnings: McGown Biennial by Kim Nixon

Pattern Insert: Country Cameo by Julie Mattison

Beyond Our Borders: It's in the Bag by Robin Amodio

Dear Beginning Rug Hooker: Frog Purse by Anne Eastwood

Colors to Dye For: Riding the Majic Carpet by Wanda Kerr

Readers' Gallery: Karl Gimber: Jack of All Trades by Susan Feller

First Rug: Summer Sorbet by Ivana Vavakova

Canadian Connection: Great Beginnings Start Somewhere in the Middle by Deanne Fitzpatrick

Ask the Experts: Choosing a Hook by Gail Dufresne

                               
September/October:                    

Knowledge is Freedom: Understanding Warm and Cool Palettes by Sara Ladd

Rug Hookers to the Rescue: Special Rugs for Special Dogs by Toni Johnson

TIGHT 5th Triennial: Wales by Ann Lock

An Error in Your Ways: Common Mistakes in Rug Hooking and How to Learn from Them by Janet Williams

A Hooker Lives Here: Making a Public Statement by Tish Murphy

Pattern Insert: The Village by Jeanne Field

Beyond Our Borders: Flower Power: Combining Fiber Techniques by Patricia Van Arsdale

Teacher Feature: Norma Batastini by Lori Myers

Dear Beginning Rug Hooker: Li'l Jack Mat: Hooking Green for Halloween by Jenny Rupp

Colors to Dye For: Sundrise-Sunset by Wanda Kerr

Elements: Fall Leaves: Freckles, Speckles, Splashes, and Swirls by Nancy Claflin Blood

First Rug: Palace Cats by Deborah Schreiber
                        

November/December:

Celebrating International Holidays with Mats and Music by Anne-Marie Littenberg

By the Chimney with Care: Christmas Stockings by Jenny Rugg, Lisa Yeago

Stepping Back in Time: A History of Currier and Ives by Nacy Claflin Blood

Gifts from the Heart and Hands by Nancy Z. Parcels

Beyond Our Borders: Right Jolly Old Elves by Cynthia Norwood

Teacher Feature: Deanne Fitzpatrick by Lori Myers

Dear Beginning Rug Hooker: Dianne Kelly's Tree Topper Star by Susan L'Hommedieu

Colors to Dye For: The Sky's the Limit by Wanda Kerr

Canadian Connection: The Circle of Life by Fancis Ennis

Elements: Kilim Hip Purses by Anne Boissinot

First Rug: Still Night at Murphy's Landing by Candy L. Taft

Pattern Insert: Christmas Stocking by Gene Shepherd
2005
January/February:

Fade to Blue by BJ Andreas

The Path of the Creative Journey by Tracyy Jamar

For Posterity's Sake: Creating a Portfolio by Peggy Hannum

Divine Intervention: Icon Art as Inspiration by Lori Myers

Exclusive Pattern: Creating Jesse's Arbor by Stephanie Ashworth Krauss

Teacher Feature: Joyce Krueger by Betty Krull

Dear Beginning Rug Hooker: Ramona's Whimsey by Ramona Maddox

First Rug: Poppy Rug by Marjorie Egee

Beyond Our Borders: Three-Dimensional Hooked Birds by Jessie Marshall

Readers' Gallery: Ilse Schreiner by Susan Elcox

Canadian Connection: Heidi Wulfrat and Her London-Wul Farm by Deanne Fitzpatrick

Elements: About Faces: A Journey through a Landscape of Shadow and Light by Anne-Marie Littenberg

Ask the Experts: Dyeing Safety by Gail Dufresne

Colors to Dye For: Taming the Uglies by Wanda Kerr


March/April/May:                          

Patternmakers, Past and Present by Susan Feller

The Wide World of Wool: A Visit to a Sheep and Wool Festival by Paulette Hackman

Raspberry Tea Cozy by Marie Azzaro

Interrelating Traditional and Contemporary Styles by Marion Ham

Through the Looking Glass by Donna Hrkman

Back to Where It All Began by Sarah Ladd

Readers' Gallery: Pat Merilallio by Lori Myers

Elements: Finger Painting a Sunset Sky by Gail Dufresne

Dear Beginning Rug Hooker: Stars and Stripes: Chair Pad by Karen Kahle

Colors to Dye For: It's All White by Wanda Kerr

Beyond Our Borders: Little Critters by Jeanne Fallier

Canadian Connection: Rug Sculpting Nova Scotia Style by Carol Harvey-Clark

Teacher Feature: Pat Cross by Lori Myers

First Rug: The Bicycle Trip by Virginia Gregg

Ask the Experts: Gathering Wool by June Robbs
 

June/July/August:                          

Backgrounds: Choosing the Best One for Your Rug by Cynthia Norwood

Kathi's Eagle Pattern by Sally Kalin

Hooking on the Edge by Paulette Hackman

Giving Back: Helping Your Community through Rug Hooking by Deanne Fitzpatrick

Elements: Cottage Style Hooking by Susan L'Hommedieu

Beyond Our Borders: Proddy Seat Pads by Cilla Cameron

Dear Beginning Rug Hooker: Old World Rose by Melissa Elliott

Colors to Dye For: When You Can't Stand the Heat: Crockpot Dyeing by Wanda Kerr

Readers' Gallery: The Rugs of Mabelle Linnea Holmes by Mary Henck

First Rug: Century Farm by Nancy Evans

Canadian Connection: Commissioned Pieces by Sarah Ladd

Ask the Experts: Around in Circles with Cutter Blades by Cindy Hartman

Teacher Feature: Beverly Conway by Trish Becker

 
September/October:                    

Padula Web Site Fall Mat Swap by Gail Dufresne

Accessorizing Your Rug with Unusual Finishes by Jenny Rupp

Rugged American Scenery: 50 State Rugs by Molly Nye Tobey by Kory Rogers

Left-Handed Hooking by Betty Laine

Pattern Insert: Fluted Vase by Karen Kahle

Beyond Our Borders: Hat Redux: Hooking and Knitting Together by Adriene Sloane

Teacher Feature: Elizabeth Black by Gail Dufresne

Dear Beginning Rug Hooker: Squirrel Chase by Sue Hoss

Colors to Dye For: Electric Frying Pan Dyeing by Wanda Kerr

Readers' Gallery: Jeanette Szatkowski by Betty Krull

Canadian Connection: From the Beaches of the Grand Bank: Louise Belbin by Frances Ennis

Ask the Experts: Wool Conservation Techniques by Cindy MacMillan

Elements: Branching Out: Hooking Realistic Trees by Cindi Gay

First Rug: Harmony by Pat Wig
 

November/December:                

Fair Market Appraisal by Sally Ballinger

The Twelve Days of Christmas by Susan Feller

Bringing Animals to Life with Wide Cut Woolens by Trish Becker

Hooking and the Internet: A Marriage of Old and New by Deanne Fitzpatrick

Beyond Our Borders: Prodding the Perennial Evergreen by Gail Dufresne

Teacher Feature                              

Dear Beginning Rug Hooker: Mini-Christmas Stocking and Mitten by Jeanne Smith, Pat Brooks

Colors to Dye For: Turn a Sow's Ear into a Silk Purse by Wanda Kerr

Readers' Gallery: Victoria Hart Ingalls and Tom Ingalls by Jennifer Ryan Horan

Canadian Connection: Count Your Blessings by Fran Mandin

Elements: The Three "Cs" of Hooking a Landscape by Anne-Marie Littenberg

Ask the Experts: The Foundations of Good Rug Hooking by Betty McClentic

First Rug: Home Sweet Home by Jean Riley

Pattern Insert: Gift Giver by Patsy Becker
2004
January/February:

Tips on Shading Leaves and Flowers by Wanda Kerr

Antique Primitive Rugs by Evelyn Lawrence

Expanding the Art of Rug Hooking by Trudi Shippenberg

Etiquette: A Teacher Tells All by Jane Halliwell

Teacher Feature: Pris Buttler by Lori Myers

Dear Beginning Rug Hooker: Hook a Log Cabin Purse by Laurice Heath

First Rug: Little Buckingham/Alexis Kramer by Ginny Stimmel

Beyond Our Borders: Natural and Synthetic Dyes by Susan Feller

Readers' Gallery: The Women of Agustin Gonzales, Mexico by Lori Myers

Canadian Connection: The Rugs of Halina Biendowski by Deanne Fitzpatrick

Elements: How to Letter Rugs by Emily Robertson

Ask the Experts: Rug Critiques by Nancy Blood


March/April/May:

The Secrets of Primitive Hooked Rugs by Barbara Carroll

Real Animals, Unreal Colors by Abby Vakay

Scrap Happy Hooking: The Art of Making Do by Pat Cross

A Good Hand: A Fiber Art Deck of Cards by Susan Feller

Readers' Gallery: Mary Anne Wise: Rugs from the Heartland by Mary Logue

Elements: Using Templates to Create Your Own Rug by Deanne Fitzpatrick

Dear Beginning Rug Hooker: Primitive Yo-Yo Flowers by Sue Hoss

Recipes from the Dye Kitchen: Making Colors Sing by Maryanne Lincoln

Beyond Our Borders: All Dolled Up by Liz Gordon

Canadian Connection: A Rug for Chantry Island by Joan Rigby

Teacher Feature: Margo White by Leslie Hoy

First Rug: Aggie's Rug/Herricka Poor by Ginny Stimmel


June/July/August:

The Rug Hooker's Guide to Creativity by Deanne Fitzpatrick

Wedding Rugs: To Have and to Hold by Jen Ryan Horna

Healthy Hooking by Laurice Heath

Monochromatic Rugs by Nancy Blood

Elements: Between a Rock and a Hard Place by Jane Halliwell

Beyond Our Borders: Multi-Fiber Wooly Handbags by Deborah Brunner

Dear Beginning Rug Hooker: Molly's Star by Barbara Carroll

Recipes from the Dye Kitchen: Master Dyer Michele Micarelli by Wanda Kerr

Readers' Gallery: Peggy Mineau by Cheryl Meese

First Rug: Autumn Afternoon/Karen Hendrson by Ginny Stimmel


September/October:

It's Autumn Harvest Time by Betty McClentic

Paisleys by Cynthia Norwood

A Rug Hooker's Journey by Trish Becker

Renovation and Preservation of Hooked Rugs by Jeanne Fallier

Pattern Insert: Yellow Bird by Happy DiFranza

Beyond Our Borders: Hooked Valances by Cilla Cameron

Teacher Feature: Nancy MacLennan and Claire deRoos by Paulette Hackman

Dear Beginning Rug Hooker: Hook a Primitive Green Gourdon Pillow by Jenny Rupp, Lisa Yeago

Colors to Dye For: Of Daffodils and Yellows by Wanda Kerr

Readers' Gallery: Edyth O'Neill by Barbara Carroll

Canadian Connection: Road Trip: Nova Scotia by Lou Centers, Anne Eastwood

Ask the Experts: Cutter Class by Gail Dufresne

Elements: Unusual Techniques by Carrie Jacobus

First Rug: Pumpkin Pooch/Martha Reynolds by Lisa McMullen


November/December:

Tessellations: Geometrics with a Twist by Kris Noble

The Reason for the Season by Gene Shepherd

Words into Images by Roslyn Logsdon

Impressionistic Hooking by Susan Elcox

Beyond Our Borders: Ship Ahoy: Tiny Cricket Stool by Edyth O'Neill

Teacher Feature: Sandra Brown by Lori Myers

Dear Beginning Rug Hooker: The Snowman by Janey Reid

Colors to Dye For: 10 New Colors by Wanda Kerr

Readers' Gallery: Jayne Hester by Barbara Carroll

Canadian Connection: Hooked on the Past: Newfoundland by Anna Dwyer

Elements: The Lazy Dyers Guide to Dyeing by Gene Shepherd

Ask the Experts: How to Prevent Moth Damage by Gail Dufresne

First Rug: The Lamb on Hadrians Wall/Dorothy Orzel by Ginny Stimmel
2003
January/February:

The Joy of Yarn by Judy Taylor

Primitive Impressions by Sally Kallin

The Times of Our Lives by Emily Robertson

New Lessons in Fine Shading by Sibyl Osicka

Teacher Feature: Barbara Carroll by Leslie Hoy

Dear Beginning Rug Hooker: Marbleize Wool for a Primitive Flower Mat by Karen Kahle

Recipes from the Dye Kitchen: Sun Mat by Maryanne Lincoln

Beyond Our Borders: The Search for Wool in America by Susan Feller

Readers' Gallery: Blue and Gray Rug Hookers by Ann Nevitt

Canadian Connection: A Rug Hooking Adventure in Bermuda by Germaine James

Elements: Backing Material by D. Marie Bresch

Ask the Experts: Q&A: How to Finish by June Robbs


March/April/May:

Dyeing of Embarrassment by June Robbs

A Primitive Garden by Karen Kahle

A Passion for Purses by Nola Heidbreder

Embellishing Excitement by Jane Halliwell

Readers' Gallery: Linda Friedman Schmidt by Linda Friedman Schmidt

Elements: Rainbows of New Color Combination by Joan Patterson

Dear Beginning Rug Hooker: Patchwork Crow by Donna Lovelady

Recipes from the Dye Kitchen: Three New Greens by Maryanne Lincoln

Beyond Our Borders: Hooking with Fleece by Connie Arlitt

Canadian Connection: The History of TIGHR by Jeanne Field

Teacher Feature: Michele Micarelli by Jennifer Ryan

First Rug: Noah's Ark/Marilyn Lowder by Wyatt Myers


June/July/August:

Three from One by Charlotte Lyons

A Taste of Southern Hospitality by Carol Snyder

A Few of Our Favorite Rugs by Lisa McMullen

We Are Folk by Jule Marie Smith

The Castle Technique by Eric Sandberg

Elements: Hooking Leaves by Betty Krull

Beyond Our Borders: A Hooked Footstool by Kim Nixon

Dear Beginning Rug Hooker: A Beginner's Finely Shaded Floral Motif by Betty McClentic

Recipes from the Dye Kitchen: Summer Colors by Maryanne Lincoln

Readers' Gallery: The Amazing Jane Olson by Gene Shepherd

Canadian Connection: A Children's Rug Hooked for the World by Zosia Lacz

Ask the Experts: Copyright Law by Jennifer Ryan


September/October:

Halloween Rugs by Jenny Rupp, Lisa Yeago

The Mysterious Rugs of the Middle East by Nancy Blood

Finishing Hooked Rugs by Margaret Siano

Hooking an Inspired Rug by Rae Harrell

Elements: Extra Wide Cuts by Anne Eastwood

Beyond Our Borders: Heirloom Blocks by Karen Poetzinger

Teacher Feature: Sharon Townsend by Lori Myers

Dear Beginning Rug Hooker: Color Planning for Geometric Patterns by Suzanne Hamer

Recipes from the Dye Kitchen: Bright Circus Colors by Maryanne Lincoln

Readers' Gallery: Kathi Blake by Lisa Nelson

Canadian Connection: Acadian Ladies of Les Hookeuses du Bor'de'lo by Deanne Fitzpatrick

Ask the Experts: Copyright Law by Jennifer Ryan

First Rug: The New House/Julie Steedman by Lisa McMullen


November/December:

The Many Faces of Santa Claus by Donna Lovelady

Hooking Outside the Box by Karen Lahteine

A Heavenly Hooked Christmas Tree by Anne Mather

Men Who Hook by Gene Shepherd

Beyond Our Borders: 3D Holiday Dolls by Laurice Heath

Teacher Feature: Dianne Kelly by Susan L'Hommedieu

Dear Beginning Rug Hooker: Hook a Santa Mat by Cindi Gay

Recipes from the Dye Kitchen: Sea Lion by Maryanne Lincoln

Readers' Gallery: Sarah Province by Lori Myers

Canadian Connection: Mini-Memories Motifs by Jeanne Field

Elements: Motifs Anyone Can Draw by Ramona Cann

First Rug: Penguins/Lynn Beaton by Lisa McMullen
2002
January/February:

Creating Cityscapes by Victor Emil Pell

Room-Sized Rugs by Judy Soehnge

An Art Class Hooks Rugs by Brenda Beerhorst

Teacher Feature: June Mikoryak by June Robbs

Dear Beginning Rug Hooker: How to Hook a Fringed Oriental by Jacqueline Hansen

Recipes from the Dye Kitchen: Egg Yolk Yellow by Maryanne Lincoln

Beyond Our Borders: Paint, the Hook by Cilla Cameron

Readers' Gallery: A Designing Woman: Emma Webber by Catherine Siegel

Canadian Connection: A Cherished Collection by Sarah Ladd

Elements: Marbelizing Wool by Karen Kahle
 

March/April/May:                                          

Lessons from Old Rugs by Doris Eaton

The Art of Teaching by D. Marie Bresch

America's Hope and Glory by Liz Gordon

First Rug Gallery by Lisa McMullen

Readers' Gallery: Isobel White by Jeanne Fallier

Elements: Hooking Hits from Padula by Wanda Kerr

Dear Beginning Rug Hooker: How to Hook Lone Pine by Lisa Nelson

Recipes from the Dye Kitchen: Chat Noir by Maryanne Lincoln

Beyond Our Borders: Antique Rugs on the Auction Block by George Kahnle

Canadian Connection: Doris Eaton: Grande Dame of Rug Hooking by Deanne Fitzpatrick

Teacher Feature: Harriet Brown by Leslie Hoy
                                               

June/July/August:                                          

The Great "Original vs. Pattern" Debate by Anne Mather

Something Old and Something New by Laurie Wiles

An Insider's View by Caryn Devlin

Elements: Shaping Wool for Dyeing by Kathleen Gorman

Beyond Our Borders: Tips on Finding and Buying the Perfect Antique Rug by George Kahnle

Dear Beginning Rug Hooker: Hook a Folk Art Angel by Sue Hoss

Recipes from the Dye Kitchen: The Perfect Background Color by Maryanne Lincoln

Readers' Gallery: Michaele Kustudic by Michaele Kustudic

Canadian Connection: The Tale of Ann Hallett by Jeanne Field

Teacher Feature: Sandy Kandris by Leslie Hoy

                               
November/December:                                

A Room of One's Own by Anne Mather

Capturing the Essence by Deanne Fitzpatrick

Hooking History by Gene Shepherd

From Me to You by Lisa McMullen

Beyond Our Borders: A Tour of America's Oldest Wool Mill by Susan Feller

Teacher Feature: Carol Kassera by Leslie Hoy

Dear Beginning Rug Hooker: Hooking a Unique Holiday Stocking by Betty Lew Duff

Recipes from the Dye Kitchen: New Formulas for Our Favorite Complementary Colors: Purple and Yellow by Maryanne Lincoln

Readers' Gallery: Marion Ham by Leslie Hoy

Canadian Connection: Canadian Creative Stitches by Anne Eastwood

Ask the Experts: A Critique of Three Student's Rugs by Jane Halliwell

Elements: Create Your Own Rug Pattern by Sharon Townsend

First Rug: Skating Snowmen/Jill Heustess by Wyatt Myers
2001
January/February:

Folk Art Rugs by Dick LaBarge, George Kahnle

Connecting People through Creativity by Gene Shepherd

Joan Moshimer: The Complete Rug Hooker by Anne Ashworth, Verna Cox

Native Festival Masks by Jeanne Field

The Pittsburgh Rug by Connie Hughes, Lois Sherwood

Dear Beginning Rug Hooker: How to Hook Jack Frost by Sandy Kandris

Recipes from the Dye Kitchen: Antique Rose and Variations by Maryanne Lincoln

Beyond Our Borders: Hooked Hybrids by Kim Dubay

Readers' Gallery: Roslyn Logsdon by Bernice Howell

Canadian Connection: Campus Hookers by Sarah Ladd

Elements: How to Strip Wool by Victoria Calu


March/April/May:          

Memories of Mom and Dad by Roslyn Logsdon

New Bedford Inn in 1810 by Judy Gibbons

Hooking with Unusual Materials by Abby Vakay

New Tools for Hooking by Jane Halliwell

Living with Macular Degeneration by Linda Rae Coughlin

Jar Dyeing Instructions by Maryanne Lincoln

Historical Rug Hooking Demonstrations by Robin Rennie

Dear Beginning Rug Hooker: How to Hook a Sunflower Inch Mat by Gail Dufresne

Recipes from the Dye Kitchen: Six Circus Colors by Maryanne Lincoln

Readers' Gallery: Bettina Drake Maraldo by Lara Moody

Canadian Connection: Tilley's Tea by Sarah Ladd

Teacher Feature: Mary Paul Wright by Leslie Parker Williams

First Rug: Little House on the Prairie by Lenore Cummings
               

June/July/August:          

Japanese and American Rug Hookers Present an Exhibit by Marily Bottjer

Monochromatic Rugs by Jane McGown Flynn

Listen to Your Rug by Lewis Creed

Elements: Crocheted Edges by Nola Heidbreder

Beyond Our Borders: Hooking with Denim by Verna Cox

Dear Beginning Rug Hooker: How to Hook Patriotic Heart by Mary Ann Goetz

Recipes from the Dye Kitchen: Butterscotch Bears by Maryanne Lincoln

Readers' Gallery: A Lifetime of Rug Hooking: Marry Milligan's Story by Loraine Arnold

Canadian Connection: Special Messages in Rugs by Deanne Fitzpatrick

Teacher Feature: Linda Kerlin by Leslie Hoy

First Rug: Dancing in the Woods/Heidi Moody by Lisa McMullen
 

September/October:

Water, Water, Everywhere by Sally Ballinger

The Yorkshire Millennium StoryRug by Marny Cardin

One Woman's Vision by Lesa McMullen, Celia Oliver

Hints from a Primitive Spirit by Karen Kahle

Elements: Hooking Sunbeams by Victoria West Calu

Beyond Our Borders: Australian Locker Hooking by Dorothy Panaceck

Teacher Feature: Maggie McLea by Judy Fresh

Dear Beginning Rug Hooker: How to Hook Teddy Bear with His Jack-O-Lantern by Chris Sayles

Recipes from the Dye Kitchen: Baby Elephant Joins the Parade by Maryanne Lincoln

Readers' Gallery: An Artist's Coach: Sandra Cheverie by Olga Rothschild

Canadian Connection: From Fiber to Bronze and Back Again by Sarah Ladd

First Rug: Malcom's Son Salutation/Darlene Abajian by Lisa McMullen

 
November/December:

Cyber Mat Swap by Heather Hanchett Burns

The Ups and Downs of Stair Rugs by Emily Robertson

A Special Teacher's Special Project by Soni Cassell

Braiding Hooks Hookers by Nancy Young

Beyond Our Borders: Spinning Wool by Judy Carter

Teacher Feature: Jane King by Carol Ambrozy

Dear Beginning Rug Hooker: Hooking a Christmas Stocking by Jeanne Smith and Pat Brooks

Recipes from the Dye Kitchen: Dip Dyeing for a Giant Pansy by Maryanne Lincoln

Readers' Gallery: Born into Hooking: Rosalie Lent by Jeanne Fallier

Canadian Connection: Highland Santa by Sarah Ladd

First Rug: Farm Scene/Tia LaFreniere by Lisa McMullen
YOUR RECENTLY VIEWED ARTICLES