Ardemia Negro
Oriental rugs, quilt patterns, and geometrics--all were inspiration for the stunning hooked rugs of Ardemia Negro.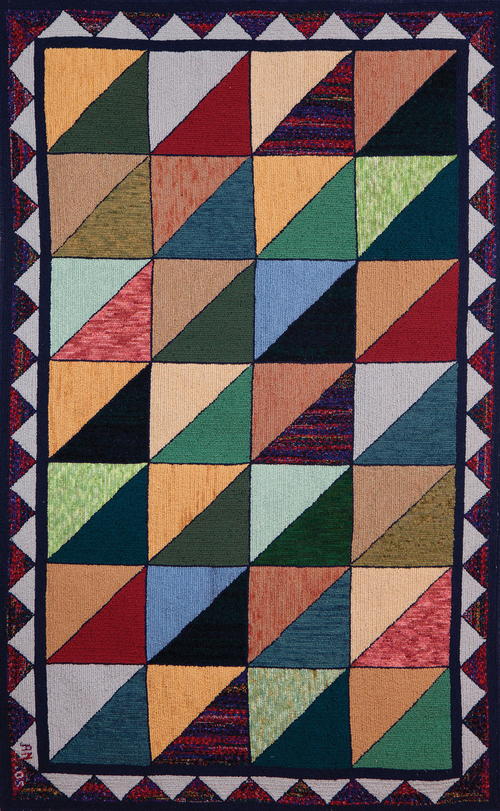 Colored Triangles, 48" x 30", #3-cut wool on rug warp. Designed and hooked by Ardemia Negro, North Hollywood, California, 2005.

As a young girl growing up in pre-war Italy, my mother, Ardemia Negro, was taught the fine arts of sewing and fiber crafts. She learned embroidery, fine hand stitching, crewel work, crocheting, knitting, and dressmaking. When my two older sisters and I were growing up in Brooklyn, New York, we would come home from school to find, as if by magic, an array of curtains, embroidered tablecloths, linens, crocheted collars, and perhaps most memorably, an assortment of knitted black shawls that covered the flowing black habits of almost every Sister of Mercy we knew. Each shawl was knitted with a unique pattern that my mother designed to fit the personality of its wearer. Her talent for design later flourished in her hooking.

When I went away to college, my mother started looking for another creative outlet to fill her empty nest. A good friend of hers, Marguerite Rossetto, was a member of the Women's Club of Great Neck where she was enjoying rug hooking classes. The teacher, Jo Parker, had a keen eye for aptitude, and Ardemia asked for a private lesson to see if hooking was a hobby she would like to pursue. After showing Ardemia the basic techniques, Jo gave her some wool and a small butterfly pattern on burlap. "Not everyone is a hooker," Jo declared. "Hook this using your own colors and bring it back when you've finished, and we'll see."

Always one to rise to a challenge, Ardemia hooked the butterfly and brought it back the following week. When Jo looked at it, she exclaimed, "You are more than a hooker! I'll be happy to teach you!" The butterfly was turned into a pillow, and Ardemia became a hooker.

This article is from the January/February 2011 issue. For more information on our issues, check out our issues page.

YOUR RECENTLY VIEWED ARTICLES
Free tutorials, expert tips, exclusive partner offers, and more straight to your inbox!