Doodles and Designs
A rug hooker finds her muse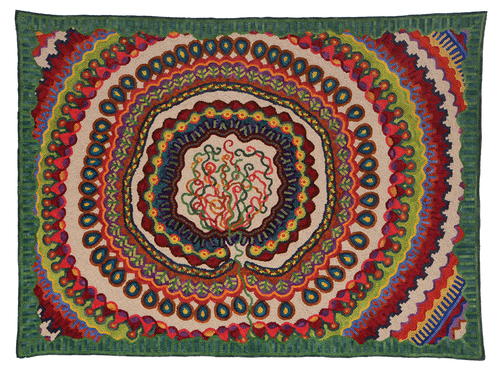 Photography By T J Gaffney Photography
Doodle Rug #1, 49" x 37", #8- cut wool on linen. Designed and hooked by Margaret Baack, Land O'Lakes, Wisconsin, 2013.

Almost ten years ago, my husband and I retired to northern Wisconsin, and during that first year, we more or less observed the lives that others led, becoming familiar with our new surroundings. I noticed that on Mondays we often ran into the same bunch of people eating lunch and laughing a lot. I knew one of the laughers, whose name was Fred, so I asked him what this group was about, going to lunch every Monday. And I asked him what the heck he was doing with a whole table of women. Was it his alluring smile? His caustic wit? Or his fat wallet? He said no, none of those things. He said they were there because on Monday mornings they get together and hook rugs and then go out for lunch. They call themselves the Black Oak Lake Hookers, and he was the token male.

Needless to say, I was intrigued, so I asked if I could be a fly on the wall and watch people do their craft the following Monday. They said, "Sure!  Come join us." And with one visit, I was smitten. They loaned me a frame and a hook and some linen and wool and gave me the $5.00 hooking lesson (really, folks, hooking is a pretty low-tech endeavor!). The technique is not all that exciting, but the one thing I did notice was that there is a huge range of designs. Some hookers bought patterns, some designed their own. This particular group of hookers cut their teeth years ago without a lot of rules, so there were few "shoulds" and "oughtas" in this group. Breaking rules was accepted and encouraged. Perfect! I love breaking rules.

Margaret Baack is a fiber artist living in northern Wisconsin, having transplanted herself and her husband nearly ten years ago so her husband could fish and hunt to his heart's content while she spends time with her looms and hooking frame.

This article is from the January/February 2017 issue. For more information on our issues, check out our issues page.
YOUR RECENTLY VIEWED ARTICLES
Free tutorials, expert tips, exclusive partner offers, and more straight to your inbox!