Finding Beauty Amidst Destruction
Life--and inspiration--in the aftermath of Hurricane Sandy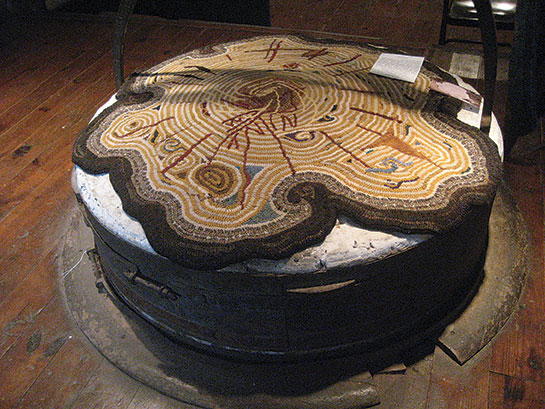 Photography by Weezie Huntington
Requiem, 52" diameter, #8- and 9-cut wool on linen. Designed and hooked by Weezie Huntingdon, Hopewell, New Jersey, 2013.

When Hurricane Sandy blasted through the Northeast in late October 2012, it left behind a stunning trail of destruction. Entire communities were devastated by the high winds that lashed the Atlantic coastline and pelting rains that flooded city streets, washing away hundreds of homes and businesses.

Dramatic photographs of amusement park rides that had crumpled like children's toys and entire blocks of homes that had splintered into scattered piles of wood became iconic images of the aftermath of "Superstorm Sandy," which continues to disrupt the lives of its victims more than a year and a half later.

The Hopewell, New Jersey, home of veteran artisan Weezie Huntington was blessedly spared, but her community was not. Weezie recounted stories of seeing the remains of massive trees uprooted throughout the countryside by the intense storm and of being struck by the life that was contained in each of the unique and extraordinary specimens.

This article is from the June/July/August 2014 issue. For more information on our issues, check out our issues page.
YOUR RECENTLY VIEWED ARTICLES
Free tutorials, expert tips, exclusive partner offers, and more straight to your inbox!