Hooked Rug Grooming 101
Ask the Experts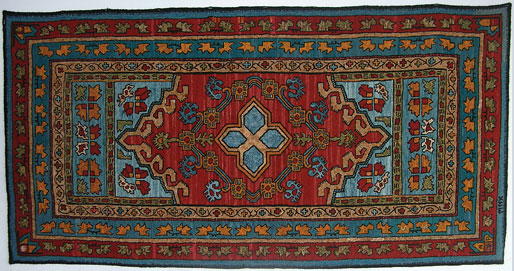 OSV 134 Large Frost Oriental, 37" x 72", #3- to #5-cut hand-dyed wool and antique paisley on linen.  Designed by E. S. Frost and hooked by Nancy Z. Parcels, Mechanicsburg, Pennsylvania, 2010.

Groom (verb): "To tend carefully, make neat or tidy. To clean, brush, or otherwise tend."
—Dictionary.com, s.v. "Groom," accessed September/October 2011. http://www.dictionary.com/browse/groom.

As I pull those last few loops and finish a hooked rug or mat, my mind often wanders to my next project. I am ready to move on, but I remind myself to concentrate on the last important step of finishing my hooked piece: grooming.

The several steps it takes to groom a rug should not be overlooked. I can't tell you how often I have seen a rug on display and wished it would have gotten a good pressing! Judges are trained to look at detail and how the piece is prepared. Neatness counts, and a good grooming can make or break a rug.

This article is from the September/October 2011 issue. For more information on our issues, check out our issues page.
YOUR RECENTLY VIEWED ARTICLES
Free tutorials, expert tips, exclusive partner offers, and more straight to your inbox!